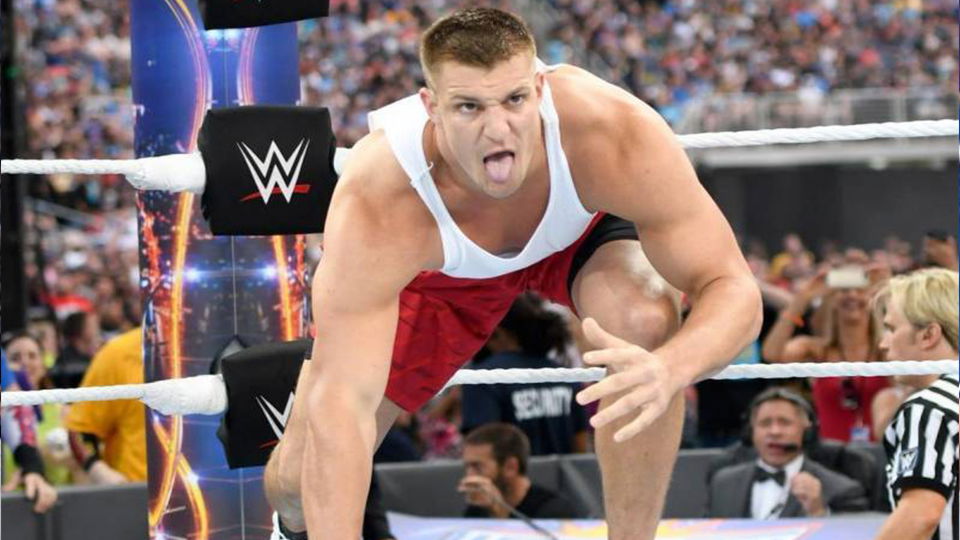 It was revealed by Ryan Satin as part of the latest WWE Backstage show that NFL legend Rob Gronkowski was in advanced talks with WWE over the possibility of signing.
This has been followed up by a report from The Wrap who are saying that Gronkowski has now signed with the company and will be making his debut on 03/20 episode of SmackDown.
Former New England Patriots tight end Rob Gronkowski has officially signed with WWE, an insider told TheWrap exclusively. The ex-NFL great is set to debut on next week's "Friday Night SmackDown" on Fox.
Gronk's appearance on SmackDown is reportedly not the only thing he will be doing for the company in 2020. The Wrap is also reporting that Gronkowski will be at WrestleMania 36 next month. However, he won't wrestle at the show:
"Gronk is also due to appear at April 5's WrestleMania 36 in Tampa, Fla., the insider told TheWrap. Current plans call for that appearance to be part of a build-up to a future match"
It certainly makes sense that Gronkowski will be appearing on SmackDown instead of Raw. The ex-NFL legend could help give the show a ratings bump and already works for FOX as an NFL show personality.
There is no word on what WWE is going to have Gronk do on his debut. He appeared at WrestleMania 33 to help real-life friend Mojo Rawley win the Andre The Giant Memorial Battle Royale.
Of course, for the latest on this very interesting situation, make sure you stay tuned to WrestleTalk.com.