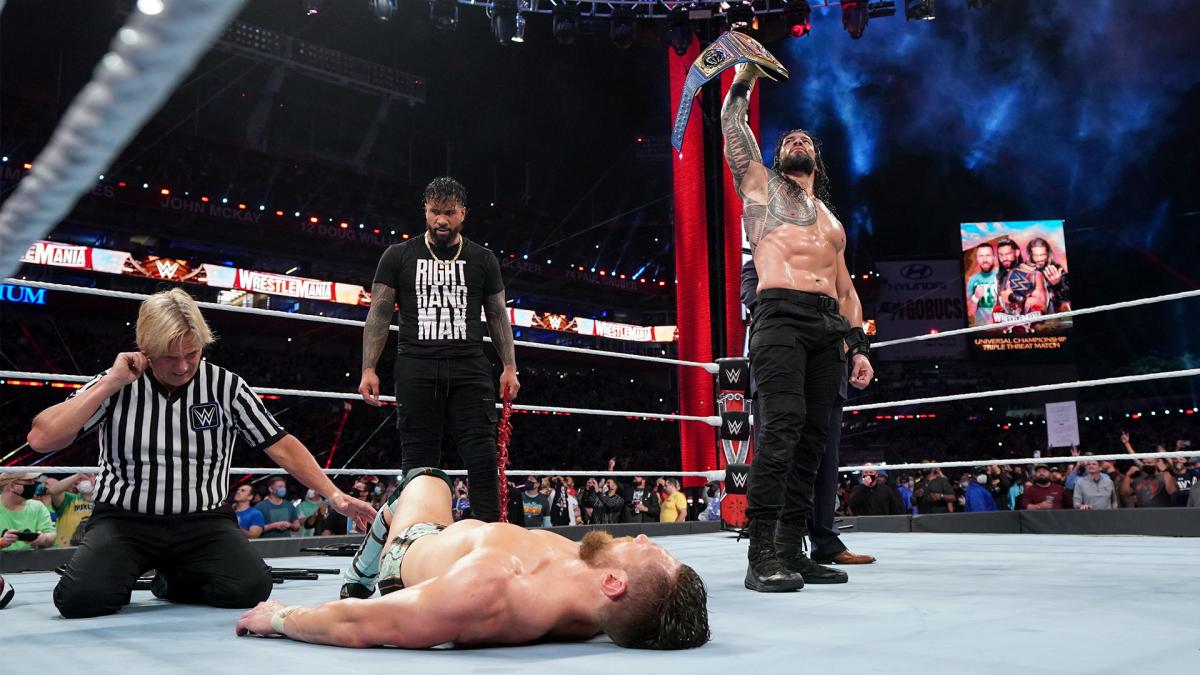 Universal Champion Roman Reigns defied the odds last night to retain his title in a Triple Threat match in the main event of WrestleMania 37 Night Two.
In a dominant final spot, Roman hit a con-chair-to on both Daniel Bryan and Edge, then stacked the two on top of each other for a double pin.
Immediately after his victory, Reigns appeared on WWE's live reactions stream, and cut a promo on his victory.
"What'd you think was gonna happen? Y'all calling me a liar? I told y'all on Friday – I'm gonna smash 'em, I'm gonna stack 'em, I'm gonna pin 'em 1-2-3, I'm gonna stand up, put this over my head, let them look up to a greater man.

"A million dollars of pyro – pow, pow, pow. Just like I called it. And still. Now it's time. Paul, what time is it?"
Paul Heyman replied in typical fashion.
"What time is it? It's Roman Reigns' time, what's what time it is. It is time for The Tribal Chief, it is time for The Be All End All, it is time for the sun on which the entire WWE Universe revolves around, it is time for the reigning, defending, undisputed, uncontroverted, WWE Universal Heavyweight Champion, Roman Reigns."
We will have to see what lies in store for Roman this Friday on SmackDown.
What are your thoughts on the above story? Let us know in the comments on Twitter or Facebook.