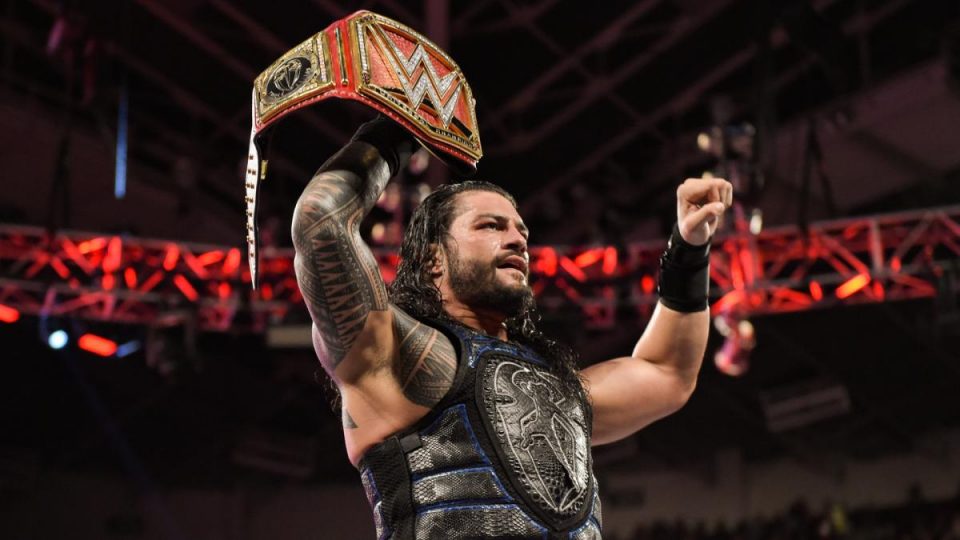 According to a report on Sports Illustrated, Roman Reigns will headline a WWE pay-per-view for the sixth time this year at Super Showdown. The current plan is for the six-man tag bout between The Shield and The Dogs of War (that name is the worst) to go on last at the Aussie supercard.
Yes, despite all of the hype surrounding The Undertaker vs. Triple H and the presence of Shawn Michaels and Kane, it is the six-man outing that will be thrust into the top spot.
WWE has held 10 supercards in 2018 thus far, with Reigns headlining at Elimination Chamber, WrestleMania, Backlash, SummerSlam and Hell in a Cell. Of the five shows he did not headline, one of them was SmackDown-exclusive Fastlane, two of them featured Royal Rumble matches in the top spot and another was headlined by a Money in the Bank ladder match.
Roman will tie his previous record of six for number of shows headlined in a year, which he previously achieved in 2016. Almost certainly he will main event again before the year is out, potentially in his three-way with Braun Strowman and Brock Lesnar at Crown Jewel.
Number of WWE pay-per-views headlined by Roman Reigns per year

2014 – 3

2015 – 5

2016 – 6

2017 – 4

2018 – 5 (prior to SSD)
Sending the wrong message
It is easy to criticise WWE for forcing Roman down the throats of its long-suffering audience, but in truth it is probably a smart decision to have him in the main event this time.
While the aforementioned legends tag match does feature four of the biggest names in the history of WWE, it sends out the wrong message to headline a card with two men who have a combined age of 102 (yes, really).
WWE's biggest problem over the years has been an inability to create stars who can move the needle, as Kevin Nash pointed out recently, so this is a positive step in the right direction.
While most previous Reigns main events have been met with vitriol, or worse, apathy from the crowd, the presence of his supremely popular Shield stablemates should stem the negativity somewhat.
Seth Rollins is one of the most popular performers in WWE and fans are still interested in seeing the recently-returned Dean Ambrose. Those factors combined with the show taking place in a fresh and likely rowdy market means the reaction to the match should be exactly what WWE want.
What do you think about the decision to have Roman Reigns and The Shield headline Super Showdown ahead of Undertaker vs. Triple H? Let us know.