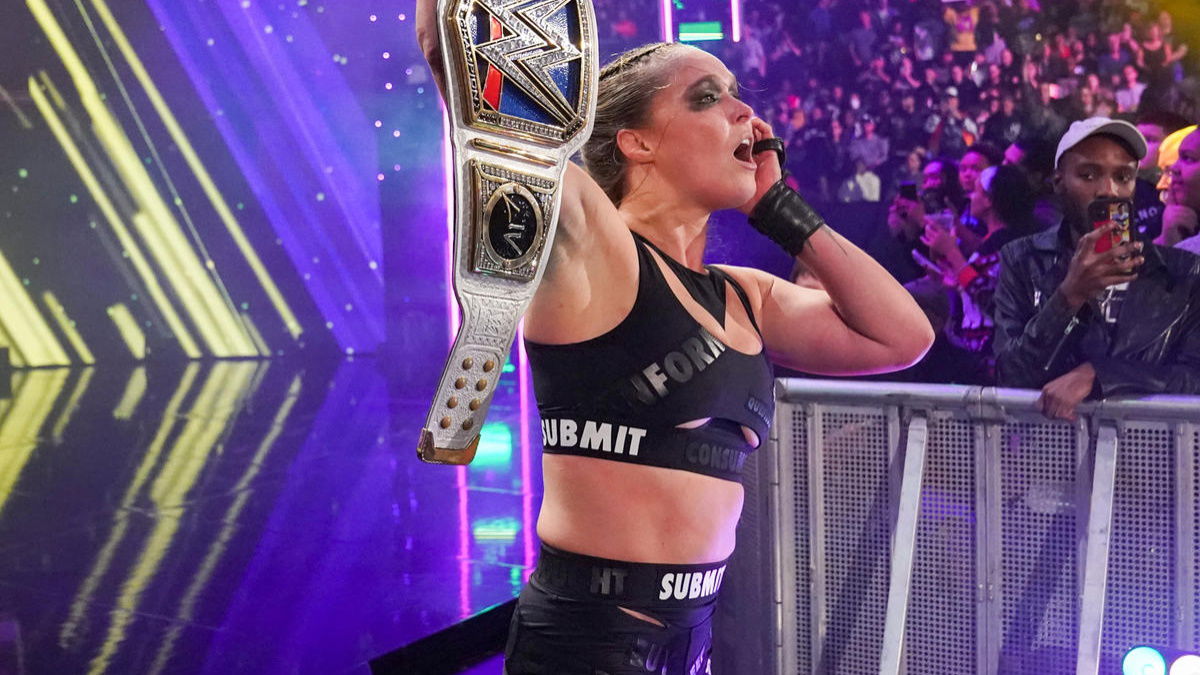 SmackDown Women's Champion Ronda Rousey has called out WWE for their lack of women's matches at recent premium live events.
Prior to joining WWE, Ronda Rousey was a pioneer of the UFC women's division. The inaugural UFC Women's Bantamweight Champion became a household name while putting women's MMA on the map.
At Extreme Rules, Rousey defeated Liv Morgan to win back the SmackDown Women's Title. Later in the night, Bianca Belair defended her Raw Women's Championship against Bayley in a ladder match.
Earlier this year, Rousey won the SmackDown Women's Title from Charlotte Flair at WrestleMania Backlash in May.
Speaking in her recent vlog, Rousey criticised WWE for only having one women's match at this event, noting:
"I wanted to like call out the WWE for only having one woman's match out of six matches at Backlash and said like we are more than 1/6 of the company and I need to like do my part and make sure that more women are in the forefront.

"Also, I don't want to say 'women' in title anymore. And I think they are kind of resistant to taking it out. So then I was like, 'Can I just not have to say it?' So then that's kind of where it's at. So I've always really wanted to work with Raquel (Rodriguez).

"I've always want to work with Raquel because she's really f**king strong. She's a great wrestler but I love working with girls that can support my weight. It just enables me to do so much more and you know if I had to I could support her weight but I don't think she does that kind of stuff."

"I wonder who's next. It's forcing me to look at the entire field at Smackdown which is less than 10 people. Shotzi Aliyah, Raquel, Nattie, Shayna, Naomi, Sasha, is that it? I want to be an active champion. I came back to wrestle so I could wrestle. Doing promos and run-ins and all that stuff, it's cool and all but I like wrestling. And I want to be able to get more ring timing because I just get better every time."
Sharing her honest thoughts on the smaller women's rosters, Rousey said:
"I mean there's just not enough women at either the rosters but I mean, you could argue that there's not enough airtime for all you know, the men and women's rosters combined. So it's like do you reduce the roster and give everyone more airtime? Or do you add the roster and give it more depth?

"One thing that's really missing is none of the women have storylines aside from title like you watch pay per views and there's several men's matches that aren't for titles and the women don't really get any non-title storylines which I feel like would really add to the depth of people got to know everyone's different character before they got into the title picture.

"I think that's something that these like open challenges can do like yet still using the title…yeah, hopefully with all these open challenges and defending the title all the time, I can basically bring everybody into the title picture at once, instead of one at a time. That's what I'm hoping to do."
Stay up to date with every WWE title change of 2022 using our tracker right here.
Transcription via WrestlingNews.co.
Check out WrestleShop.com for all your favorite WrestleTalk merch, the WrestleTalk Magazine, wrestling shirts for grown-ups, and more!