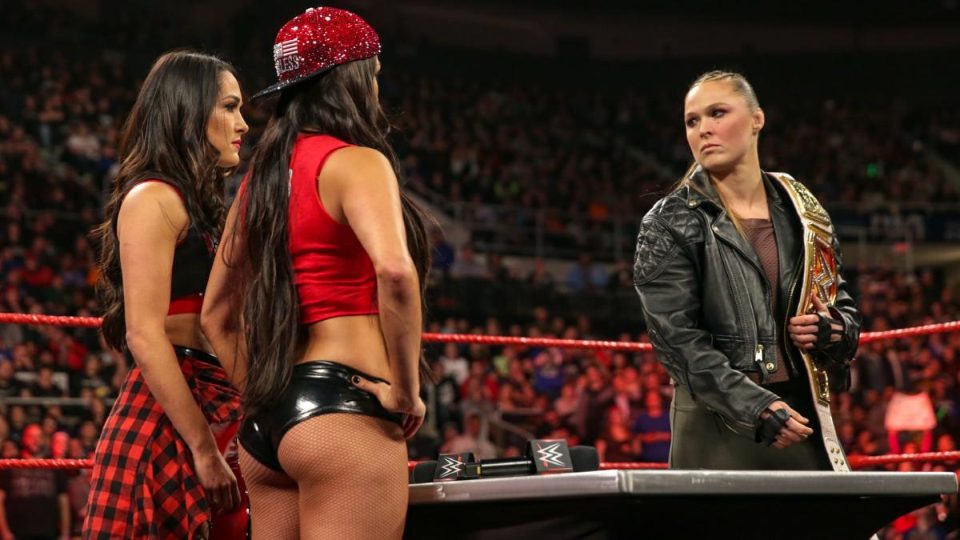 This past Monday on Raw, Ronda Rousey and Nikki Bella continued to escalate their rivalry ahead of their match at Evolution.
The confrontation took place during the contract signing segment around the start of the third hour of the show. Following the two going back and forth on social media during the week, tensions were high as the pair met face-to-face in the ring.
With the indomitable presence of Michael Cole officiating, the challenger (accompanied by twin sister Brie) came to the ring first, pretending to hit some imaginary pads in anticipation of the champion's arrival.
Upon Ronda making it in to the ring, both Bellas left and regrouped at the entrance ramp. With Ronda asking why Nikki and Brie left, the Bellas responded saying that the current Raw Women's Champion had obviously come for a fight and they weren't interested.
The champion promised that she wouldn't "lay a finger" on them. Upon hearing this, Nikki launched into an overly personal diatribe, changing the whole atmosphere in the arena:
"Speaking of your mother, didn't you promise your mother that you would win the Olympics? Didn't you promise your mother that you would win the world championships, just like she did? Didn't you promise your mother that she would never have to watch her baby get hurt in the octagon, and that you'd retire undefeated? So tell me Ronda, did you give your mother your word on all those things? I mean don't you get it? Your mother is already ashamed of you. Oh and Ronda, imagine what you mother will think when a diva beats you for your title!"
With neither woman willing to give an inch, Nikki added injury to insult, slapping Ronda after she signed her part of the contract. Ronda appearing to laugh off the slap, responded by cooly signing her name to the contract, death-staring Nikki and calmly saying:
"Come Sunday, I will end you. I give you my word."
How would you like to see this match booked at Evolution? Let us know in the comments below, on Twitter, or on Discord!