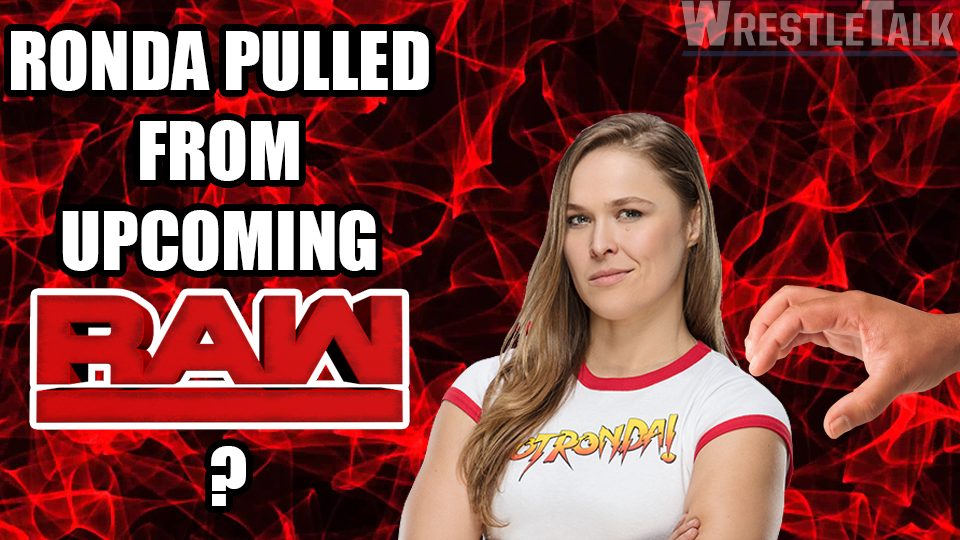 After a DQ finish at Money in the Bank thanks to Alexa Bliss, this past Monday Ronda Rousey was not a happy bunny (and she is definitely not a lady you want to upset!)
In traditional WWE fashion, she took out her frustration upon the newly crowned Raw Women's Champion. Rousey crashed her celebration by laying waste to Bliss, Raw General Manager Kurt Angle, and several officials.
Rousey earned herself a 30-day suspension for her efforts.
There is no official word as to why Rousey has been given this time off.
Some speculate it is in regards to outside commitments such as the release of her new film 22 Mile or even her induction into the UFC Hall of Fame.
Up until last Monday, Rousey was scheduled for 7 dates over June and July.
However, with her new '30 Day suspension,' she has now been pulled from next week's Raw taping in San Diego.
Her current schedule, as outlined by WrestlingInc, during her suspension is as follows:
6/24 – Raw live event in Anaheim, CA
7/6 – Raw live event in Philadelphia, PA
7/7 – Raw live event at MSG
7/8 – Raw live event in Bridgeport, CT
7/9 – Monday Night Raw in Boston, MA
7/16 – Monday Night Raw in Buffalo, NY
One may infer from the dates Rousey is scheduled that WWE does not currently have plans for her at Extreme Rules. Coincidently, Rousey's suspension is 'lifted' two days after Extreme Rules.
It would seem that once her 'suspension' is up, she will be going into a program with Bliss (no doubt for the Raw Women's Championship) as she had been providing the WWE Universe and Miss Bliss with her very own personal countdown until she can return:
https://www.instagram.com/p/BkSzbIDjBEq/?utm_source=ig_twitter_share&igshid=1hxlf0ybf9sn8
Do you think it's too soon for Rousey to be in the title hunt? Let me know in the comments below or on Twitter