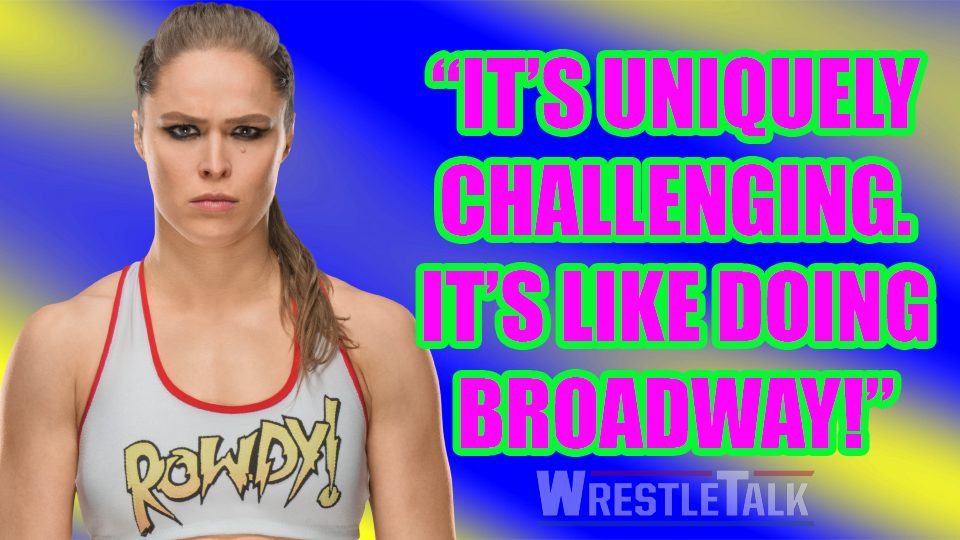 Ronda Rousey is the 'Baddest Women on the Planet', the current number one contender to the Raw Women's Championship, and has taken to professional wrestling better than anyone could have ever imagined. She is arguably the hottest property in the world right now and is so damn nice as well.
Prior to her Raw singles debut against Alicia Fox, the UFC Hall of Famer appeared on Live with Kelly and Ryan to talk about her transition into professional wrestling. The interview encompassed what she'd discovered about the business, what it took to survive between the ropes, and the differences of working for WWE compared to MMA:
"It's uniquely challenging. I think it's a marriage between fighting and acting really. And it's like doing Broadway, except for everyone does their own stunts and everyone is kinda making it up as they go along."
The assertion that everyone 'makes it up as they go along' is wildly ridiculous, especially for a self-professed life-long long fan to make. Everyone who is everyone knows WWE and professional wrestling as a whole is choreographed, the moves set-out meticulously before the bout goes live. There are instances where wrestlers do call the scrap on the spot, but the majority and laid out with road agents beforehand.
For anyone who has seen Ronda around her husband Travis Browne will know how coy and submissive she appears when in his company. Just go back to the WWE Hall of Fame 2018 red carpet special to see how in love the grappler is. So it was no surprise then that the interview soon turned to her marriage once Ryan Seacrest noted that Rousey once call her spouse "suspiciously perfect":
"Suspiciously perfect means he does things that I don't think a real human actually does it. I was filming Mile 22 in Bogota and he flew all the way down to come and visits me. And he shows up and he was like, 'You didn't say anything about it, but I thought maybe you'd forget and I brought you a box of tampons.'"
Hey, who says romance is dead? Some will certainly watch that movie differently now.
As for Ronda Rousey in the present, she will challenge Alexa Bliss for the Raw Women's Championship at SummerSlam on August 19. Apart from the much hyped Natalya heel turn – which is coming – which would be the only thing to halt her march to the top, it is widely believed she will walk away with the title strapped firmly around her waist.
WrestleTalk would like to know your thoughts on Ronda potentially winning the title at SummerSlam, whether you'd be happy with her as champion, or if Natalya will halt her friend in her quest. You can contact us on Twitter and Discord today.