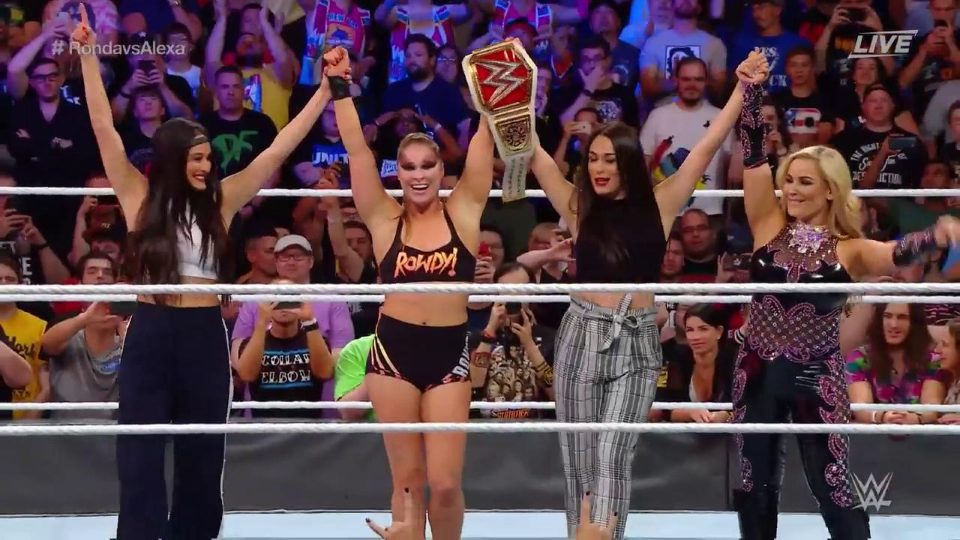 Every year, Pro Wrestling Illustrated (PWI) release their list of the top 100 female wrestlers on the planet, and this year, Ronda Rousey has taken the top spot.
The PWI list is based on Kayfabe wins and losses, so don't get too upset if the top 10 looks a bit…unusual.
The Raw Women's Champion and baddest woman on the planet Ronda Rousey is unbeaten in WWE, with a perfect 10-0 record, most recently defeating Nikki Bella at WWE Evolution.
Rousey fought off stiff competition, with the rest of the top 10 looking like this:
2. Alexa Bliss
3. Charlotte Flair
4. Io Shirai
5. Asuka
6. Shayna Baszler
7. Carmella
8. Nia Jax
9. Mayu Iwatani
10. Kairi Sane
Current SmackDown Women's Champion Becky Lynch misses out on the top 10, finishing 11th, which is pretty much a crime against humanity.
"Wow! That's absolutely incredible," said Rousey on an episode of the PWI Podcast. "I don't really know how to react to that. I really appreciate it. I don't know how much I deserve it, but wow!"
Congratulations to @RondaRousey, @OfficialPWI's selection for No. 1 in the "Women's 100"!

— PWI (@OfficialPWI) November 1, 2018
PWI Writer Dan Murphy said: "Ronda's success in such a short period of time is absolutely unprecedented.
"She has become one of the biggest stars in WWE, male or female, and is setting a new standard for excellence in the women's division.
"When it comes to our ranking criteria of championships won, quality of opposition, technical proficiency, won-loss record, and promotional 'push,' she is unmatched. Ronda was an easy pick as number one."
Well done Ronda.