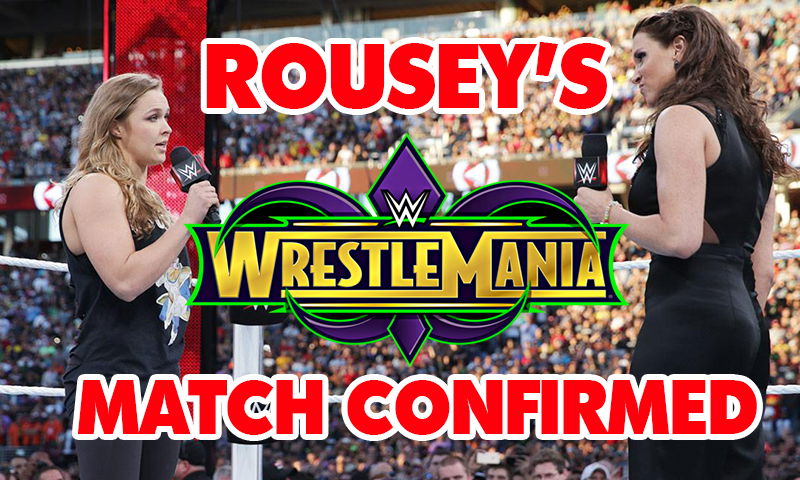 On last nights edition of Raw (March 5th) Ronda Rousey's first match in WWE became official for WrestleMania: she will be teaming with Raw General Manager Kurt Angle to battle the husband and wife team of Triple H and Stephanie McMahon in mixed tag team action.
It'll be @RealKurtAngle & @RondaRousey vs. @TripleH & @StephMcMahon in Mixed Tag Team action at #WrestleMania 34! https://t.co/WkfY8XkhbY

— WWE (@WWE) March 6, 2018
During last nights episode, Ronda Rousey, Kurt Angle and Stephanie McMahon came down to the ring to announce who Rousey would face at WrestleMania. In the storyline, due to the terms of her contract Rousey was given the opportunity to choose her opponent at the 'Grandest Stage of them All'. After Stephanie did her best to hype up the audience with a drum roll leading up to the announcement, Ronda declared that Stephanie would be standing in the opposite corner to her at WrestleMania.
Angle backed this decision after Triple H came out to support his wife and say that she would not be competing at the event, revealing that McMahon has an active performers contract so therefore was eligible to face Rousey. But that was not all – Angle announced that he would be teaming with Rousey to fight Hunter and Steph.
The segment descended into chaos with Triple H and Kurt Angle brawling, eventually leading to Rousey and Angle standing tall, though not before Rousey was able to hit a powerful Samoan Drop on Stephanie to end the segment.
This has been the expected match for Ronda at WrestleMania ever since she appeared at the Royal Rumble back in January. It was rumored for a while that she would be teaming with The Rock to link the angle (no pun intended) to the segment between Rousey, Rock and the Authority duo from WrestleMania 31, however it seems plans have fallen through and Kurt Angle will be used in his place.
Respect your olympians. Or we'll make you respect us. See you at #WrestleMania34 pic.twitter.com/ujjVDVJw14

— Ronda Rousey (@RondaRousey) March 6, 2018
This will be Rousey's first ever wrestling match so the pressure is on for the former UFC fighter to deliver at the 'Showcase of the Immortals'. Expect Angle to carry the majority of the match for his team to hide any weaknesses Ronda may have this early into her wrestling career.
One thing is for sure though, it will be quite the spectacle to see 'Rowdy' Ronda Rousey competing in a WWE ring.