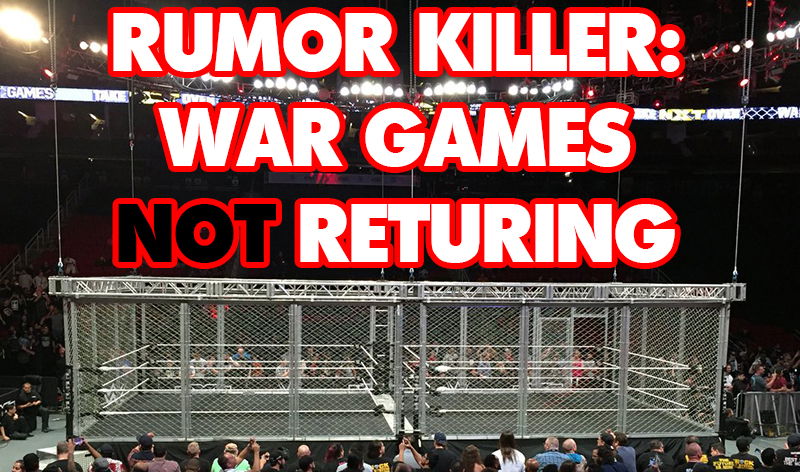 Late last year, the wrestling world was abuzz with the prospect of the iconic 'WarGames' match returning after a long 17-year hiatus. Met with large doses of both skepticism and anticipation, audiences waited for the bout to begin with their breath held. Then all nine men involved tore the house down in a brutal and hard-hitting match filled with blood and a greatly comedic but spine-tingling self-inflicted chair shot to the head by Kyle O'Reilly, channeling his inner Kurt Angle.
Earlier this week, AXS.com announced the return of the match for NXT TakeOver in Los Angeles, CA over Survivor Series weekend this November. Sadly, this was soon retracted and revealed to be a mistake, as fans everywhere felt the disappointment of the chaos we crave slip through our fingers . . . We need that chaos WWE!
The thought of a second coming for NXT's updated version of 'WarGames' is definitely an exciting one, especially with fond memories of last year's event still fresh in our minds. It is worth considering, however, whether the lightning captured in that match could strike twice.
Leading up to NXT's first swing at resurrecting the match, the weekly shows were constantly falling into disarray. The likes of SAnitY, the Undisputed Era and the Authors of Pain (with Roderick Strong – it was great at the time) were repeatedly attacking each other in unsanctioned anarchy. This caused the general manager of NXT, William Regal, to put his angry parent voice on and throw his unruly children into a duel ring cage match, because this is wrestling and there was no other solution.
It was perfect… but how do you recapture without simply recreating? One of the more frequent complaints when it comes to gimmick matches such as Hell in a Cell is that they often feel unnecessary for the situation. WarGames worked because it was necessary – again, wrestling, it was necessary!
On top of that, the NXT roster is constantly in flux and many of the big stables such as SAnitY and the Authors of Pain will likely be main roster stars by November. At that point, you need to ask yourself who would, or even could, fill the roles.
NXT TakeOver: WarGames was a special event, even winning the show's 'NXT TakeOver of the Year' award. It does not need to be repeated purely to get one in each year. Matches, no matter how ridiculous, need meaning to be impactful… That said I'd still love to see it again.