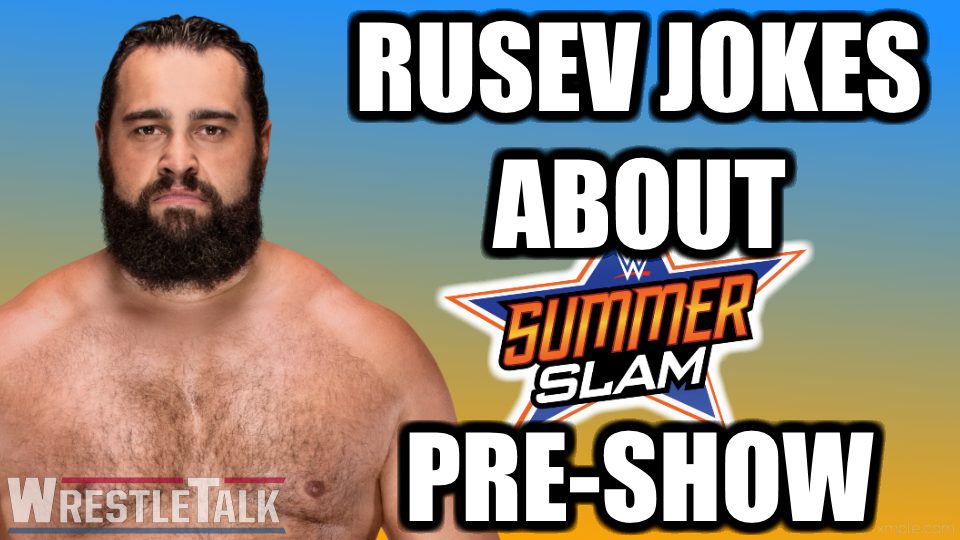 Rusev may be one of the most popular superstars in WWE, but his position on the SummerSlam 2018 card doesn't reflect that popularity in the slightest.
Despite fans chanting "Rusev Day" at almost every WWE event, the 'Bulgarian Brute' and his wife Lana will take on Andrade 'Cien' Almas and Zelina Vega this Sunday on the SummerSlam Kickoff Show.
The two-time WWE United States champion took to Twitter to joke about the situation:
I'm honored to share the #SummerSlam kickoff show with the cruiser weight title !

— Miro (@ToBeMiro) August 14, 2018
This isn't the first time that he has taken to social media to poke fun at – or perhaps vent frustration with – WWE booking.
After it was revealed that he would be facing the Undertaker in a casket match at the Greatest Royal Rumble, Rusev asked the 'Deadman' to "bury [him] softly:"
Bury me softly, Brother https://t.co/IWnBvL20Ez

— Miro (@ToBeMiro) April 11, 2018
Rusev was subsequently pulled from the match and replaced with Chris Jericho, only to be reinstated in the match. Rumors floated around that Rusev's tweet and comments the couple made to TMZ were the reason the match was changed.
It was later revealed in an episode of WWE Ride Along that the match was altered because the Bulgarian laughed in Vince McMahon's face when he was told about the match. He was only put back into the match when a Saudi prince asked for Rusev vs Undertaker to go ahead.
https://www.youtube.com/watch?v=5BGPAVwQ9cI
Whether Rusev and Lana will be punished for his latest tweet remains to be seen, but it wouldn't be the first time that the couple have found themselves in hot water over posts on social media.
In 2015 in the midst of a soap-opera-esque storyline in which Rusev and Lana had split up, with the former engaged to Summer Rae and the latter dating Dolph Ziggler, the news of the couple's real life engagement was leaked online.
WWE abruptly ditched the storyline and it was reported at the time that the pair had "nuclear heat."
According to backstage rumors, Rusev was also punished last year for cutting his hair without consulting WWE management.
https://www.instagram.com/p/BRErxyrguTy/?utm_source=ig_embed
For months, rumors have been circulating that Rusev is set to leave WWE. Rusev himself has done little to quell these. When a fan on Twitter asked about them, he simply replied with a pair-of-eyes emoji.
— Miro (@ToBeMiro) August 11, 2018
It's hard to know what to think about Rusev's future, but going from facing AJ Styles for the WWE Championship at Extreme Rules to a minor feud and a pre-show match at SummerSlam has not made this Sunday a very happy Rusev Day for the 'Bulgarian Brute.'
Related Content
Do you think that Rusev is showing his frustration at his place in the card, or do you think he's simply joking? Let us know on Twitter here. Once you've done that, come join the conversation on Discord, where you can chat to each other and the entire WrestleTalk team.