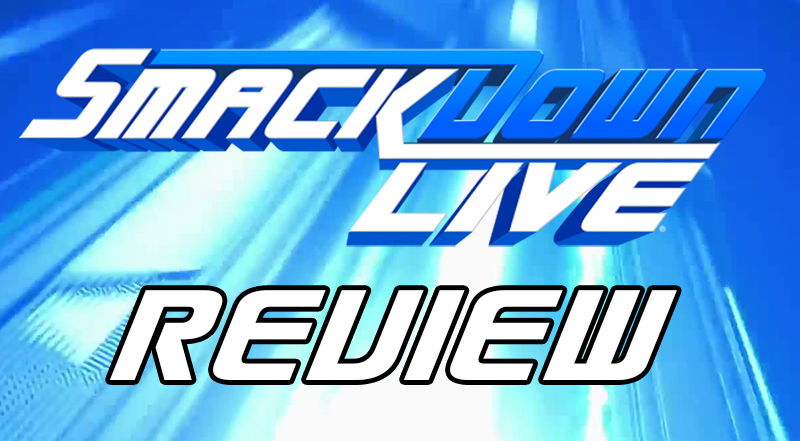 This week's episode of Smackdown Live was an all-around good time, and things are shaping up quite nicely on the way to this year's Wrestlemania.
The show opened with an emotional video package re-capping Daniel Bryan's return speech and the attack by Kevin Owens and Sami Zayn which followed. Given the material they had to work with, the video package was obviously good. However, I can't help but be annoyed at WWE wasting air-time on the road to Wrestlemania with lengthy videos recapping moments we all saw last week.
Even those who did not tune in live would have seen it on social media or YouTube by now, but WWE insists on throwing in a long promo package for the sake of filler. This is a minor complaint, though. It was then announced that Daniel Bryan would attempt to address the situation later on in the show.
A lot of people are down on the United States Championship picture right now, but I think it's safe to say this opening match (and the subsequent backstage segment) made things a whole lot more interesting going into Wrestlemania.
Billed as Bobby Roode and United States Champion Randy Orton vs Jinder Mahal and Sunil Singh, it became clear we were in for a change of plans when the greatest WWE Champion of all time Jinder Mahal entered with his lackey. Sunil was wearing a fake neck brace and feigning injury at the hands of Orton and Roode on last week's Smackdown, prompting the Modern Day Maharaja to introduce a new partner: fellow notorious evil foreigner Rusev, who is totally still a heel.
The former US Champion was greeted with thunderous Rusev Day chants, moments before Byron Saxton would claim on commentary that Tom Phillips and Rusev were the only people celebrating Rusev Day. It's moments like these that make me miss JBL's commentary. The match itself had a few lulls, but the story of Bobby Roode and Randy Orton constantly attempting to out-do one another was entertaining.
I know a lot of people find babyface Roode vs babyface Orton boring, but I've personally been enjoying it ever since Fastlane. The finish saw Orton hit his teammate with an RKO, before turning around and eating a Machka Kick from Rusev for the pin. It was a good opening match, and it's always nice to see Rusev score a pinfall on WWE television.
Afterwards, Jinder Mahal and Rusev met in a back-stage segment, wherein Rusev announced that he will be added to the United States Championship match at Wrestlemania. Not only does this do wonders for the United States Title picture, it also saves Rusev and Aiden English from being relegated to the Andre The Giant Memorial Battle Royal this year.
The match is now officially Bobby Roode vs Jinder Mahal vs Randy Orton vs Rusev on the Grandest Stage Of Them All for the United States Championship, and I could not be more excited.
Following this was another backstage segment, this time featuring WWE Champion AJ Styles and number one contender Shinsuke Nakamura.
The two bickered back and forth about what happened last week, and Nakamura requested that AJ be in his corner for his match with Shelton Benjamin later on in the show. AJ obliged, but reaffirmed that he isn't doing it for Shinsuke, he's doing it to protect his Wrestlemania dream match.
What followed was another reminder that Becky Lynch is criminally underutilized. Despite being put in what is basically a nothing match against Ruby Riott, meant to build towards a pointless battle royal at Wrestlemania (possibly on the pre-show), she is able to get huge crowd reaction, defeating Ruby and fending off the Riott Squad after the match.
I honestly don't have much to say about this, other than I hope Becky Lynch is put into a Women's Title feud after Wrestlemania. Anybody who can make the nickname "The Irish Lass Kicker" work is main event material.
Then Daniel Bryan came out and made the announcement we've all been waiting for. Despite wwe.com reporting that Shane McMahon was hospitalized with acute diverticulitis and an umbilical hernia, Bryan made the challenge for Kevin Owens and Sami Zayn to fight Shane McMahon and himself at Wrestlemania, with the Canadian duo's jobs on the line.
Daniel also seemed to tease that he'll be leaving his general manager role sometime soon, something we can all agree is for the best if he's going to be wrestling full-time. I personally hope we get all-new Smackdown on-screen management after 'Mania.
Interestingly, during this promo, Bryan also put Kevin and Sami over as amazing wrestlers, and people who have supported him a lot in the past, going so far as to say "I think they are two of the greatest performers of this generation" and "when I needed a place to stay, they gave me a bed".
I hope this leads to Daniel Bryan turning on Shane McMahon and helping Kevin and Sami get their jobs back at Wrestlemania, but that's nothing more than wishful thinking. Nonetheless, I'm still excited to see this match in two weeks time.
Smackdown Tag Team Championship matches have been stealing shows and outshining pay-per-view main events for over a year now, but it was only recently that the promos and storytelling aspects rose to that same level of quality.
The mic-work coming from The Usos and The New Day as of late has been some of the best in WWE, and this New Day promo before their match with The Bludgeon Brothers was no exception. The match itself was short, but told a great story; a few minutes into the match, The Bludgeon Brothers attempted to grab their hammers (or "mallets" as the WWE commentary team loves to call them), and were ambushed by The Usos, who managed to fight them off with the help of The New Day.
This led to a tense stare-down between the Smackdown Live Tag Team Champions and their long-standing rivals, which was broken up when The Bludgeon Brothers stormed the ring and chased all five men off. A great angle for a match I've been excited to see from the start, I hope their match is given at least 20 minutes at Wrestlemania.
Dolph Ziggler vs Tyler Breeze to advertise the Andre The Giant Memorial Battle Royal. Who cares? Do you care? I don't care. NEXT.
Finally, in the show's main event, we got Shelton Benjamin vs Shinsuke Nakamura with AJ Styles in his corner. The match was intense and exciting, but the real point of interest was the post-match promo segment between The Rockstar and The Phenomenal One.
With only a couple brief sentences, Shinsuke sent AJ into a long, heated rant– to which Nakamura simply responded "That is why I will beat you at Wrestlemania. Because you are too emotional." When he walked away, however, Styles was jumped by Chad Gable and Shelton Benjamin, forcing Shinsuke to get involved once again.
After fending off the pair, Shinsuke struck fear into AJ Styles' heart when he came an inch away from blasting him with a Kinshasa, leaving him on the floor to contemplate his life decisions. The story-telling in this feud has been nothing short of amazing, with AJ playing a sort of arrogant pseudo-heel, and Shinsuke Nakamura playing a cheeky babyface.
These two are going to put on an amazing WWE Championship match at Wrestlemania, and it's a shame that Lesnar vs Reigns is proabably going to go on after it.