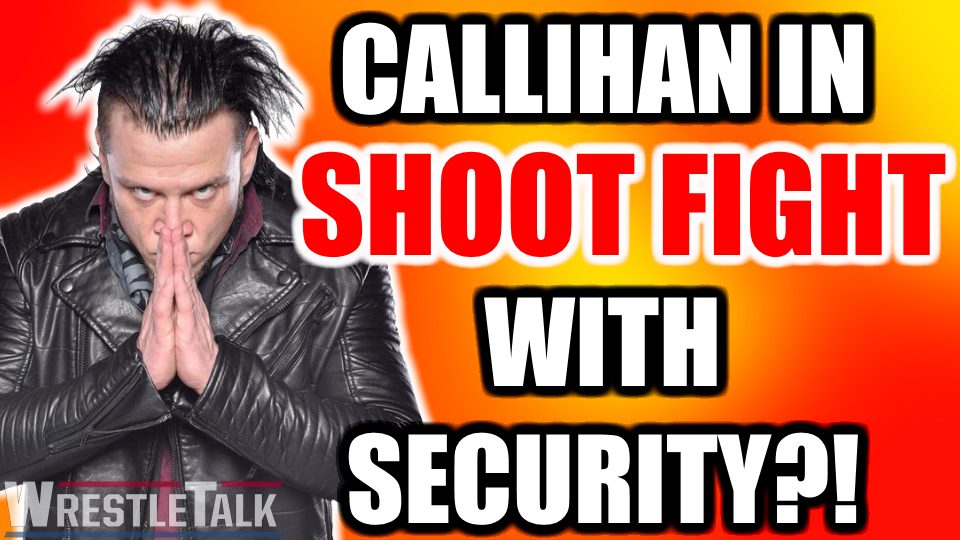 Sami Callihan got into a bit of hot water on Friday night, ending with him being shoot escorted from the ring by security after a situation got way out of hand.
Performing at the Logan Square Auditorium in Chicago, Callihan was booked to face Jimmy Jacobs for local promotion AAW. The issue came from Callahan using the the venue's chairs in a spot, rather than chairs owned by the promotion.
A Reddit user was at the event and posted their account of the events online:
Warning – ADULT CONTENT Below
"As Sami was burying Jacobs in a pile of chairs, suddenly you can hear someone grab the mic and say something like "stop breaking our chairs you a**holes! seriously! you're gonna pay for them". I turned around and it was some dude in the DJ's booth. So of course everyone booed and Sami and Jimmy eventually made their way back to the ring. Of course the crowd chanted "break more chairs" later in the match, so Sami went out to grab more of them and started tossing them in the ring. At that point security, Danny Daniels, and some other guy made their way to the ring. Danny started yelling something at Sami and security started pulling the chairs out of the ring. I think Sami said something like "i wasn't gonna f***ing break them", but anyway… they went on with the match and finished it with a packaged piledriver through a guardrail placed on two folding chairs (not the crowd ones). After the match ended, security guys got into it with Sami. Couldn't hear what was being said, but lots of yelling. There was some pushing. Then the OVE boys and Jessi Havok came out. She was the one holding Sami back and pushing him away from security haha. It did look serious and security definitely did look pissed, but Sami was backing away the whole time, but stood his ground just enough to not look like a pussy. Eventually they all ended up in the staircase area where Sami and one of the security guys yelled at each other for a bit and then they were out of my sight."
And further went on to clarify:
"To iron out some details, the big confrontation began at ringside just as Sami got out of the ring after finishing the match. Neither Danny [Daniels] nor security were in the ring (if you don't count security reaching under the ropes to pull chairs out of the ring mid-match)."
Danny Daniels is the co-owner of AAW (All-American Wrestling).
That evening, Sami commented on the situation on via Twitter:
Got into a fight with security tonight @AAWPro, and almost started a riot. Typical Friday night for #TheDRAW. pic.twitter.com/qi6M3RuAd0

— THE DRAW (@TheSamiCallihan) September 1, 2018
With many conflicting accounts posted online, it is unclear how far the matter actually went, with some sources saying Callihan was threatened with a gun and many reporting that he was removed from the building and the show was almost cancelled mid-card. Somewhat clarifying the situation, Callihan has since posted that he wasn't thrown out of the event:
I was not tossed from @AAWPro's building. Nice try rumor mill. I love how nobody is reporting this correctly. pic.twitter.com/pwiQICEiyM

— THE DRAW (@TheSamiCallihan) September 2, 2018
Related Content:
Who do you think was at fault, Sami for using the venue's chairs, or did the building's management team over react? What do you hope is next for Sami Callihan? Let us know in the comments below or on Twitter here. You can also join us on Discord to chat with Oli, Luke, the magazine team, the website writers and each other here!