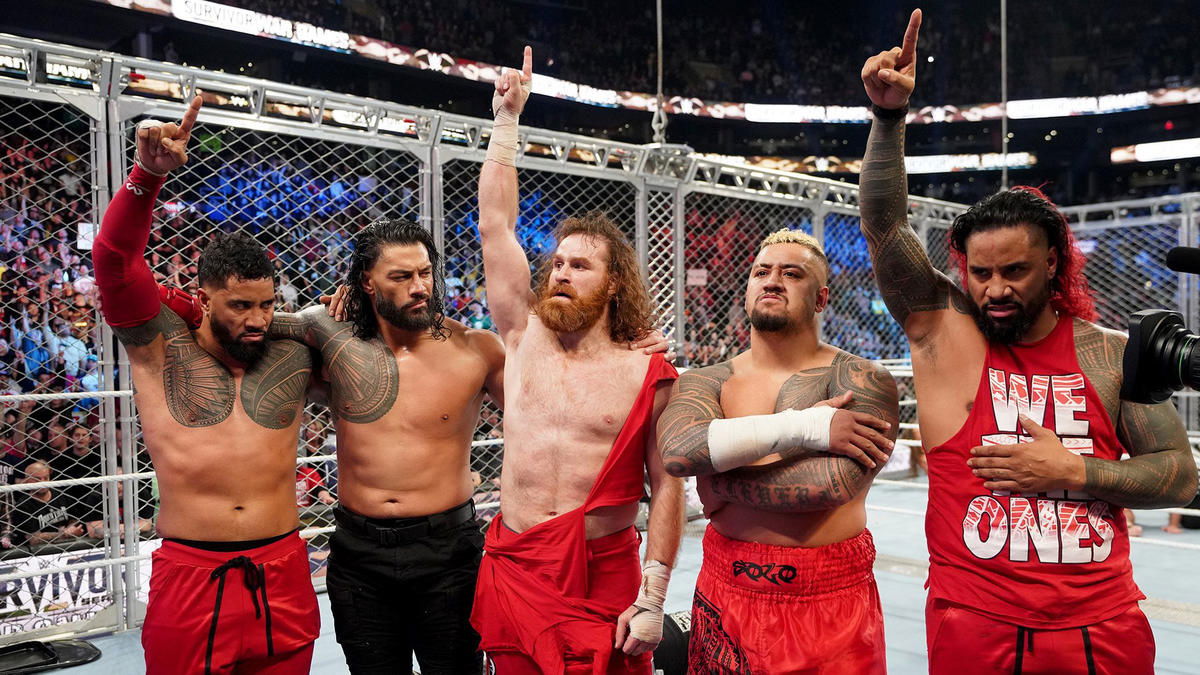 Sami Zayn has reflected on his role in The Bloodline storyline.
At WWE Night of Champions, Sami Zayn and Kevin Owens defeated The Bloodline's Roman Reigns and Solo Sikoa to retain the Undisputed WWE Tag Team Championships.
This has seemingly ended Zayn's year long storyline with The Bloodline. Starting as The Honorary Uce to the lead babyface against the group, the WWE fans have been engrossed into the ongoing saga with Roman Reigns' family.
Appearing on WWE After The Bell with Corey Graves, Sami Zayn reflected on his role with The Bloodline and was asked if he realized how special the storyline was as it was going on. He answered:
"For me, I definitely felt it. I knew it. Yeah, I knew it pretty early on actually, especially, I don't know, really come maybe September? So this is a while back. That's almost, what is that, six months ago? Maybe more."
"It's something I'm particularly proud of, but also like a bit shocked by because if I may be so bold as to expose my own insecurity, it's almost a byproduct of trying to keep yourself grounded and keep yourself humble."
"I don't go out of my way to call myself a draw. I think WWE is the draw, and then within the product, you have components that are going to really help the product and I've always viewed myself as that. But this was the first time when I could look at something that I was doing and I'd be like, no, no."
"This is driving business. This is drawing with every metric imaginable, merchandise, ratings, social media engagements, just general fan interest. Everything you have to go buy, live live events, attendance, everything was going up. Everything has been up."
"So it's really the first time in my career where I'm like, I could point to something and go, to use an old school expression, this drew money. This drew serious money. So that's cool. I kind of realized that pretty early on."
On the importance of incorporating his real life friendship with Kevin Owens into The Bloodline storyline, Zayn said:
"That reality that you're talking about is why it worked. If it wasn't Kevin, the whole thing wouldn't have worked because for me to be put in that predicament, for me to have my loyalty tested, the crux of all that was that I had this allegiance to someone who's legitimately my oldest and longest friend in the business."
"Everyone knows that story, that it's 20 years deep and all that. So if we don't have that, the story doesn't have that same believability. It doesn't have that same thing holding the whole thing together."
"The same could be said about the Usos and Roman in part of why that is so successful is because it is a legitimate family. It is a legitimate brotherhood that they all grew up together, so people understand those dynamics."
"Then you mix Kevin and I who may as well be family, 20 years of brotherhood and all that kind of thing, so without him, it didn't work."
"I know he wasn't the main player throughout the whole thing, but the fact that he was woven in carefully at the right times is what always propelled the story to the next level. It's all because it's a real situation."
The current Undisputed WWE Tag Team Champion continued on to explain why his bond with Owens was relatable to fans regardless of when they started following their story, saying:
"Even if you don't know about our 20-year history and you're just a WWE fan, you still know our history dating back to NXT in 2015 and all that stuff. Of course that heightened everything."
"That heightened the success of the storyline, but it also obviously heightened how special it was to main event WrestleMania together in a match that really there was no precedent for because the idea of a tag team title match main-eventing WrestleMania, even a few years ago, you never would have dreamed of that."
"So I think that's one of the other things that I'm quite proud of. I'm sure I speak for everyone involved in that match. It's rare in WWE to still be coming out with firsts."
"The first time ever of blank, or the biggest blank, of whatever of all time, we managed to kind of do that, so that's really something to be proud of, I think, in addition to everything else."
Stay up to date with every WWE title change of 2023 using our tracker at this link.
Transcription via Wrestling News
If you want to stay fully updated on all the latest wrestling news, click the red bell in the bottom right of your screen to receive notifications from WrestleTalk.com straight to your device!