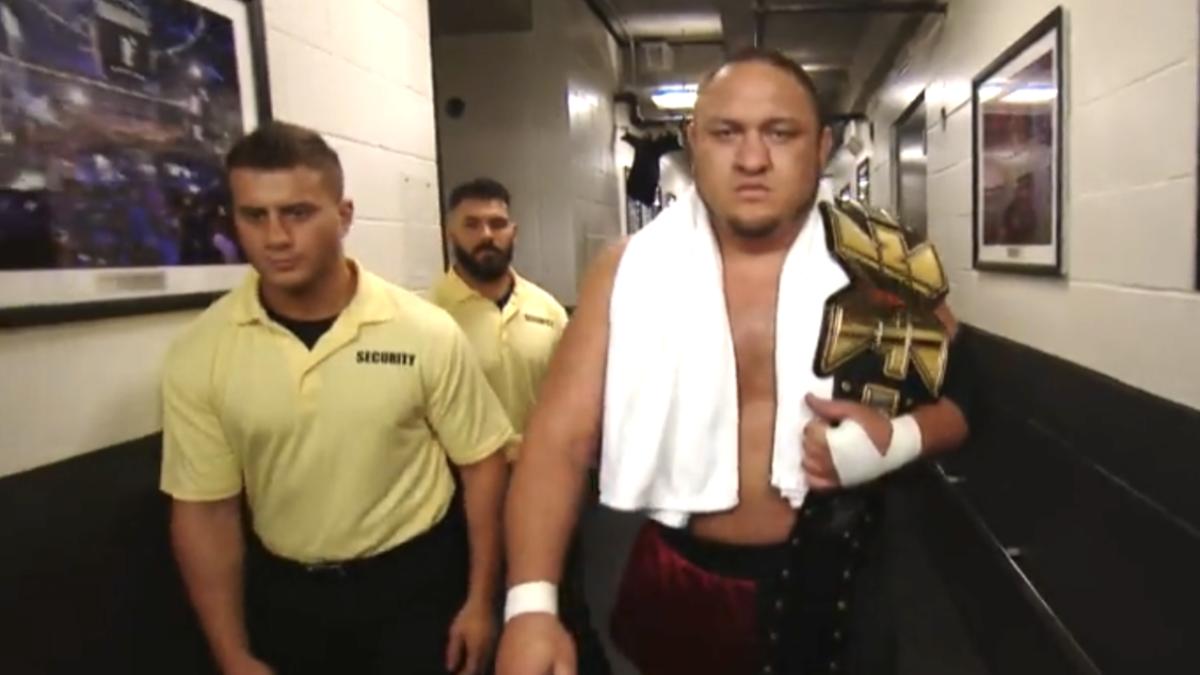 Samoa Joe has recalled the backstage origins of his spot with MJF on NXT Brooklyn II, which has been referenced in their AEW feud.
At the 2016 event, Joe was led to the ring by several security guards, who were actually wrestlers working as extras.
During his ring-walk, Joe shoved one guard to the wall, who later went on to become the MJF we all know and hate/love, depending on his mood.
This shove was referenced at All Out 2023, when Joe pushed MJF aside when they were crossing paths on the arena ramp.
Speaking with the New York Post, Samoa Joe noted that in that moment on NXT TakeOver Brooklyn II, he was trying to make the most of all of his screen time.
When asked if he felt like this rivalry with MJF was inevitable because of their history, Joe said:
"I don't think we necessarily had to get to it through that meme or avenue because I think he's a very talented individual, much like myself.
"I think we have an innate ability to go out and pick a fight no matter what the circumstances are. It obviously was something that stuck out in a lot of peoples' minds.
"I knew for a lot of people it was a funny iconic moment. Why fight the flow?
Recalling the origins of the original shove, Joe said:
"I always feel like if you're gonna take up screen time at least be somewhat interesting. We were walking down the hallway. He was maybe doing too good of a job trying to clear things out.
"I put him up into the wall. I think after everyone kind of took a look at it and had a hilarious chuckle and it ended up sticking around and staying.
I think it was close to live where we had a little bit of a delay because we were running (video) packages and stuff like that. By the time it got to the truck it was gonna be broadcast pretty shortly afterward and they were all about it.
Looking to hand MJF a loss, he continued:
"This is very much about examples being to be made. I made an example of Adam Cole. I'm looking forward to making an example of MJF in front of his friends and family.
"I think it's the best place to make an example where the people who care about him the most will see. I'm looking forward to going in there, walking him down, crushing him completely and taking all the big championships.
"Maybe having a big celebration afterward, maybe grab a slice. I don't know."
Joe will challenge for MJF's AEW World Championship at the September 20 Dynamite Grand Slam show. after winning the Grand Slam Eliminator tournament.
Think you know the most about wrestling? Join our Wrestle League predictions competition for free, and be in with the chance of winning $250 of Amazon vouchers. Make sure you subscribe to email notifications to make sure you never miss a show.