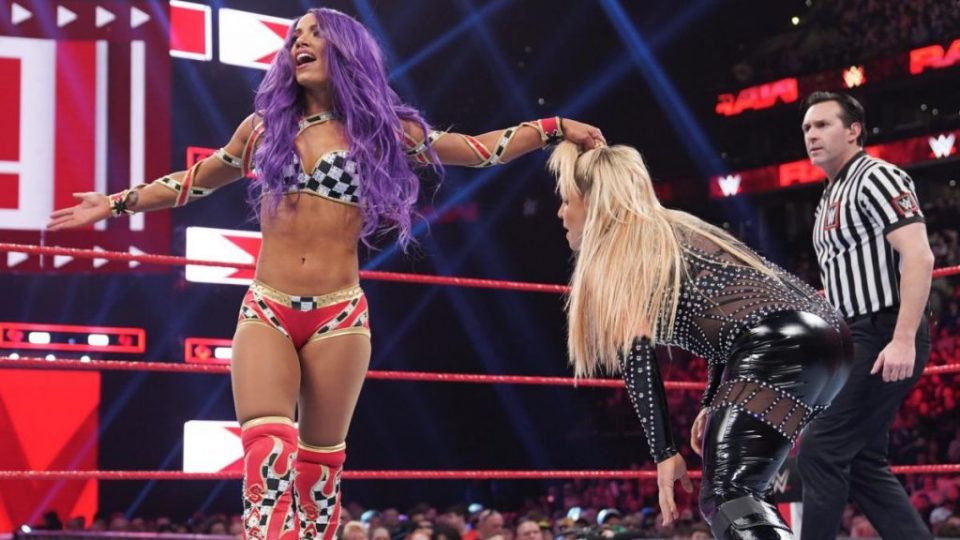 The cold war between WWE and Sasha Banks that has raged since WrestleMania 35 shows no signs of abating, with neither side budging on their respective stances: Sasha still wants to leave, WWE still has no intention of letting her.
After an initial flurry of posting cryptic messages and unfollowing WWE on Twitter and following AEW instead, Sasha remained largely quiet about the situation in public. She did post some shrubbery GIFs recently but who even know what the purpose of that was!?
Sasha has recently become a lot more active on her social media platforms again, such as sharing this image of herself doing yoga with a baby goat, because why not?
— Mercedes Varnado (@SashaBanksWWE) April 29, 2019
Banks has also been spending time with some of her WWE pals, including former tag partner and best friend Bayley, with whom she visited a comedy club in Austin, Texas recently.
In a picture posted by comic Brad Williams of the WWE pair backstage at that show, Sasha was revealed to be sporting a brand new hairstyle, going for dark brown hair rather than her trademark WWE all-purple style. Yet another sign she is done with WWE? Maybe.
https://www.instagram.com/p/BwwDqokh0Ce/?utm_source=ig_embed
This is the sort of thing that would certainly irritate WWE if done without permission – which this almost certainly was. Of course, hair can be changed back fairly quickly if things are resolved, but as the moment there appears to be no sign of that happening anytime soon.