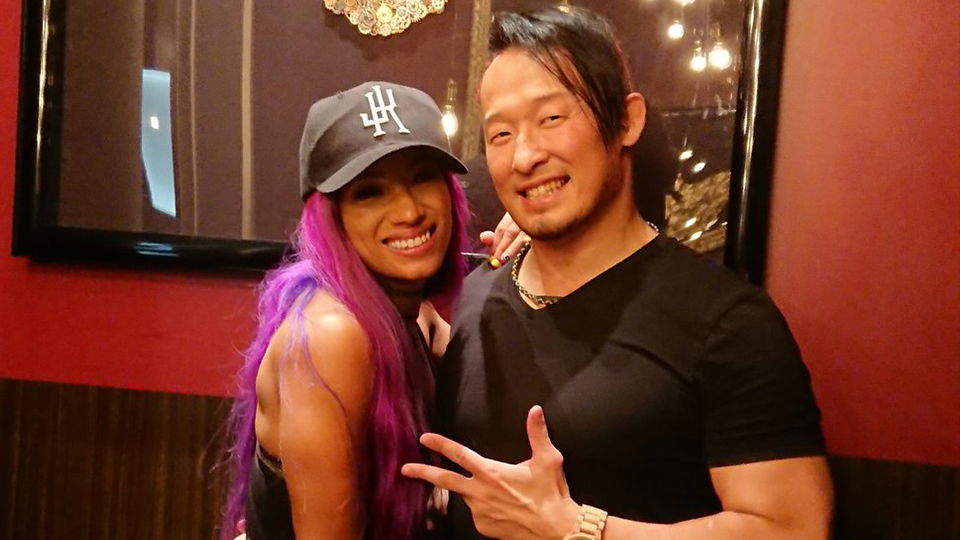 WWE star Sasha Banks has been MIA since dropping the Women's Tag Team Titles to The IIconics at WrestleMania 35 and walking out of the promotion.
Since then she has been spotted at concerts with best friend Bayley, on holiday with Kalisto and his and her respective partners and filming WWE 2K20 commercials.
Now, the AWOL star is in Japan, working out and hanging out with notable wrestlers from the country.
NOAH legend Naomichi Marufuji posted a picture on Twitter of he and Banks together in Japan having had lunch together:
今日は日本に来ていたサーシャ・バンクスとご飯♪

Thank you ! @SashaBanksWWE Have a good time !!#noah_ghc #丸藤見たけりゃNOAHに来い #サーシャバンクス #sashabanks pic.twitter.com/UxxFuEKrbd

— 丸藤 正道 (@noah_marufuji_) July 7, 2019
Marufuji was not the only Japanese wrestler Banks lunched with, she also enjoyed sushi and a workout with Tokyo Joshi Pro wrestler Reika Saiki, as seen below:
can you believe it?

i worked out with Sasha Banks at GOLD'S GYM??✨
and after that,we ate sushi?
good protein and carbohydrates???

i had a great time with her.
she is awesome!!thank you so much?✨#w_1 #筋肉アイドル #ムキカワ pic.twitter.com/yYElAx3gym

— 才木 玲佳 Reika Saiki (@saikireika) July 7, 2019
Banks also spent time with TJP's Mina Shirakawa, who described her time with the WWE star as "so much fun" and called Banks a "very kind and wonderful woman".
Last night, it was soooo much fun!
She is very kind and wonderful woman?

サシャと焼肉食べに牛恋へ❣️
超楽しかったぁあああ〜〜!!

今日も試合頑張る!!?#tjpw pic.twitter.com/361jrAAhHe

— 白川未奈 Mina Shirakawa (@MinaShirakawa) July 6, 2019
It would be easy to read into this that Banks is networking with designs on heading to TJP should she be allowed to leave WWE.
However, TJP is a small promotion and very unlikely to secure Banks if she were to leave, which is almost certainly not happening anyway as WWE has no interest in letting her go.
More realistically Banks is in Japan on vacation and just wanted some like-minded people to hang out with while she was over there.