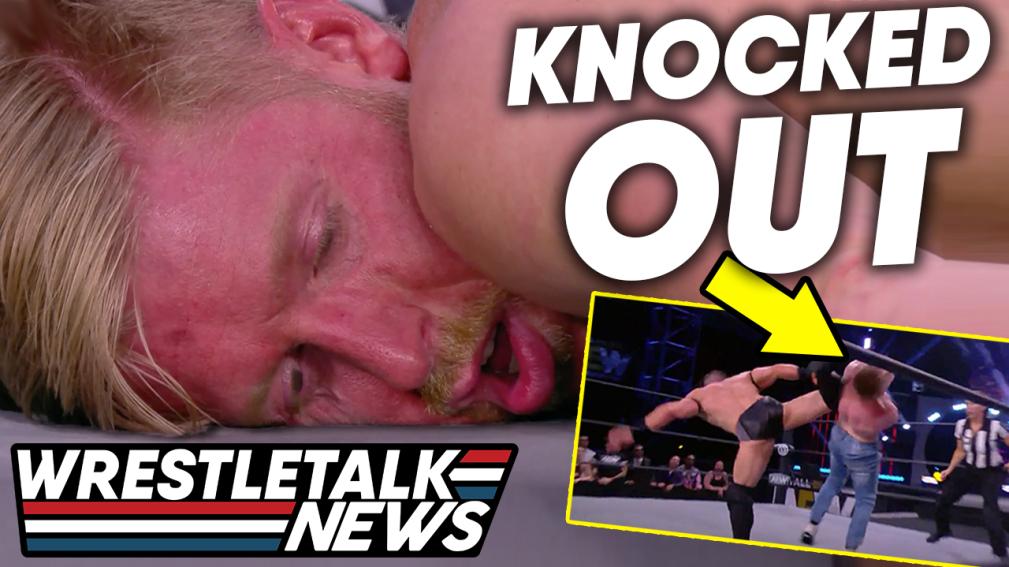 Just two days after Humberto Carillo vs Sheamus had to be called off on Raw due to injury, with Sheamus landing wrong on Carillo's legs after a sunset flip powerbomb – thankfully Carillo was fine after the show – AEW experienced a similar problem on last night's Dynamite. Only this time the stakes were a little more significant as it was in a match to decide the No. 1 contender to the AEW Championship at their next pay-per-view.
PAC and Orange Cassidy were having a great match, somehow meshing Cassidy's comedy with PAC's scary seriousness, but 10 minutes in PAC hit a thrust kick that appeared to knock Cassidy out cold, and presumably unknowingly followed it up with a Liger Bomb – dropping Cassidy right on the back of his head. 
That was when both PAC and referee Aubrey Edwards realised something was wrong. PAC gently nudged Cassidy out of the ring and the show cut to a picture-in-picture break while the backstage team presumably figured out what to do.
The original plan, as reported by PWInsider, was for PAC and Cassidy to go to a 20 minute time limit draw to make it a three way for the AEW title at Double or Nothing. But with Cassidy now unable to continue another 10 minutes, Kenny Omega ran out and hit PAC with his title, leading to a TKO draw, still qualifying both men for the triple threat at the pay-per-view.
Dave Meltzer corroborated the report, tweeting: 
"Injury was real, end result was as planned. An audible was called on the fly."
And Fightful Select said they'd heard the same, adding that Cassidy was thankfully ok after the match. Mike Johnson of PWInsider also wrote that Cassidy was seen socialising with a number of talents after last night's taping wrapped up.
WWE Star Told He'd 'Be Done' If Angle Failed
Bunny hopping over the fence to WWE, Damian Priest has revealed to Sports News Australia that there was a lot more riding on his WrestleMania tag match with Bad Bunny than just Bad Bunny's ticket sales, confessing people backstage in WWE told him:
"'Listen, you can't blow this because if you do, you're done' All I said was you're giving me the opportunity, I'm going to do everything to my abilities to knock this out of the park."
Thankfully for Priest, Bad Bunny hit a Canadian Destroyer, making the match one of the highlights of WrestleMania weekend, leading Damien onto… a never ending feud with the Miz and John Morrison.
What do you want to see from Priest after The Miz feud is hopefully over? Let me know in the comments down below because I'll be replying to people for the first 15 minutes after this video goes live FROM OUTTA NOWHERE!
Charlotte Upset Backstage Over Pregnancy Storyline
At least Priest got a Mania match unlike Charlotte Flair. She was originally meant to face Lacey Evans for at the show, who her dad as kayfabe implied to be banging. But Lacey got pregnant and the storyline was dropped. Ric has now told ESPN's Ariel Helwani how nobody involved wanted that storyline to happen.
"In this instance, I didn't. The one thing I've learned is you aren't going to win a war when someone has their mind made up and [Charlotte] most definitely didn't like it." 
Now it's Thursday, you know what that means! My review of last night's AEW Dynamite, in about 5 minutes…
AEW Dynamite Review
The show had a fantastic cold open of both Jon Moxley and Nagata warming up ahead of their IWGP US title match to start the episode – which didn't just see the New Japan Forbidden Door kicked off its hinges and thrown hardway into AEW's face, it also saw Tony Khan's latest Apple Music track purchase: Wild Thing as Moxley's new entrance music. 
I've said forever that pro wrestling stars need more actual songs for entrance themes like in boxing, and I'm so glad Tony is making this happen.
The match itself was a fantastic Strong Style clash that Nagata's presence made feel really different to AEW's usual in-ring action. It's crazy that acknowledging the existence of international promotions enhances a promotion's prestige rather than taking away from it.
After being busted open with a stiff strike to the face, Moxley won with a Paradigm Shift in 10 punk song filled minutes. Which I thought was perfect. Not every championship match needs to go 20, especially on TV and when you've got two other title bouts on the show. They bowed to each other afterwards in an honorable display of mutual respect.
Wisely not taking Deadspin's advice to "f*** of more than anyone ever f***** off in the history of f****** off', Cody Rhodes cut a promo about loving Merica, saying Anthony Ogogo isn't from Merica. And he won't stand for it – neatly summing up US foreign policy for the last 60 years.
This was Cody at his finest, with a fantastic line about Ogogo not coming here to live the England Dream and a beautiful shout out to Brandi and their daughter. But it was his final line that got me, saying that at Double or Nothing, he won't face Ogogo as the American Nightmare Cody Rhodes. For one night only, he'll do it as the American Dream
You know what Cody, maybe you do need to f*** off because you keep making me cry all the time
Despite some great action and a really dramatic final sequence, the Young Bucks retiring SCU as an act missed out on its emotional potential. Everyone played their roles perfectly, with Matt Jackson's 'Sorry, I love you' mocking, Kaz hitting a Styles Clash – a move that means a lot to everyone involved – and Daniels just keeping kicking out while bleeding over everything.
But after the Bucks won with a BTE trigger, the show almost immediately cut backstage to Mox and Kingston trashing their locker room. It severely undercut what was the end of a legendary tag team and the promotion's first ever tag champions. AEW were far more focused on building the Bucks vs Mox and Kingston for Double or Nothing, which happened later.
Christian wants to be in the Casino Battle Royal, and he'll have a match against Matt Sydal next week 
Then came the PAC vs Cassidy draw that'll set up a Double or Nothing three way for Kenny's AEW title, what I believe is the promotion's first ever multi-man championship match – which I cannot wait for. It's a genius way to keep Cassidy a main eventer without overexposing him. 
But what about that other wrestler who was ranked at No. 1 for ages, Hangman Page? Oh yeah, he weirdly lost his first match in ages against Brian Cage two weeks ago. They'll have a match at Double or Nothing. It's almost like Page lost that match on purpose so he wouldn't have to deal with fighting his former best friend again-I can't, I just can't, the feels are too much.
The Pinnacle came out to gloat about their Blood and Guts victory, with MJF wearing a literal crown. His motivation has always been seeing Chris Jericho's spot, and wanting it, like a spoilt child – and, to be fair to the guy, he provided statistical proof, claiming he's the new Demo God having won the No. 1 ranked show on Cable last week.
But just like Cassidy and PAC, or Moxley and Kingston, or Britt Baker in her sitdown interview with JR, one of AEW's great strengths is being able to do both broad comedy and deadly serious angles with the exact same characters. It's MCU levels of investment. The surviving members of the Inner Circle, Sammy, Hager and Ortiz drove out on a little bit of the bubbly tank, and revealed Jericho in the back wearing a sling. They covered the Pinnacle in champagne Stone Cold style, and MJF challenged them to a Stadium Stampede match at Double or Nothing.
This was undoubtedly entertaining, and I popped for everything. But I'm a simple creature that doesn't know what's best for it.
This is far too soon for a rematch, for Jericho to come back, to go from the violence of Blood and Guts to the cinematic slapstick of a Stadium Stampede. From the start, it feels like this incredible dense story has been rushed to get to Double or Nothing in time, like when Game of Thrones ran out of source material.
Thunder Rosa squashed Jazmin Allure, presumably building her to be Baker's first challenger when she wins the women's championship at Double or Nothing.
Jade Cargill turned down another managing offer.
And Dynamite was yet again main evented by the TNT title – or how I learned to stop worrying and bring in misused WWE stars to squash the champion to win. 
Miro vs Darby Allin was absolutely awesome, following the same template of Brodie Lee beating Cody for the same belt last Summer. But while that had Brandi and Cody passed out holding hands, this one had a different heartbreaking dynamic of Darby knowing that he couldn't win, and Sting knowing that he couldn't win, but them both fist bumping and vowing to give it their all anyway. 
Because of dad's crushing you vicariously with their own hopes and dreams isn't love I don't know what is.
Darby's broken arm got the better of him, and Miro won with the Game Over.
A great moment, but again immediately undermined by the post-match. Ethan Carter and Scorpio Sky attacked Sting again, which became a bit lame a while ago, and the show abruptly finished with barely any time given to Miro. They ran out of time on a show that was reportedly meant to have PAC and Cassidy go 10 minutes longer.
What did you think of Dynamite? Let me know in the comments down below, and vote in our poll on a pole match on the community tab, where a massive 80% of you went for Miro Crush. Miro Champion.
This had all the elements to make it one of the best episodes AEW have ever done. SCU breaking up, Miro winning, a freaking New Japan match. But the show rushed over parts that really needed to breathe, so I'll have to knock a point off. This week's Dynamite is 4 out of 5.
What are your thoughts on the above story? Let us know in the comments on Twitter or Facebook.