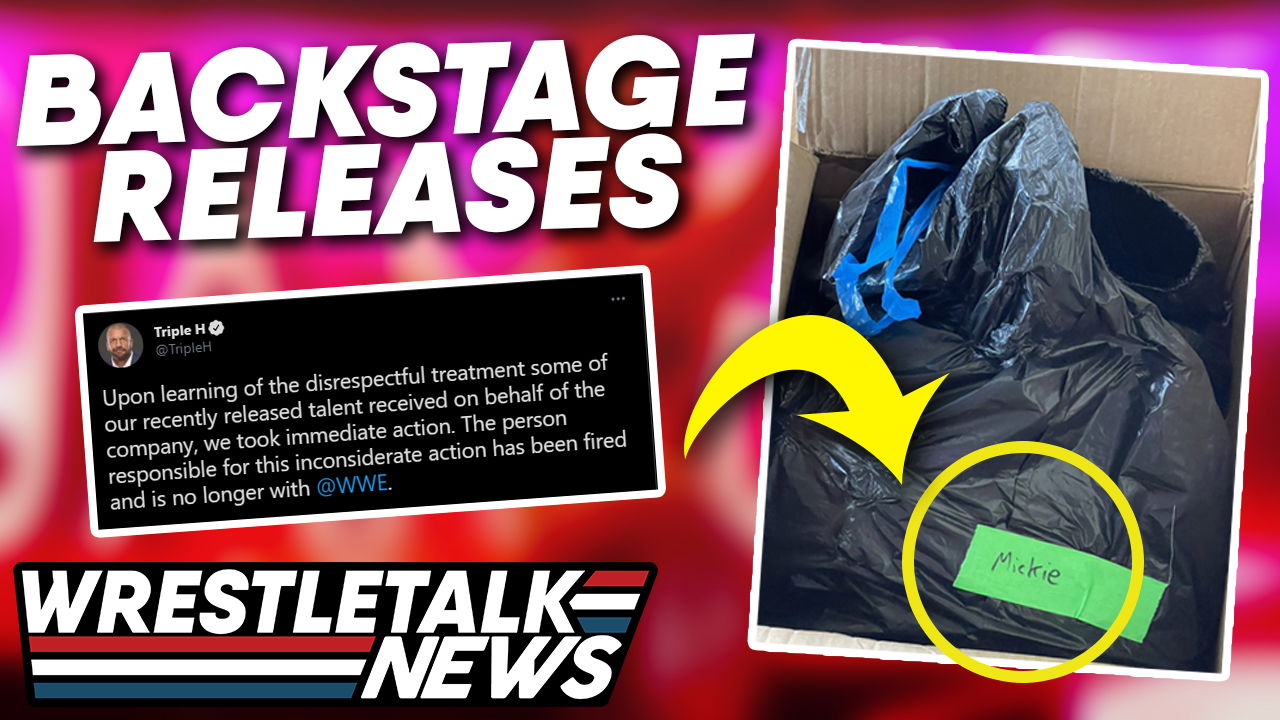 Drama, there is drama going on backstage at WWE.
You may remember that last week WWE released Mickie James, Samoa Joe, Billie Kay, Peyton Royce, Bo Dallas, Wesley Blake, Chelsea Green, Tucker, Kalisto, and Mojo Rawley, wished them all the best of luck in their future endeavors and gave them all the niceties a huge corporate enterprise could.
Well not exactly, because one of the released stars, women's division legend Mickie James, tweeted to show how her belongings and effects were sent to her following her release.
Accompanying a picture of a bin bag marked Mickie she tweeted: "Dear @VinceMcMahon Im not sure if you're aware, I did receive my @WWE care package today. Thank you. #AlwaysBlessedandGrateful #WomensWrestlingMatters"
Now WWE is associated with two sorts of trash. If you were being exceptionally forgiving you might use mental to gymnastics to be like 'oh maybe they ran out of nice bags to send stuff in'.
Oh wait no, because Maria Kanellis who was released back in 2020 tweeted to say that: "last year I got one too". This seems to be the standard practice.
The tweet caused a bit of a storm and Sean Ross Sapp of Fightful, Dongus Lordus in Latin, said that he spoke with numerous people backstage who seemed "truly disappointed and bothered" by the situation.
Which spurred WWE into action as Triple H tweeted "Upon learning of the disrespectful treatment some of our recently released talent received on behalf of the company, we took immediate action. The person responsible for this inconsiderate action has been fired and is no longer with @WWE."
Backstage Layoffs At WWE
Which is where this begins to bleed into our next story as WrestleVotes tweeted last night that: "Some serious internal WWE house cleaning going down. Many, many people impacted. Wow."
SRS tweeted to say that Joe Villa from the Public Relations department had been let go. Fightful also reported that Dan Engler departed his role as Senior Manager of Talent Relations, but will stay on as a referee.
Wrestling Observer reported that multiple names from the Talent Relations Team had been given marching orders including director of talent relations Nicole Zeoli, senior manager of talent relations John Cone who will remain working as a ref and senior director Mark Carrano.
Carrano is the name many speculate could be responsible for trash-gate. And anecdotally has a spotted history with released talent with the former Darren Young, Fred Rosser retweeting Sean's news on the release saying: "I was constantly harassed by him about losing my job and I just stayed quiet".
John Laurinitis is said to be taking on his duties which certainly puts Carrano squarely in the crosshairs as the one responsible for the trash gaffe.
There's been no official word on the backstage shake-up as of recording but some have speculated that it could be a shuffle to make space for Nick Khan to insert his own people into prominent roles.
WWE Sells Anime Series To Crunchyroll
Next, in news I never thought I would say: WWE has sold an anime series to Crunchyroll.
I'm going to let that sit for a moment… bananas.
In case you're not a weeb Crunchyroll is the leading streaming service dedicated to anime, the news of the sale broke during the first-quarter earnings call WWE held last night, with President Nick Khan revealing the news.
He's quoted as saying: "As we continued to expand WWE's brand beyond the ring, we remain focused on developing the slate of original programming from WWE Studios. We sold a multi-episode anime series to Crunchyroll, which is now owned by Sony."
So WWE joins the illustrious league of sports that have anime series about them, alongside such greats as basketball, baseball, swim club, ping pong and all male cheerleading squads. Anime is brilliant.
Bad Bunny Increases WWE's Hispanic Audience
Also coming out of the earnings call was a bunch of interesting news items.
First and foremost was yet further proof that Bad Bunny is massive star and people, us included, had just never heard of him, because look at me, look at us, it's like a game of spot the difference where they forgot to put in the differences.
Anyway, during the call Stephanie McMahon said that their Hispanic viewership rose 31% during Bad Bunny's segments in the run up to WrestleMania.
Saying: "Notably, all Raw appearances featuring Bad Bunny showed an increase of 31% in the Hispanic persons 18 to 34 and Bad Bunny's total social Impressions during the time of his storyline equaled nearly 700 million."
Bunny is a draw and he can hit a Canadian Destroyer – I'm sure Jim Cornette is somewhere frothing at the mouth about this.
Now it's not for me to point out that maybe more hispanic people would watch WWE if they felt represented by the product in any way shape or form and if hispanic stars were featured prominently, were successful and maybe weren't always the bad guy. It's not for me to point out.
Current WWE Numbers 'Robust'
But the 31 Bunny bump isn't the only thing WWE lauded on the phone – fending off a question about what WWE are doing on the storyline front to reinvigorate the fanbase, Nick Khan said as covered by Sean Ross Sapp;
"Their numbers are 'robust' and says people are watching a lot of ways. He says they know immediately from fans what is working and what isn't, and it will impact things."
I don't believe you. Especially when there are no fans in attendance and WWE are telling people how to react on the Thunderdome. How can you possibly tell what people think in the moment?
And considering we've had stuff like Reginald rubbed in our faces for a good few months. Come on Nick.
But it is interesting that people are watching a lot of ways: whether that's live on TV, on catch-up, the clips on YouTube, the sort of job of keeping up to date with WWE's storylines has spread to multiple platforms now.
Live Fans Not Expected Until Second Half of 2021
Going back to that point on fans, with actual real life people having been on attendance for WrestleMania this year it was quite a bleak contrast heading back to the Thunderdome last week.
So many are asking when can we expect fans to be live in the audience for our wrestling once more.
SRS, diligent tweeter of the call, said that "WWE does not predict a return to live events until "the second half of 2021.""
As a few people have pointed out, considering it is the end of April, it's not like the second half of the year is that far away – so minimum we could be talking two months before we begin to see fans again at WWE shows.
WWE's 'Best Management Team In History'?!
I think it's fair to say that WWE has made some good innovations during the COVID era of their programming – the Thunderdome being one of them.
Vince said on the earnings call that this parts of their strategy of turning the pandemic to their advantage:
"we then saw this as an opportunity to rethink the way we do business and open what I call a WWE treasure chest. The only way you can do that is to have the best management team in WWE history. We have that team. A team that's innovative, a team that drives revenue and has reorganized our company in a more efficient way to take advantage of new revenue streams, new online platforms, new consumer products, new content creation, and new opportunities to expand our media rights portfolio on a global basis. I'm always excited about our business and I don't think I've ever been more excited than I am now."
Mere hours later, a backstage shuffle.
Undertaker Clarifies His Soft Wrestlers Comment
Earlier this year, The Undertaker got into some hot water after he called the current WWE locker room "soft", and preferred his era when "men were men". Wrestlers' Court. That's all that needs to be said really.
But as it turns out, Taker didn't mean any of that, as he's clarified in a new interview with Sports Illustrated:
"I wasn't bashing our talent. Our talent is extraordinary. What they're physically able to do, I couldn't imagine doing that back in the day. I have a lot of respect for our roster, but I came from a different time period. My point was it was tough back then. I remember when Triple H first came in, and he was shocked that I had black electrical tape on my boots. It was just a different time. We didn't even have trainers on the road. If you had torn gear, you either wore it torn or you tried to fix it yourself. I'm so proud to be part of the evolution of our business. The industry has come so far. It's a sign of the success and how far we've come."
Well this does sound rather more complimentary to the current day roster doesn't it? But with The Undertaker now retired, we won't be seeing him at this year's SummerSlam. They're saving that for the Saudi show.
Potential SummerSlam Location Revealed
But more plans have potentially been revealed for the Biggest Party Of The Summer. A previous report from Sports Illustrated indicated that WWE are interested in having fans back in attendance for SummerSlam, and a new report from Mike Johnson of PWInsider has suggested that WWE could hold the event in Texas, much like they will be for WrestleMania 38 next year. Phoenix, Arizona has also been considered.
Rumor Killer On Mojo Rawley Release
Someone we definitely won't be seeing at that show is Mojo Rawley, who was part of the WWE batch releases last week. However a report from Mike Johnson of PWInsider yesterday indicated that Rawley had actually been let go in early March. Now though, a report from Sean Ross Sapp of Fightful Select has confirmed this isn't the case and Rawley was in fact part of the releases last week. Fightful Select had reached out to Rawley on the day of the release, and did again yesterday to clarify his release date.
The PWInsider report seemingly took Rawley saying his next chapter would begin on May 31st and misinterpreted that this would be when his 90-day non-compete clause expired. However this was not true.
What are your thoughts on the above story? Let us know in the comments on Twitter or Facebook.