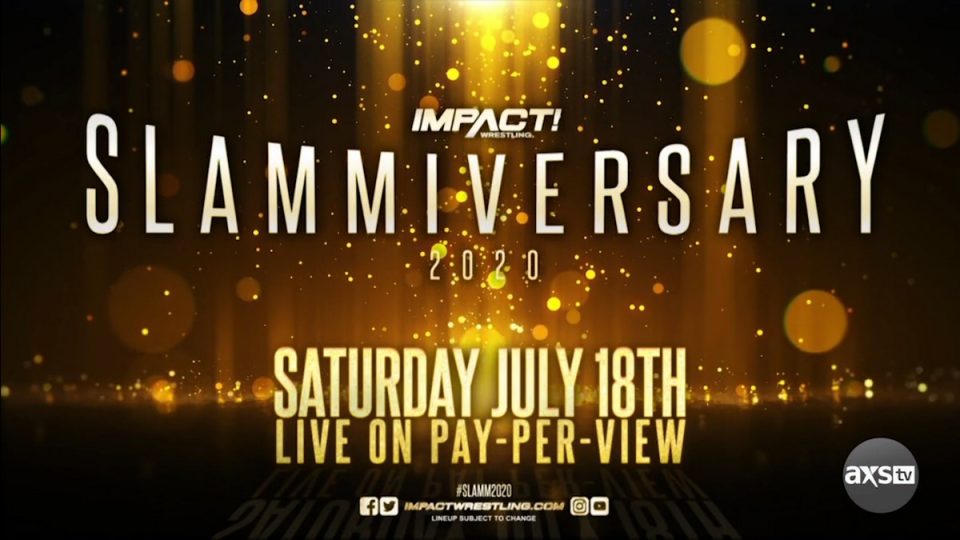 IMPACT Wrestling has promised several surprises for Slammiversary. They certainly have delivered.
The opening match included an open challenge from The Rascalz. Our first surprise was a returning team from the TNA glory days.
We got The Motor City Machine Guns consisting of Chris Sabin and Alex Shelley. They picked up the big win over The Rascalz.
The Motor City Machine Guns have answered the Open Challenge! #Slammiversary @SuperChrisSabin @fakekinkade

ORDER HERE: https://t.co/cjK3GrKZ0H pic.twitter.com/wrxAuPzRqu

— IMPACT (@IMPACTWRESTLING) July 19, 2020
The second surprise came after the Knockouts Gauntlet match. Heath debuted. He's just Heath. He's lost the Slater name.
He jumped the guardrail. He grabbed a mic. He said he'd answer the open challenge and implied Rhino would join him. Well, that match happened. He then said he'd join the World Title match.
.@HEATHXXII is HERE and he just taught @HakimZane a lesson at #Slammiversary!

ORDER HERE: https://t.co/cjK3GrKZ0H pic.twitter.com/nN3dO0z4Nu

— IMPACT (@IMPACTWRESTLING) July 19, 2020
None of that seems to be happening. However, Rohit Raju came out. Raju talked some trash and Heath said they were coming to take some spots. Heath took him out and looked great in the process.
Karl Anderson and Luke Gallows are expected to appear tonight after announcing their signing at Midnight. As of this writing, they had not appeared.
Eric Young was the 3rd Surprise. Well, maybe the 4th. Rich Swann came out as the 4th man in the world title match. While Swann is great, after all the hype, you'd think there would have been a bigger name.
The bigger name was Eric Young. Eric Young gets eliminated 2nd in the match. He comes back. He loses. He then attacks Swann's leg which had him out for months.
The surprises didn't end there though. After the match, The Good Brothers made their way down to the ring to save Eddie Edwards. They took out Ace Austin and Sawyer Fulton. They raised the hands of Eddie Edwards and celebrated.
Ladies and gentleman…

ORDER HERE: https://t.co/cjK3GrKZ0H pic.twitter.com/eevy9xddlx

— IMPACT (@IMPACTWRESTLING) July 19, 2020
As they celebrated, the screen cut to black and III appeared. We then got a video of ECIII. He didn't say a word. He just threw his glass against the wall. That's it.
I guess you have to tune in Tuesday to see how he'll debut.
Writer's Opinion: If you are calling this one of the biggest nights in company history, you need to underpromise and overdeliver. Eddie Edwards winning the title and ECIII only appearing via video is the opposite of that. Eric Young is great, but having your mystery guy being eliminated 2nd seems like a waste. Plus you just put the title on Eddie Edwards. I guess he can drop it quickly to ECIII, but where does that put Ace Austin? The ending didn't feel like it lived up to the hype IMPACT promised. Tuesday better get the good feels back quickly.