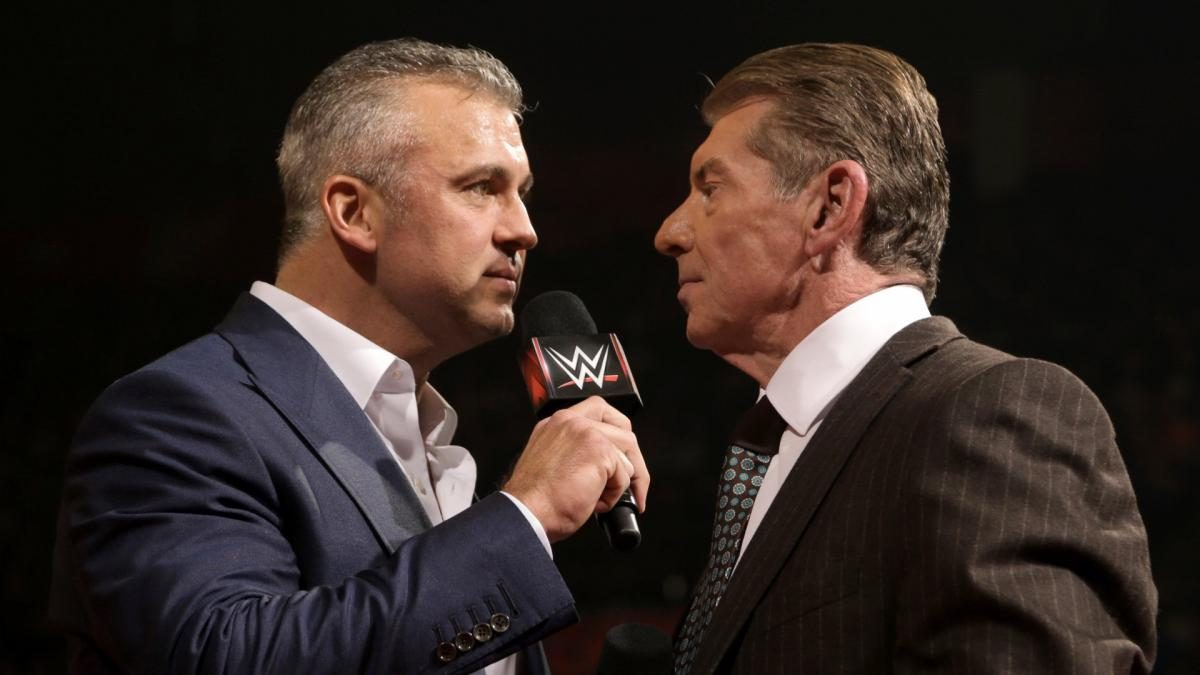 Things have broken down in a huge way between Shane and Vince McMahon, an AEW debut was cancelled under controversial circumstances, and more.
It's a news-packed Thursday morning so let's get on with it, I'm Liam Winnard for WrestleTalk.com, and this is our audio news bulletin for February 3, 2022.
You can listen to this morning's round-up here:
Shane McMahon Gone From WWE After Clash With Vince McMahon
For the past couple of days, we've talked about Shane McMahon quite a lot, partly because of apparent backstage heat, and partly because of his plans for WWE's next big shows.
There were plans for Shane to be involved in matches at Elimination Chamber and WrestleMania. It seemed like his WrestleMania opponent hadn't been finalised, but names discussed were Bobby Lashley, Seth Rollins, and Shane's pick, Austin Theory.
The original plan was for Shane to be involved in the WWE Championship Elimination Chamber match, but when that lineup was announced on Raw, he wasn't in it, and it's since come to light that Theory is the one that replaced him.
Well, don't expect to see Shane at Elimination Chamber or WrestleMania anymore, because boy do we have an update for you – Shane has been "let go" by WWE.
This was first reported by Ringside News and then confirmed by Dave Meltzer and other sources, and comes after Shane received a lot of heat for the way he conducted himself in his role of producing the men's Royal Rumble match.
Some of the things that have been said are that Shane was basically being pretty selfish in the way he was going about it, trying to center things around himself rather than anyone else, and this is likely why he no-sold offence from Kevin Owens then eliminated him, went toe-to-toe with legit badasses Otis and Riddle, and made the final three of the match.
A source told Ringside News:
Vince had no choice. Shane created chaos, had everyone in an uproar, pissed off everyone in the Rumble, openly buried other producers, and was changing things that Vince wanted. Vince had no other choice but to send him home.
Andrew Zarian specifically reported that Shane made changes to Bad Bunny's role in the Rumble, and WWE was concerned about coming off badly to such a major celebrity star.
Wade Keller of PWTorch also had quite a lot to add about the situation.
Keller said that issues between Shane and Vince really got to the next level when it came to the plans for Shane's involvement in Monday's episode of Raw.
Shane wasn't a fan of what Vince had in mind for him and pushed back to have the plans changed, and, well, Vince simply had enough and sent him home.
It's unclear whether this is an official release because Shane's contract situation isn't known. He may have had a talent contract, an employee contract, or no contract at all. But, to put it simply, Shane is out of WWE and won't be involved for the foreseeable future.
Keller also said that there's been issues between Shane and Vince festering for quite a while now and this didn't come as a big surprise to some people. He also said this really could be the final straw when it comes to Shane and Vince.
Brian Kendrick AEW Debut Controversy
From one controversial story to another, but this time, it's AEW.
As we covered yesterday, Brian Kendrick had been granted his WWE release and was set to debut for AEW in a match against Jon Moxley last night.
Well, about an hour before the show, it was announced that Kendrick's debut had been pulled.
This is because some questionable comments made by Kendrick in years past had resurfaced on social media throughout the day, one of the most pertinent being conspiracy theories about the Holocaust.
Tony Khan tweeted:
We've been made aware of abhorrent & offensive comments made in the past by Brian Kendrick. There's no room in AEW for the views expressed by Brian. We think it's best for all that Brian be pulled from tonight's card as we gather more info.
Kendrick then took to Twitter himself with a statement, writing:
I apologize for all the hurt and embarrassment I have caused with my words. These are not my beliefs and never were beliefs of mine, and I crossed the line.

I spread the most vile comments without thinking of the damage it would cause. I will live with this regret for the rest of my life. I am truly sorry for the pain I have caused.
Kendrick's replacement was Wheeler Yuta, who had Orange Cassidy and Danhausen in his corner, but came up short against Moxley.
Other Stuff
In other little bits of news…
We'll stay on the topic of AEW Dynamite, because in a pretty newsworthy main event, MJF ended CM Punk's unbeaten streak with the help of Wardlow. Also, Paige VanZant appeared on the show and teased a match against everyone's favorite human Brandi Rhodes.
Ember Moon's first post-WWE match has been announced. She'll be wrestling under her previous name Athena and taking on AEW's Thunder Rosa for Warrior Wrestling on February 12.
WWE put out a poll asking fans if they wanted to see more Johnny Knoxville, and Sami Zayn got involved on the red carpet at the Jackass premiere, so that might be something that comes up again in the future at some point. PWInsider reported that Knoxville's short run went down well backstage.
2K released footage of a full match from WWE 2K22 featuring commentary from members of the development team explaining new features and improvements. It certainly seems like a big step up.
Fightful Select reported that Juice Robinson's contract with New Japan expired on January 31.
And The current plan is for WWE to air the Hall of Fame live on the WWE Network after the April 1 episode of SmackDown, with the ceremony being held in the same arena and fans not needing separate tickets, so fans who have tickets for that SmackDown will see the Hall of Fame too.
Be sure to stay tuned to WrestleTalk.com throughout the day to keep up with all the news from the world of pro-wrestling, and I'll see you tomorrow morning for another round-up.