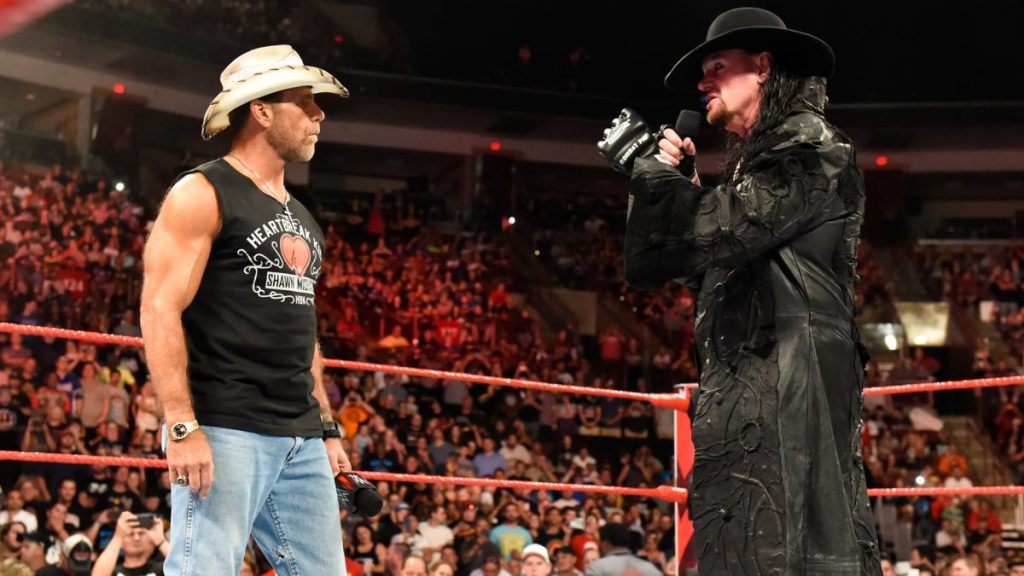 Shawn Michaels hasn't wrestled a match in over eight years. He lost an emotional main event against The Undertaker at WrestleMania XXVI, hung up the heart-adorned chaps, and hasn't been lured back to the ring since.
That was until this past episode of Raw.
A tense confrontation with his old foe, The Undertaker, has ignited excited whispers of a possible return for 'The Heartbreak Kid', most likely to face the 'Dead Man'.
However, as Cody reminded us after All In, "sometimes, when you take a bet, you go double or nothing."
And this may be a bet that Michaels is willing to make. Because the latest speculation has HBK competing in not just one, but TWO matches once he makes his return.
Brad Stevens, who co-hosts the Fired Up podcast with Joseph Peisich, had the following to say on this note:
"I spoke with a source in WWE about this situation this week… The main thing that I'm hearing – that I think is coming out of this – is, you know, Shawn wanted a new t-shirt which you saw him promote on Monday Night Raw, he's in good shape, the storyline involves all of his old buddies. You know, people like the Saudi Arabia government, they want big names.

Shawn has backed off of invitations to do a new match, you know, historically… But what I'm told is something about this internally feels a bit different."
Peisich echoed these sentiments, before dialled the intrigue one notch higher:
"Your source is correct. My source has even indicated to me that he gives it an 80% chance… that we will have Undertaker / Shawn Michaels. And also, not only that, the same source has indicated to me that we may see Shawn Michaels not wrestling one match, [but] wrestling TWO matches in the next little while."
The story doesn't end there though. Peisich volunteered some rather enticing possibilities as to who Michaels' second opponent might be:
"I have heard that he will take on The Undertaker and I have heard at WrestleMania, he may take on… AJ Styles [or] Johnny Gargano."
Either match-up would be mouthwatering, provided AJ survives his encounter with Samoa Joe at Hell in a Cell, and Gargano gets called up from NXT before the annual 'Showcase of the Immortals' rolls around in April next year.
What do you make of Shawn Michaels' return? Who would you rather see him face at WrestleMania – AJ Styles or Johnny Wrestling? Share your thoughts in the comments below and on Twitter here. Then join us on Discord, where you get to engage with the entire WrestleTalk team and the rest of the Swaft Nation.