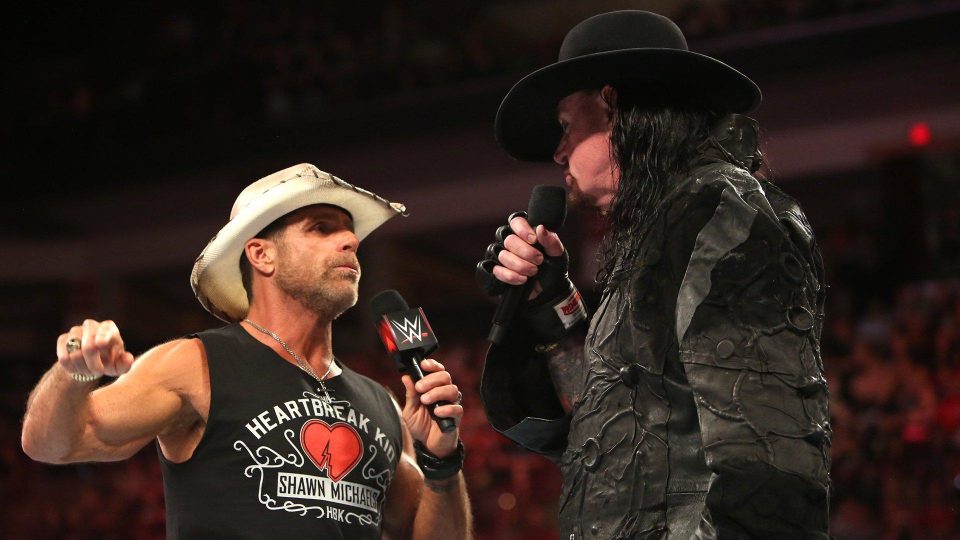 On this week's episode of Raw, Shawn Michaels was brought in to promote the upcoming match between The Undertaker and Triple H at WWE Super Show-Down in Melbourne, Australia. The match is billed as a "last time ever" bout. You know, like John Cena vs The Rock was billed as "once in a lifetime." And then wasn't.
In typical WWE fashion. instead of leaving the audience anticipating the upcoming match, we are actually hoping for one that hasn't even been announced yet. Many fans seem much more excited about the idea of Undertaker and Shawn Michaels having one last clash.
It appears as though this match might be more than a mere fantasy, as Dave Meltzer noted on a recent edition of Wrestling Observer Radio:
"Here's the thing, at the end the idea in theory would be pushing the Undertaker/Triple H match but when it was over that wasn't the match that you were pushing. Nobody was coming out of this segment going 'I can't wait to see Undertaker and Triple H.' They were saying 'I can't wait to see Undertaker and Shawn Michaels.' Which means if anything they weakened Australia."
Meltzer continued:
"Shawn's there anyway and it doesn't matter, but they still made it so the big match isn't Undertaker vs Triple H. Undertaker vs Triple H is a step to the big match which is Undertaker and Shawn.

"Perhaps that could be at 'Mania? But the one they pushed him to wrestle in was the Saudi Arabia show because that's the real money show, but it's one of those two. It's awfully early to do an angle for next year's 'Mania but it's not impossibly early it's been done before."
It may be early to set up a WrestleMania match, but it has been done even earlier before. The main event of WrestleMania 28 was set 364 days before the show.
Shawn Michaels has talked in the past about having one more match. The 'Heartbreak Kid' has been noncommittal about a potential return to the ring. He has said in the past that he could do another match, but at 53 his best days are behind him. Saying that it would be impossible for him to be like the '97-'98 'Showstopper' again.
So, let's put this all together. Michaels isn't fully committed to working another match. He doesn't want to break his commitment to staying retired, and he also doesn't want to put on a less-than-stellar match and is afraid that he can't perform at the level he used to. Meltzer says it's too early to set up a WrestleMania program…
So you're telling me there's a chance?
Do you want to see Shawn Michaels lace up the boots one more time? Let us know on Twitter or Discord today!