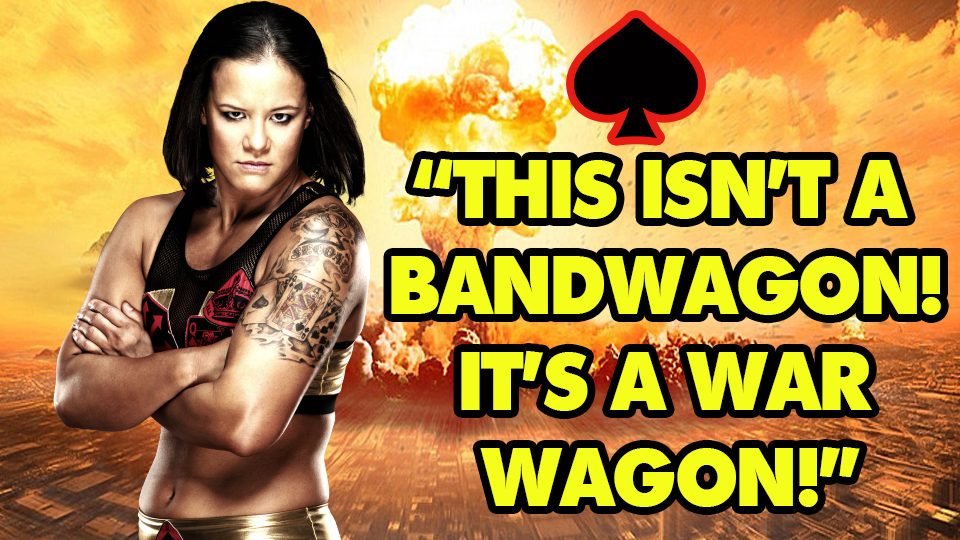 With Ronda Rousey dominating promos, video packages, and odd beatdowns of random talent on the main roster these days, the casual fans of WWE would not be remiss to forget about the 'Queen of Spades' down in NXT, Shayna Baszler. Unlike Rousey, whose name value gave her a straight shot to a high profile match at this year's WrestleMania, Baszler's transition from the world of MMA has taken a much longer route.
Starting on the independent circuit, Baszler has picked up several titles, even challenging lo Shirai for the World of Stardom Championship in Japan as well as beating Joey Ryan in an intergender match for DDT Pro Wrestling's Ironman Heavymetalweight Championship.
https://www.youtube.com/watch?v=SACPibhZxoA
Baszler made her WWE debut in last year's Mae Young Classic where she made it all the way to the final but lost to Kairi Sane in arguably the most memorable match of the tournament. Since then, the former MMA star has run roughshod in NXT, taking the current NXT Women's Champion, Ember Moon, to the limit at NXT TakeOver: Philadelphia.
With an upcoming rematch for the title at NXT TakeOver: New Orleans, the 'Submission Magician' sat down with WWE's own Byron Saxton to discuss her transition to wrestling, her aggressive attitude, and her upcoming bout with Ember Moon.
Starting with her transition, Baszler was asked how she has adapted from the octagon to the squared-circle:
"It isn't that much different. Some things have changed. The round times and limits aren't there to worry about, so pacing benefits me in that I can take the time to enjoy the damage I cause. But the goal is still the same. It's the same bloodthirst. In MMA, there isn't time to admire your work until it's all over with. In sports-entertainment, I can admire what I'm doing while it's happening. So pre-match, I guess you could say my mindset is more like a lion about to play with its food, rather than a lion trying to hunt out of necessity. But ultimately, I'm out to hunt my target."
Saxton went on to question where the 'Submission Magician' developed her fighting spirit:
"I have always had a desire to prove people that looked past me wrong. Whether it was because I was a female trying to wrestle or fight in MMA, or because I grew up on the wrong side of town. Everything I've gotten I've had to work twice as hard to earn."
It's understandable that Baszler has held a chip on her shoulder throughout her career but Saxton then wondered if she may be too aggressive in and out the ring to which she replied:
"You know, I want to see this "rulebook" that everyone says I'm not following. Who says what is the right way and what isn't? That is some imagined social construct that people made up to feel okay about being average. I am where I am, and what I'm doing is working just fine the way that I'm doing it."
It's hard to argue with her methods, especially as they have carved out an instant path to not one, not two, but three NXT Women's Championship matches. Fans of the sport are often quick to criticise MMA fighters switching to professional wrestling and taking the spotlight from those who have spent years working independent shows but Baszler is different. She has worked those independent shows as well and has still run with this expected 'heat', ingeniously making it a part of her character; the fighter who is too good for the show-pony wrestlers to handle.
When asked about her upcoming championship bout with Moon, Baszler had this to say:
"All the keyboard warriors better gather together and bring tissues because at TakeOver, the hero Ember Moon loses her title and the 'Queen of Spades' will be the new champ while everyone else will still be crying. This isn't a bandwagon; it's a war wagon. You won't be able to hop on because you're going to get run over."
Are you excited for NXT TakeOver: New Orleans? Do you think the 'Submission Magician' will finally get Ember Moon to tap out and become the new NXT Women's Champion? Let us know in the comments below or on Twitter here.