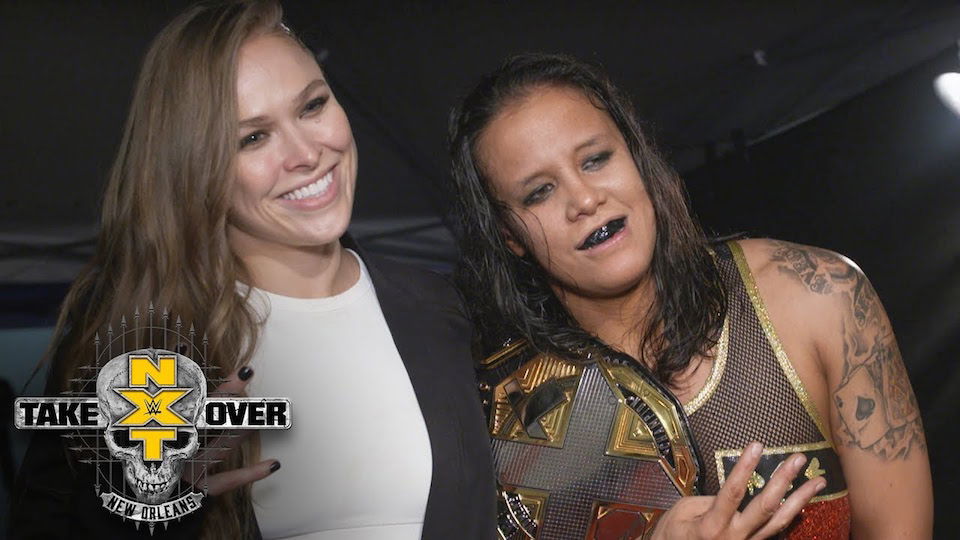 Shayna Baszler has come a long way since transitioning from the world of MMA to the world of professional wrestling. She has wrestled in Japan, she has faced the likes of independent star Joey Ryan, and last year she competed in the first annual WWE Mae Young Classic, reaching it all the way to the finals. Since then, she has gone on to become an NXT Women's Champion and a successful run on the main roster seems imminent.
In a recent interview on The A Show, Baszler opened up about the this year's Mae Young Classic, its competitors, and the possibility of facing fellow MMA Four Horsewoman and current WWE Raw Women's Champion Ronda Rousey down the line.
On the 2018 Mae Young Classic:
"It's pretty crazy because I was at the tournament and it's different to be on the outside and watch them be all stressed out. But I think another cool thing is that they can see me there and I'm like – I'm not the only example – but I'm an example of the opportunities that can be opened up to them. S0 I think that in some respects, you know it's not the first one but the steaks are kind of higher. Well, actually not higher but now they're known. That puts a different kond of pressure on the situation.
On which MYC competitors Baszler is looking out for:
"[Meiko] Satomura. She is a legend… She trained with Billy Robinson as well. People, I'm sure, are gonna take this the wrong way but Billy has coached both of us and I feel like she's the final form. She's so good. Everything she does is so smooth… She is one of my favorite female wrestlers, period.
"I'm interested to see how Mia Yim does because I'm one of her roommates so I've been helping her with some of her submissions and stuff so I'm gonna get on her case if she's doing them wrong [chuckles].
On whether Baszler would like to team or feud with Ronda Rousey:
"We're a team. We've always had each other's back. That's the argument we have when people want to say that we're not the real Four Horsewomen. We're an actual team. A win for her is a win for all of us [MMA Four Horsewomen]. I don't have any plans on feudng with her… We were in the UFC together when she was champ and we always said 'if it ends up [being between them], it's not going to necessarily be a feud.' I liken it to when a linebacker has a best [friend] who is a quarterback. You're gonna try to drive them into the ground even harder just because that's your friend. If it ends up that way, it's gonna be a banger for sure but I'm not gunning to dethrone her. We're not gonna need counselling to be friends again or anything like that [laughs]."
With all the rumors flying around about the Four Horsewomen vs. Four Horsewomen match, a feud between Baszler and Rousey is highly unlikely. For now at least. Although, the 'Queen of Spades' is a natural heel. If that match could be put off for longer, having Baszler debut as the first legitimate challenger for Rousey's title would make for excellent TV and a thriller series of pay-per-view encounters.