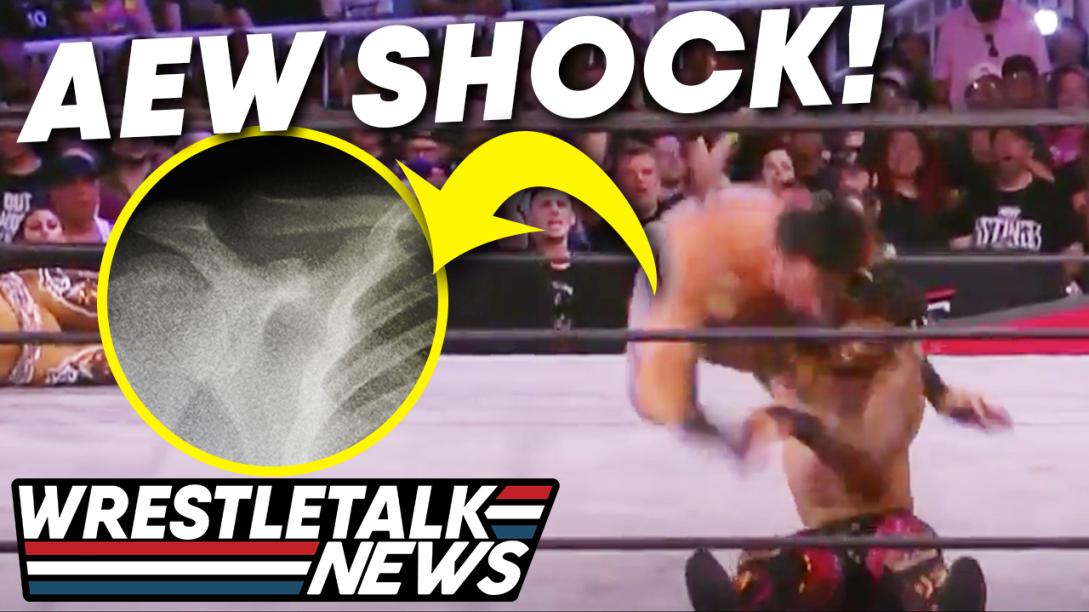 Coming up in this WrestleTalk News – a shock AEW retirement, a released WWE star shoots on Vince McMahon, is Daniel Bryan really done with WWE and more.
Please smash that subscribe and thumbs up button – look at me, talking like a YouTuber – for daily wrestling news.
Lio Rush Announces Shock Retirement
Just over a week after making his AEW debut as the surprise Joker entrant in Double or Nothing's Casino Battle Royal match, Lio Rush has shockingly announced that he's retiring from wrestling – tweeting:
"I'm retiring from Pro Wrestling Folded hands. It's been a crazy ride, but it's time to get off and do what truly makes me happy. Thank you @AEW @AEWonTNT @njpwglobal for everything."
The tweet then links to his Instagram page, which has a Full Story statement, where he reveals he's suffered a shoulder injury. First he thought it was like any other wrestling knock, but "Once the pain subsided… I sunk into an immediate and rapidly growing depression because I knew something was wrong."
He then thanked AEW for still wanting to sign him despite the injury, which he specified as a separated AC joint in his shoulder, X-ray picture included – which happened during his debut for the company in the Casino Battle Royal match. In a history making bit of trivia, that would've made him the first wrestler ever to be signed by two major wrestling organizations simultaneously, as he was also confirmed for New Japan at the same time.
He started to realise injuries don't just affect your in-ring work, but also the everyday lives of wrestlers too – saying it became "a much harder fact to deal with, not being able to pick up my newborn son."
And it's made him reassess his priorities, choosing to put his family and mental health first.
He thanked everyone who's helped him during his 7 year career, and, in a bit of closing admin, noted he will be fulfilling his contractual obligations to New Japan once he's healed – which presumably means actually wrestling for them, hinting that this is not a career ending injury, and of a career reassessing injury. He should be able to wrestle again, but he's chosen not to have the physical toll on his body and family any longer. 
Rush first started wrestling in 2014 on the indies for CZW when he was just 18. He was quickly picked up by Ring of Honor the year later, and made a name for himself as one of the fastest, most athletic wrestlers on the indie scene, along with Will Ospreay and Ricochet. This got him many old timey detractors, who criticised him for not selling enough, like that time he no sold a powerbomb off a ladder through a table!
Lio might've no sold it, but Jim Cornette sure did, imploding later that day.
With all that indie buzz, Lio was then signed by WWE in 2017 when he was 21. Sadly, like many promising, exciting, unique wrestlers, WWE totally missed the point, and made him Bobby Lashley's manager, where his main role was to hype Bobby's butt. And there was also all that backstage heat…
Additionally, Rush was plagued by rumours of backstage heat in WWE, reportedly because he felt he should be treated better by its locker room and management. Despite being on the main roster, he claimed he wasn't getting paid enough to make ends meet, and he reportedly refused to carry the bags of more senior wrestlers on the European tour, saying it was demeaning.
Lio was one of the names WWE released at their first annual Budget Cuts pay-per-view at the start of the pandemic last April. I hate that show.
AEW have tweeted a statement from Tony Khan on the news:
"Lio Rush reached out to me today, and he shared that he'd planned to announce his retirement from pro wrestling tonight. While this news was unexpected, I'm glad that he's made a choice that he's confident will make him and his family happy. Lio is a great talent, and I enjoyed briefly working with him, and I absolutely wish him the best."
Rush is just 26, and as it's not a career ending injury, there's every chance he could return next month. Because wrestling retirements are what they are. Terry Funk is still technically only semi-retired. 
What do you think about Lio's retirement? And do you think we'll see him return to the ring one day? Let me know in the comments down below, because I'll be replying to people for the first 30 minutes after this video goes live FROM MORE OUTTA NOWHERE than Lio Rush announcing his retirement.
And I'll tell you what else you can do…
Follow WrestleTalk_TV on Twitter! Because not only is that a great way to keep up with all our videos, WrestleTalk.com articles and exclusive Patreon releases – we're also running the WRESTLETOURNAMENT! [DO BIG BOOMING VO SPOT]
We've just had WWE vs AEW, which saw Kenny Omega beat Roman Reigns in the final.. Go follow WrestleTalk_TV on Twitter for the new WrestleTournament starting next week.
Tommy End Shoots On Vince McMahon
Aleister Black was shockingly released by WWE last Wednesday, despite only just having started a SmackDown feud with Big E on SmackDown. Now going by his previous wrestler name Tommy End, he's taking every opportunity to give his side of the story – like on the most recent episode of Renee Paquette's Oral Sessions.
Renee is Jon Moxley's wife.
Tommy End to AEW confirmed.
While End is still very complimentary about his time in WWE, saying he had a great relationship with Vince McMahon, he did also shoot on how he was frequently told one thing, and the company went ahead and did another.
Apparently Vince wanted him on the main roster very early on in his NXT run – like Vince watches NXT – but Triple H fought to keep him in NXT for longer. 
On his call-up, though, "Vince was full of praise… what part of the card he sees me, and it was upper positions. And everything was super positive, and he repeated that over the course of my interactions with Vince. A lot of promises, a lot of like, 'This is what I wanna do with you,' but the translation was never there."
That would've been during 2019, but by 2020, Vince apparently told End he still needed to "figure out" where he'd fit on the main roster. Arguably something you should do before you call people up. And that something, was putting him on Raw Underground!
End revealed that he was told he'd be fighting on Raw Underground "as the show was about to start" – explaining why he was just in his workout shorts rather than any actual gear. He said everything went downhill from there, to the point where he demanded from one of the company VPs "something's gotta change, this is not going right, this is not going good."
Again, management told him they had loads of exciting plans, they just need to take him off TV for a few weeks. Those few weeks ended up being seven months. It suggests that WWE wrestlers shouldn't take anything management tells them as anything else than a good old pro wrestling work.
End also spoke for the first time about his real life wife Zelina Vega's release from the company last November – reportedly for not complying with WWE's new ban on talent having their own Cameo, OnlyFans or Twitch accounts – saying: "Mind you, they let my wife go, under reasons that are questionable."
He said he was professional enough to put it to one side, that as her husband, he had his opinions on it, but as Aleister Black the professional, he was ready to work.
Do you think Vince was working End in their conversations and they never really had any plans for him? Let me know in the comments down below.
End has actually had his first non-WWE appearance announced. He'll be appearing at the Big Event convention on the 13th November. His wrestling non-compete clause expires at the end of August, so there's plenty of time to appear elsewhere before then. 
Speaking of showing up on AEW!
Andrade Contract Reports Disputed
WrestlingInc reported earlier this week that Andrade's contract with AEW granted him limited creative control over some of his finishes. PWInsider has now refuted that report, writing Andrade's deal is no different to anyone else in AEW's, where Tony Khan always has final say in the booking.
Speaking of showing up on AEW. Again.
Daniel Bryan Really Done With WWE?
Daniel Bryan's WWE contract somehow legit expired last month, shortly following him main eventing WrestleMania. WWE wrote him off TV in a loser leaves SmackDown match against Roman Reigns, but the company are reportedly hopeful he'll return after some time off.
You know, just like that Dean Ambrose guy did.
WWE want Bryan back so bad, that's reportedly one of the reasons Nick Khan is trying to broker a working relationship with New Japan, as one of Bryan's aims right now is to be able to wrestle for other promotions round the world. 
And now another sign Bryan's break with WWE is more long term has just come out.
The Bella Twins have told the New York Post that E! Have not picked up a new series of their reality show Total Bellas. Which they're actually fine with, as they don't want their kids growing up on a reality show. Brie also said that Bryan hates being on camera for the program. 
While Total Bellas ending doesn't necessarily mean Bryan won't return, it's just another WWE-branded tentacle that won't be pulling him back in when it's time for him to make his decision.
Birdie Bella to AEW confirmed.
What do you think Bryan will do next? Let me know in the comments.
What are your thoughts on the above story? Let us know in the comments on Twitter or Facebook.