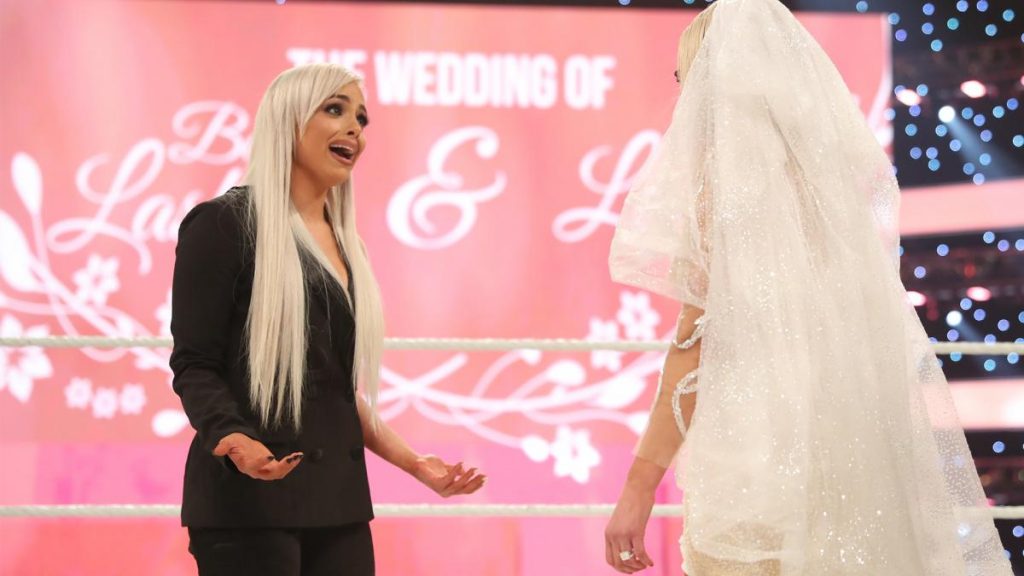 Last night's Raw, the final Raw of the decade, finished with one of the most bizarre and at times excruciatingly cringey segments in living memory. The Lana and Bobby Lashley wedding.
I think everyone knew in advance that the segment was going to be a bit strange, but I don't think anyone quite expected what was going to happen.
We had two fake former spouses, Rusev bursting out of a cake, a ridiculous priest, and Liv Morgan returning for the first time in 6 months to declare her love for Lana.
And it's that last bit that has a lot of people talking, including two WWE stars.
If you aren't aware already, Sonya Deville is WWE's only openly lesbian female wrestler, and she spoke on Total Divas earlier this year about pitching an LGBT storyline between herself and tag partner Mandy Rose.
For whatever reason, the pitch was rejected, but WWE has decided that having Lana and Liv Morgan being surprise lovers is a much better idea.
During the wedding, Deville and Rose tweeted:
Welp… my mind is blown.

— Daria Berenato (@SonyaDevilleWWE) December 31, 2019
No words …

— Mandy (@WWE_MandyRose) December 31, 2019
Fans rallied to support Deville and Rose, who haven't hidden their exasperation at seeing the storyline they pitched being given to two people who have literally no history together whatsoever.
I would be lying if I said I wasn't just a tiny bit scared regarding what WWE has planned. It's not a company known for subtle storytelling or being particularly sensitive.
Oh, and in case you were wondering what CM Punk thought of the whole situation…
WWE needs to hire people who actually understand what representation means to the audience they're trying to reach. But what do I know? I'm a bear, I suck the heads off fish. pic.twitter.com/qRUYpgylyS

— player/coach (@CMPunk) December 31, 2019
You have to feel for Deville and Rose, who appear to be in the midst of a tag team break up storyline on SmackDown. This is sports entertainment.