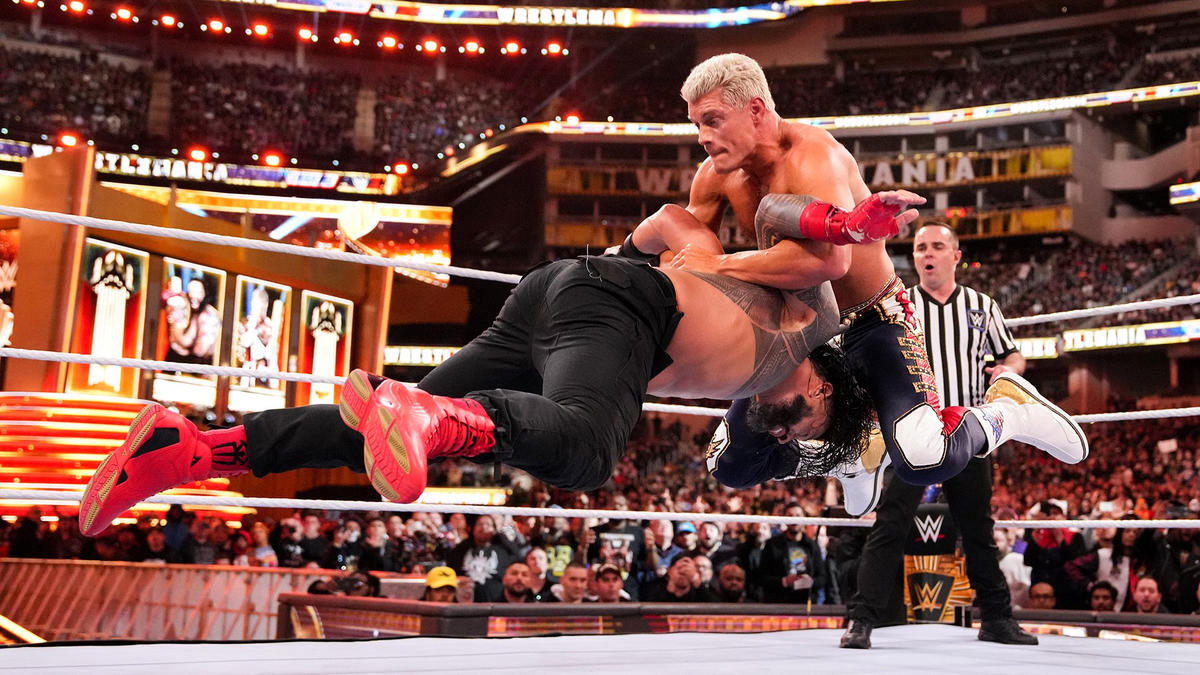 The WrestleMania 39 night two main event between Roman Reigns and Cody Rhodes continues to spark a lot of discussion almost three weeks after the bell rang for the second time.
The finish has been very polarising, with both fans and those within the business having their opinions on whether the outcome was the correct one.
When it comes to big time WrestleMania main events, few men have more knowledge than 'Stone Cold' Steve Austin, who spoke about the match to Sports Illustrated.
He said:
"I have a five-star scale, O.K.? I'm going all-in. To me, they got it just right.
"I was wondering how they were going to do this match. They built it perfectly. I told my wife, 'I think they're going 30 [minutes].' They ended up going just over 34, and it was a classic. I loved it, and I wouldn't have changed a thing. I texted a couple people who were involved, and I sent a one-word text: Magnificent."
While everyone is in agreement about the match's overall quality, the finish was what led to a lot of people souring on the whole thing, but Austin doesn't share that opinion, explaining why he 'loved' the finish.
He said:
"I loved the finish, I loved all of it. Roman is so good right now. The story was there—Cody coming back from injury, coming back into the fold after he left from AEW, and putting himself in the position he's in now, overcoming all this adversity as part of one of the most famous wrestling families that's ever been in the business, and trying to finish the story against Roman.
"I watched both nights of WrestleMania 39 very intently. To me, you can't take that belt off Roman right now. You want to get it to Cody somehow, someway, some time—but now's not the time.
"I kept asking, 'How are they going to do this?'. To have Solo Sikoa, who has a great career in front of him, Jimmy and Jey Uso, who are just so badass, plus Sami and Kevin, Paul E., I love all those guys—they all played a great role. Roman is so hot. It just wasn't time to pass that torch yet.
"Just thinking about that finish, I thought it was definitely the right call. I loved the outside interference. You didn't know what was coming next. That spike to the throat, for me, it was money."
Cody Rhodes has since entered a feud with Brock Lesnar, with the two set to face off at WWE Backlash in Puerto Rico.
Reigns is set to hit 1000 days as the Universal Champion on May 27, the same day as WWE's Night of Champions event in Saudi Arabia.
If you want to stay fully updated on all the latest wrestling news, click the red bell in the bottom right of your screen to receive notifications from WrestleTalk.com straight to your device!