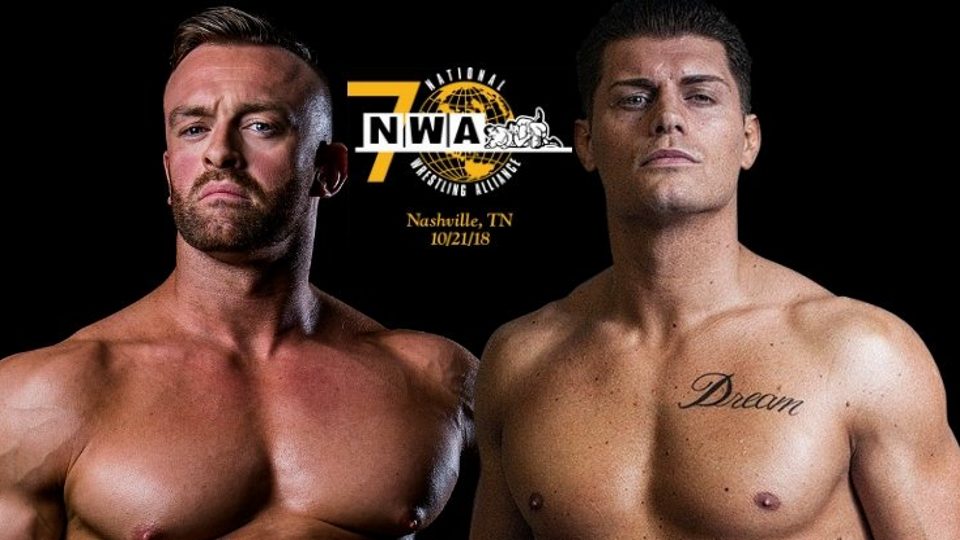 Earlier this month at All In, Cody won the NWA Worlds Heavyweight Championship from Nick Aldis. This was quite the crowning moment for Cody. The former champion does get his automatic rematch though, and as we learned last night, a new stipulation has been added to their rematch.
At the ROH Death Before Dishonor event, Aldis was on commentary during the 10-man tag match between the Bullet Club and CHAOS. During the course of the match, Aldis challenged Cody to a 2-out-of-3 falls match.
After the bout was over, Cody accepted.
I was gracious in my defeat on the night but now the honeymoon is over. The challenger should have been counted out & DQd.

Sun Oct 21st, Nashville TN. The #tenpoundsofgold will be solidified as the premiere World Title as we contest it in 2 out of 3 falls. No excuses.#nwa70 pic.twitter.com/Lfgraux8S6

— Nick Aldis (@RealNickAldis) September 29, 2018
The rematch is set to take place at the NWA 70th Anniversary show, On October 21.
The event will take at the Nashville Fairgrounds in Nashville, Tennessee. Jim Cornette will provide color commentary for the event, with Tony Schiavone a guest announcer for this particular match.
Who do you think will leave the NWA 70th Anniversary show with the title? Let us know in the comments below or via Twitter and Discord.