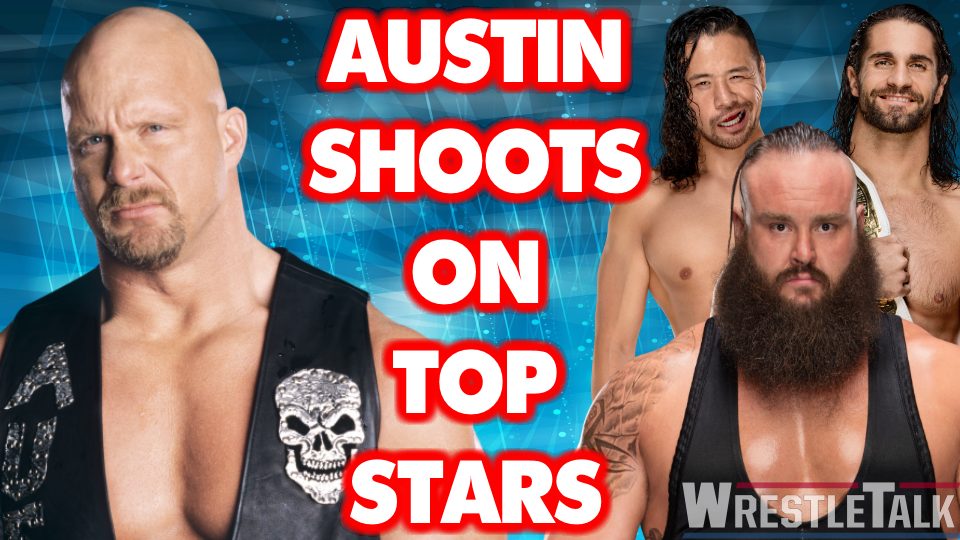 On a recent episode of The Steve Austin Show podcast, 'Stone Cold' offered his thoughts and advice regarding some of WWE's biggest names.
Shinsuke Nakamura
Shinsuke Nakamura is currently in the midst of a WWE Championship feud with current champion AJ Styles. Nakamura turned heel at WrestleMania 34 after his loss to Styles, where he delivered a 'low blow' and assaulted the 'Phenomenal One'. Since then he has been working as the bad guy chasing Styles' title.
The pair have had two WWE Championship matches since 'Mania, the first being at Greatest Royal Rumble which finished in a double count-out, therefore allowing Styles to retain his title.
Last Sunday at Backlash, the two faced off for the gold again, but this time in a No Disqualifications match. Despite the stipulation, the match ended when both men simultaneously struck each other with a 'low blow', but neither could answer the referees 10 count. This, again, allowed Styles to retain.
Here's what Austin had to say about the 'King of Strong Style':
"I wouldn't do a whole lot with Shinsuke; but, I'd knock off the comedy because I don't think he needs that to be entertaining. If Renee [Young] asks him a question, if he just sits there and looks at the camera, because he's not gonna answer the camera – to me after a period of silence, you just fade out and go to the next match."
Austin continued:
"Then you let Michael Cole and those guys pick it up and, 'Hey man I think this guy is going to talk when he wants to and not talk when he doesn't want to.' That way you can get off of him, leave something to talk about, still be entertaining and not put him in a comedic light because as the 'King of Strong Style', that's a statement."
Seth Rollins
The current WWE Intercontinental Champion, Seth Rollins, was the next name on Austin's mind.
Rollins won the title at WrestleMania 34 in a Triple Threat match that also included Finn Bálor and then-champion The Miz. Since then he has successfully defended four times, the first being at Greatest Royal Rumble in a Fatal Four-way Ladder match that also included Finn Bálor, Samoa Joe and The Miz.
He then went on to defend the title three times in the space of one week. On the Raw after Greatest Royal Rumble, he retained over Finn Bálor. At Backlash, he defeated The Miz, and the following night on Raw he overcame Mojo Rawley.
Here are Austin's comments on the 'Kingslayer':
"Sometimes he relies on high spot type sequences for his comeback. Sometimes I want to see him use a few more right hands or a little bit just straight up offense rather than high spots. I'm not telling him to be AJ [Styles]; but, sometimes as that baby face, you've got to use good old fashioned knuckles or feet or just strikes, stomps, whatever it takes."
Austin went on to say:
"If you can keep working his way around it, more power to him; but, sometimes when you are using those high spots as comebacks, it's like I really want to see Miz have his ass handed to him a little bit more."
Braun Strowman
The 'Monster Among Men' Braun Strowman is hot off the heels of winning the first ever 50-man Royal Rumble match at Greatest Royal Rumble, and then teaming with Bobby Lashley to defeat Kevin Owens and Sami Zayn in a tag team match at Backlash.
On this past Monday's Raw, Strowman defeated Kevin Owens to qualify for the Money in the Bank Ladder match and Money in the Bank in five weeks' time.
Here are Austin's thoughts on Strowman:
"He can work. I've been a fan for a couple of years now; but, you've got to be careful with what you do with Braun Strowman….dude, you're Alpha. If you don't get out there and work and act like Alpha every time you get into the ring, you play Beta or second to anybody, you're going to start losing your mystique or power. I think Braun's gotta be careful about that and I don't want to see Braun Strowman do anything funny….with respect to booking Braun, they're calling him the 'Monster Among Men', "Come Get These Hands" and all this other stuff."
Austin continued:
"He's a little like Stone Cold and a lot like Braun Strowman. I don't need to see a 6'8″ 330 pound guy make me laugh, make me smile, bring any warmth to my body – I want to see him go out there and destroy and crush people because he's capable of doing it and because his desire for the gold belt is so great that's what drives him…he's been a competitor his whole life…Braun Strowman, as well as he's done over the last few years still has a ways to go and he's not bullet proof. If you start puffing that kid up, you're gonna diminish him."
You can check out the full episode of The Steve Austin Show here.
What are your thoughts on 'Stone Cold' Steve Austin's comments? Do you agree or disagree with anything he said? Let us know in the comments below or on Twitter here, and as always, have a spiffing Rusev Day.