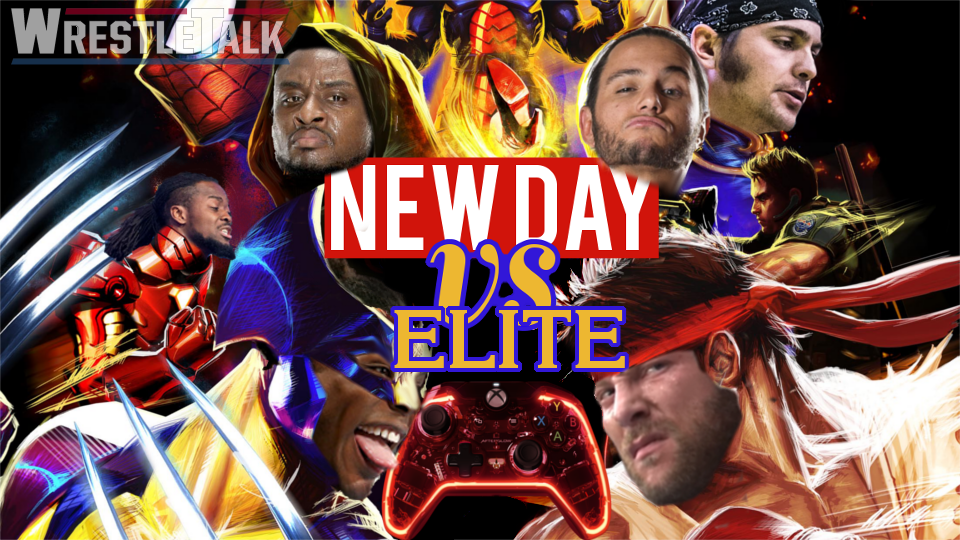 When one asks who the best is, arguments are bound to ensue, and sometimes feelings are hurt.
Kenny Omega is no stranger to this, as he is often thrust into these conversations. While he may be 'the best bout machine,' he also finds himself maligned by the same one or two wrestling purists, who own big platforms.
Fortunately, we aren't discussing anything too vital in terms of records or star ratings.
We won't even discuss professional wrestling.
Not really.
Right now, we're talking about the passion, and sometimes the obsession, of many a pro wrestler in this generation. What we want to know is: Elite or New Day? Who is the best at video games?
This past Thursday, Los Angeles hosted E3 2018, a major video game convention that has drawn attention from wrestling fans due to the participation of certain high-level gamers.
First is Omega who, in wrestling, has garnered more critical acclaim than anyone not named Okada of late. In gaming, he has become an active streamer, never shy about his love of fighting games.
Next is the colorful pitchman of WWE's New Day, Xavier Woods (playing as Austin Creed) who has built the impressive YouTube gaming channel, UpUpDownDown.
The game was Capcom's Street Fighter V and the winner would have bragging rights to take back with him to either New Japan Pro Wrestling or WWE. Considering the WWE's long-held doctrine of not acknowledging their rivals, and refusing talent exchanges with other promotions (because they don't exist, you see) the ramifications of this encounter…are actually kind of mind-blowing. This is what happens when worlds collide.
But it was not one versus one at E3.
To the delight of many, it was a team battle, which meant that for the first time ever, fans would see the New Day (Woods, Kofi Kingston, and Big E) face the Elite (Kenny and the Young Bucks).
Obligatory smack talk was hurled from one side to the other. Matt Jackson vowed to superkick the New Day back to WWE's mid-card, and Xavier Woods boasted that New Day was a true team, whereas the Elite break-up every couple of weeks. When the Jacksons superkicked an announcer offstage for 'bias commentary', Woods reminded his foes that they weren't in a bingo hall.
In the team match (best of three) New Day won. Or rather, New Day rocked. Both of the Jacksons fell, to Kofi and Woods, and the only win the Elite was able to manage was Kenny's one-sided defeat of Big E.
Then the moment all had been waiting for arrived, and Omega took on Woods in a first to five. In true UpUpDownDown fashion, the loser would have to eat a habanero pepper.
Xavier fought with Ibuki and Omega ironically enough chose a character named Cody.
The match entertained immensely and both men inserted brief wrestling-esque promos into the contest between rounds.
Omega was able to put down Woods, defeating him in a narrow 5-4.
Xavier Woods' punishment did not go as planned, however. He promised to eat three peppers, one for each member of the New Day, but when Kenny saw he was getting too much sympathy from the E3 crowd, Kenny also vowed to eat peppers.
Thank you to #capcom , #E3 , and to all that helped host our #NewDayVsTheElite #SFV showdown. It seems we've embarked on a brand new journey into the unknown,but rest assured- We will change the world (together)! @NickJacksonYB @MattJackson13 @XavierWoodsPhD @WWEBigE @TrueKofi pic.twitter.com/OBn0Pr2p3m

— Kenny Omega (@KennyOmegamanX) June 15, 2018
It was perfect wrestling booking in the end, as both the New Day and the Elite went over strong. I'm not sure it was decided who the best gamer was, but the fans at E3 were pumped to see a crossover event like this happen again soon.
Did you watch the E3 stream? Should New Day and the Elite partner up more often? Comment below, or tweet @WrestleTalk_TV on Twitter!