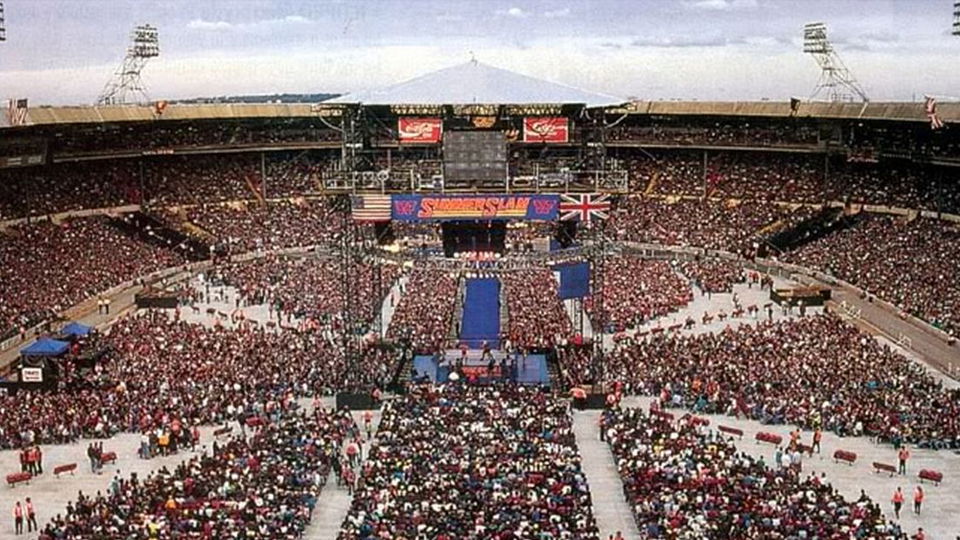 Long-time WWE fans in the United Kingdom, prepare to be triggered.
In a recent interview with The Mirror, Triple H was asked about the possibility of WWE bringing WrestleMania or another major pay-per-view to the UK, something fans on this side of the pond have clamoured for since SummerSlam '92.
The event is widely consider a major success by WWE fans due to the massive 80,000 people in the building and the record-breaking merchandise revenue generated.
Triple H, however, has a completely different view.
"I always hear about Wembley, I always hear it was such a massive success. It was not. From a business standpoint, it was not.

That's why we didn't come back and that's why we're still trying to figure it out."
The lack of success Triple H is referring to relates to the disappointing buy rate the show pulled on pay-per-view. He is clearly attributing that to the time zone difference delaying the broadcast airing in the United States until two days after the show.
That was not the problem. In an era before the internet and online spoilers, the pay-per-view airing two days after it happened made little difference to the American audience. The key issue was WWE's overall business decline from 1991 to 1992.
Hulk Hogan was gone, several top stars from the Hulkamania Era were no longer active on the roster and the size of the talent had literally been downsized due to the steroid allegations against the company. SummerSlam taking place in Wembley was not a factor, the downturn in business across the board was.
To us, it sounds like a convenient way for Triple H and WWE to avoid returning to the UK for a major supercard.
By downplaying SummerSlam's success it tempers expectation. Unless the Conservative government's tourism arm is willing to fund the show a'la Australia or pay for propaganda like the Saudis, a major UK supercard is not happening anytime soon.
What do you think of Triple H's comments on SummerSlam 92? Do you think WWE will ever return to Wembley Stadium? Let us know in the comments below.