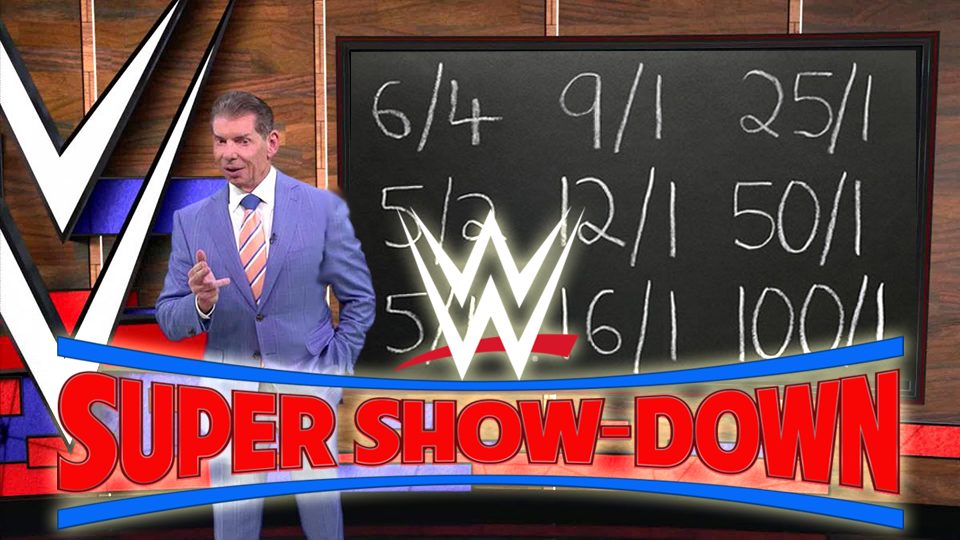 Oddsmakers at Sky Bet have set their early odds on October's WWE Super Show-Down, predicting winners "by the numbers" for those who want to make the Austrailian pay-per-view just a little more interesting. So, according to Sky Bet, here's how it's all set to go down:
Asuka & Naomi Vs The IIconics
As thrown together as this match has been, it's not surprising that the odds feel the same way. Both teams are ranked at 6/5 odds, meaning that there isn't a favorite at all in this match. Yikes.
Buddy Murphy Vs Cedric Alexander | Cruiserweight Championship
Buddy Murphy is the favorite, currently sitting at 8/13 odds, meaning that a bet of £13 on Murphy would earn you £8. A bet on Cedric Alexander could net you £6 on every £5 bet.
This does not, however, make any confirmation as to whether or not Murphy actually takes the shiny purple strap at Super Show-Down or whether he wins via DQ or count-out.
The New Day Vs The Bar | SmackDown Live Tag Team Championships
Odds are favoring The New Day at 8/13, while Sheamus and Cesaro sit at 6/5. It makes sense that The New Day would retain their titles against an opponent that they have already overcome repeatedly.
John Cena & Bobby Lashley Vs Kevin Owens and Elias
Given that Kevin Owens is on one team, and the other team has a returning John Cena, it shouldn't surprise anyone that Cena & Lashley are favored 2/7 at Super Show-Down. Even at 5/2 odds, you'd be hard pressed to get my money against Cena.
The Bellas and Ronda Rousey Vs The Riott Squad
The odds for a wrestling show really can't get more one-sided than the 1/9 odds given to the Rowdy Bellas over the 5/1 given to the Riott Squad. There is one possibility that could throw these odds into chaos: Nikki Bella turns on Rousey to set up a match at Evolution.

Charlotte Flair Vs Becky Lynch | SmackDown Live Women's Championship
The oddsmakers no-sold Becky's heel turn, and have made her the favorite to retain her title at 1/2 odds. The Queen, on the other hand, may be destined to lose at Super Show-Down with odds set at 6/4.
Daniel Bryan Vs The Miz
Maybe the most surprising odds-predicted result for the show has to be The Miz going over Daniel Bryan in a number one contenders' match. Still, the numbers don't lie and have Miz running at 8/13 as opposed to Bryan's 6/5 odds.
The Shield Vs The Dogs of War
Odds have The Shield going over at 8/15 to Strowman Ziggletyre's 11/8. This should surprise precisely nobody.
AJ Styles Vs Samoa Joe | WWE Championship
Oddsmakers say that Super Show-Down just isn't the time to finally reward Samoa Joe's efforts with a WWE title run. They're predicting AJ Styles will pick up the win at 4/7 against Joe's 5/4.
Triple H Vs The Undertaker

Sky Bet thinks Old Man Trips is going to be staring at the Australian sky at Super Show-Down, giving The Undertaker 8/15 odds against Hunter's 11/8.
Whether you're the betting sort or not, these odds can give us all a thing or two to think about. Would you bet on WWE events? Let us know!