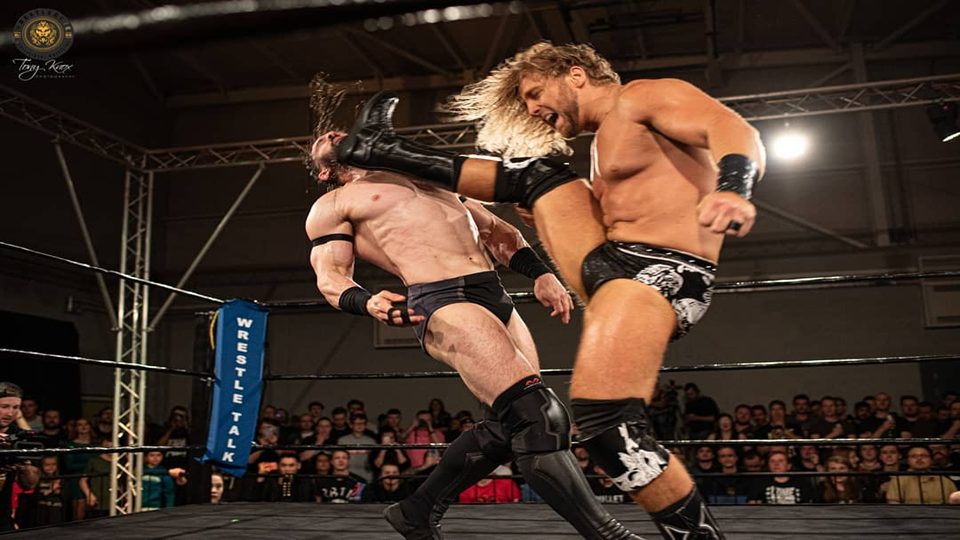 WrestleTalk has announced a brand new upcoming YouTube show featuring some of the best independent wrestling matches from around the UK due to launch in the summer.
As part of the second stage of WrestleTalk's 'Support Indy Wrestling' campaign, the first UK promotion to sign to appear on the new show has been revealed as Wrestle Gate Pro – who were the talk of the wrestling world this week after hosting the stunning PAC vs Hangman Adam Page bout in Nottingham, England thanks to a partnership with All Elite Wrestling – a bout that was meant to be part of AEW's highly-anticipated debut event 'Double or Nothing' this weekend in Las Vegas.
Other UK promotions will be announced over the coming months as WrestleTalk aims to bring fans some of the greatest wrestling action anywhere in the world – absolutely free – as a way of giving back to the ever-growing independent wrestling scene.
The new YouTube show follows the announcement of the WrestleTalk Scholarship programme awarded to 16-year-old indy star Callum Newman, a protégé of one of the world's most celebrated wrestlers Will Ospreay.
"The UK has been home to the meteoric rise of indy wrestling over the last decade and it's no coincidence that WWE's first overseas NXT brand started right here," said Oli Davis from WrestleTalk.
"However despite loads of UK wrestlers signing with WWE, ROH, New Japan and AEW, there's still a wealth of great unsigned talent in this country. Talent that deserves to be seen by as many people as possible.
"That's why we're incredibly proud to announce that WrestleTalk will now be sponsoring independent wrestling shows – which began at last Saturday's Wrestle Gate Pro event seen around the world thanks to their recent partnership with AEW, where we donated money to upgrade the promotion's live event and video production, and sent our WrestleTalk presenters Luke Owen and Laurie Blake to cover the show.
"And to showcase the best up-and-coming independent promotions, we'll be bringing some of the best indy wrestling matches in the UK to WrestleTalk's YouTube channel from this summer, with a brand new show dedicated to great wrestling from incredible indy talent.
"Wrestle Gate is the first promotion we've signed a deal with and over the coming months we'll be announcing more, ahead of the launch of our brand new show.
"This will not change our existing content, we're simply adding even more.
"It's really exciting and we want to take a moment to say thank you all for supporting WrestleTalk – It's allowed us to say thank you back to the industry and community that we're all part of and the talented men and women working so hard to build it.
"Stay tuned for more and remember – support WrestleTalk, Support Independent Wrestling."
Gary Ward from Wrestle Gate Pro said: "I'm absolutely delighted that we are partnering with WrestleTalk.
"This isn't just a game changer for us as a company so early on in our existence, but also for our performers who can be seen on a massive platform for free.
"Wrestle Talk's dedication to supporting independent wrestling is a paramount reason why we wanted to be part of a partnership. Now it's not just Support WrestleTalk or Wrestle Gate but Support Independent Wrestling!"
WrestleTalk's YouTube channel has a massive worldwide following with over 700,000 subscribers and over 325 million video views.
More details will be announced soon.
*Watch the announcement of the second part of our Support Indy Wrestling campaign on the latest edition of WrestleTalk News here