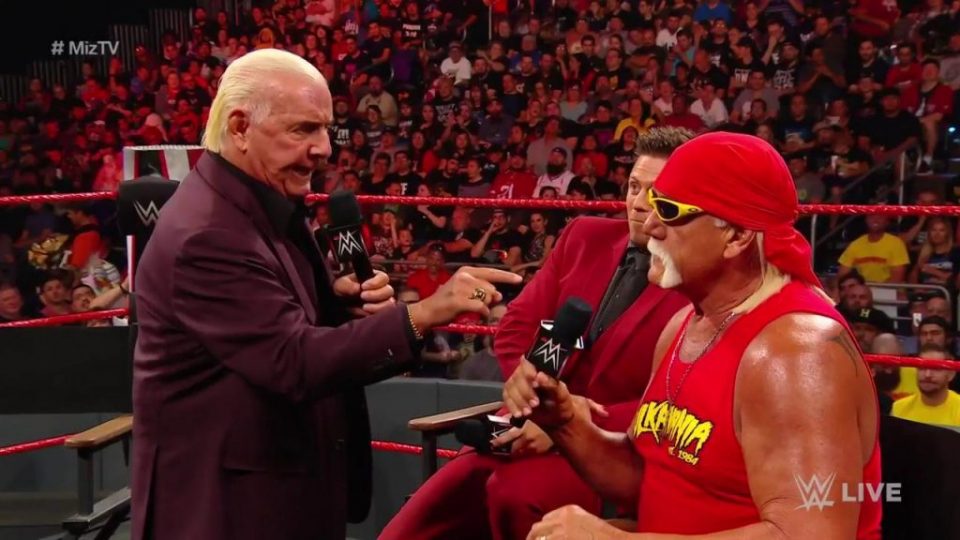 Hulk Hogan and Ric Flair were guests on Miz TV on WWE Raw tonight.  Ric Flair decided to go off on Hogan.
Flair, as only Flair can do, went full Nature Boy.  He cut a promo on Hogan saying he had no equal in the ring.
Hogan responded with a challenge.  In what originally seemed like the two were going to have a fight, it turns out they will be in opposite corners at WWE Crown Jewel.
Much to everyone's thankfulness, Hogan and Flair will not be having a match themselves.  However, they will be picking teams of 5 to have a 10-Man tag match at Crown Jewel.
At #WWECrownJewel, it will be #TeamFlair vs. #TeamHogan in a 5-on-5 Tag Team Match with @WWERollins as the Captain of #TeamHogan and @RandyOrton as the Captain of #TeamFlair! #RAW@HulkHogan @RicFlairNatrBoy @mikethemiz pic.twitter.com/HiNwiAiSjU

— WWE (@WWE) October 1, 2019
Hogan then announced his captain, Seth Rollins.  Ric Flair countered with Randy Orton.
Orton challenged Rollins to a match tonight on Raw.  Everyone assumed Rey was out of the match later.
Right as the match was to start, King Corbin made his was out to the ring and attacked Rollins.  Consequently, it seems Corbin will be the second member of Team Flair.
Not to be outdone, Rusev hit the ring to make the save and join Team Hogan.
There's a whole lot of ? on @HulkHogan's team heading into #WWECrownJewel!#RAW @WWERollins @RusevBUL pic.twitter.com/m4L7cyth1h

— WWE (@WWE) October 1, 2019
While Hogan and Flair would have been a dream match 30 years ago, it was a pretty scary proposition to think the two guys could be fighting at their age.
I guess the Saudi Prince is going to be happy though to have the two legends appearing at his show in on October 31, 2019.