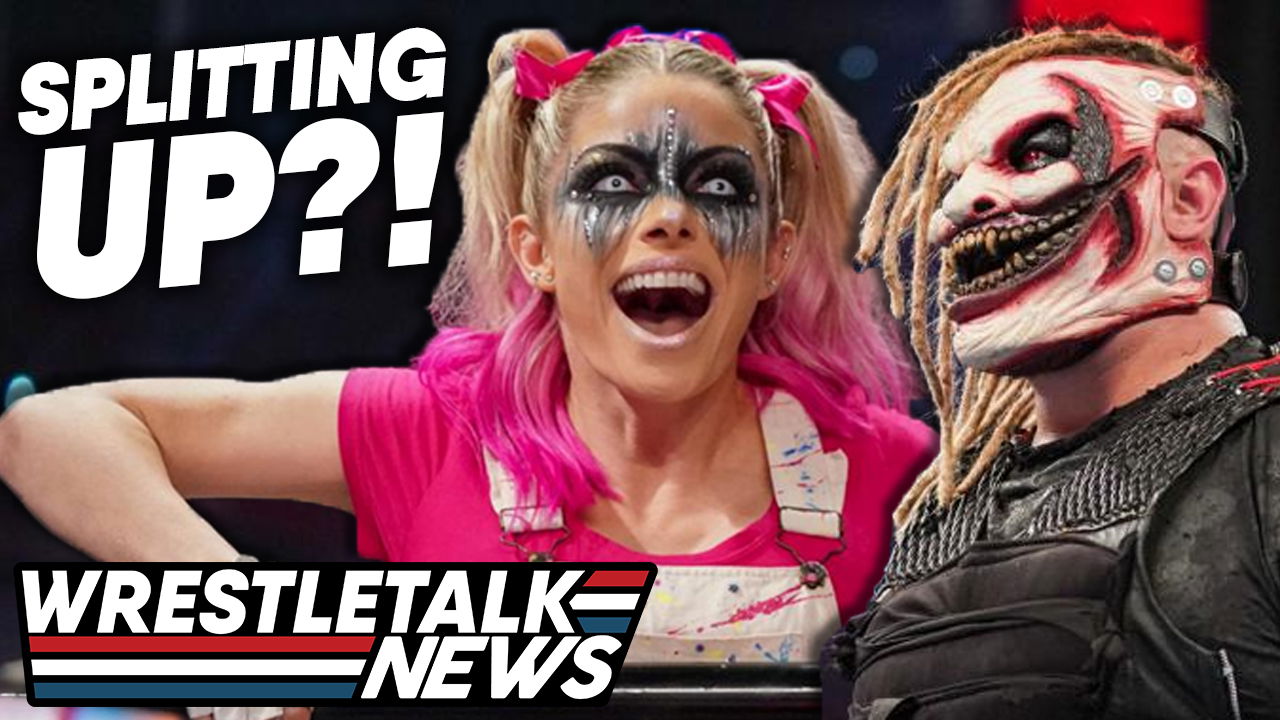 We got a new Raw Women's Champion! We got a new United States champion! We also got a new Intercontinental champion! But we didn't get a new Universal champion, because Roman Reigns pinned both Edge and Daniel Bryan. 
Wait a second… that means Edge pinned Bryan. Did we get a new Universal champion too?
Also, WWE: stop doing the Fiend wrong.
It's your supernatural gimmicks, Marty! I'm Doc Davis, please give us a subscribe, superkick that thumbs up button and enable notifications to always on for daily wrestling news and review videos. Like my review of WrestleMania 37 Night One post show, Night Two, in about 10 minutes. 
Night One was so good, it even had me missing the zany weather delay promos at the start of Night Two. Because I would've much preferred Drew trying to start a fight with Bobby, than what we did get: WrestleMania co-hosts Hulk Hogan and Titus O'Neil coming out dressed as please don't think Hogan's a racist anymore costumes.
Oh, sorry, I read that wrong: it should say 'pirate costumes'. 
Pooping all over the deck, they looked embarrassing to any sensible adult and did lame comedy where Hogan called the audience scallywags, which Titus said you can't call people that. They genuinely did a bit where Hogan said something he shouldn't have, and Titus O'Neil of all people showed him the error of his ways. Because some of Hogan's best friends are scallywags.
But seriously, no one was recording that right?
The first match was the non-cinematic Fiend vs Randy Orton. Because what better way to start the second night of having fans back for the first time in a year, with a match that doesn't function as an in-ring match in front of fans.
Randy Orton came out weirdly dressed in white and even pretended to stumble on the ramp like Mandy Rose the previous night – showing just how seriously he was taking this feud in which he once tried to murder a man with fire.
The Crispy Fiend's entrance was far more elaborate, which saw him regenerate into Slightly Altered Original Fiend via magic tunnel, and then rising out of, what Michael Cole would call, a giant "box like structure" by the ring – presumably missing the enormous handle on its side, giving it away as a Jack in the Box.
As silly as it was, as soon as the Fiend's entrance music hit and Bray started playing up to the crowd, I was in love again like a filthy mark. But it wasn't just fans we got the return of.
Don't give me the red light!
The Fiend no-sold offence for about 5 minutes, when he was suddenly distracted by Bliss sitting on top of the box-like structure by the ring – now dressed all in black with black viscous liquid pouring from the top of her head like an evil water feature. A demon bride maybe, or Sister Abigail herself now finally fully given human form. 
The crowd were chanting holy s in a good way. This was the big opening angle to restore the Fiend to his monster glory.
So he turned into an RKO from Randy Orton and lost. The lights cut out, and when they came back on the crowd were booing heavily while everyone had disappeared from the ring.
I'm not at all into the supernatural Fiend, or the supernatural story with Bliss, but despite all that, I still do love the character and the lore. This did not fill me with confidence going forward. The Fiend has lost yet another match, despite desperately needing a revenge win to rebuild him, and using Bliss to cost him the match was incredibly unsatisfying – and I imagine even more so to the fans who are very into their act, as it seems like the start of a split.
What did you think of the Fiend loss? Let me know in the comments down below. Where I'll be replying to people FROM OUTTA NOWHERE.
Hot on the heels of the Fiend loss, WWE put on Natalya and Tamina vs Nia Jax and Shayna Baszler for the Women's Tag Team titles next – a match that went way too long, being one of the longest of the weekend; one that had no real build after only being set up the previous night; and that was essentially heel vs heel. Which is a hard dynamic to do even when your characters are actually over.
Somehow the live crowd were very into Tamina getting her WrestleMania moment, and their cheers did lift the action a bit. But her and Nattie lost. So screw them I guess.
Kevin Owens and Sami Zayn hardly had any build either, but they had the luxury of fighting each other for 15 years already. They played off all that context with a pop-up powerbomb right out the gate from Owens, hockey fights galore, and a brilliant callback to their Battleground 2016 match where Sami held onto KO for a second Helluva Kick, but this time Owens fought back with a Stunner to win.
It was fun, fiery action that was ultimately really just there to set up the post-match angle. Top YouTube Man Logan Paul turned on Sami to celebrate with Owens, so KO gave him a Stunner anyway. Which, to Paul's credit, he sold really well.
Next up came Sheamus vs Riddle for the United States championship – where Riddle's AR entrance with birds coming out his flip flops now got a special WrestleMania edition, with the birds wearing little pirate hats and a little eyepatch and one of them winked at the camera. Why aren't you selling these as NFTs too, WWE. You're leaving money on the table here.
The match, however, was incredible – worked terrifically fast from big move to big move. Sheamus unfortunately botched a White Noise off the top rope, but he made up for it with all the Brogue Kick on a mid-air moonsautling Riddle – busting open Riddle's mouth – to win the US title.
There was a video promo where Triple H gave Bad Bunny a briefcase on a deserted road, which had a microphone inside. Bad Bunny then returned to his home planet to announce his 2022 tour.
He presumably took all the music with him, because not a single instrument factored into the following Big E vs Apollo Crews Nigerian Drum Match for the Intercontinental title. 
It was reported that as of Friday's SmackDown, WWE still didn't know what a Nigeran Drum Match actually was. Thankfully they'd figured it out by Night 2: it's just a standard hardcore match, with a few drums placed around the ring. Which never got used.
Instead Big E and Apollo fought using tables and steel steps – where Big E almost had it won, which would've been his eighth or something win over Crews, until a returning Dabbo Kato showed up, took Big E out, and gave Apollo the win to become the new Intercontinental Champion.
PWInsider have reported his name will be Commandor Azeez. 
Rhea Ripley vs Asuka never really found that extra gear in their match that was somehow shorter than the earlier tag. They had a nice building pace, with a great Asuka DDT off the apron, but there wasn't any big near fall sequence, or proper third act of the match. Ripley just shouted at Asuka to keep kicking her, then hit the Riptide to become the new Raw Women's Champion. 
Asuka lost the match the same way WWE have booked her entire 7 month reign. As an afterthought. 
You know that Becky Lynch return that she'd been teasing all week? Well you sure trolled us Becky. Because what we got instead was utter guffins.
Titus and Hogan came out to remind everyone Hogan isn't racist. Sorry, misread it again. I meant to say 'came out to thank the fans'. They were interrupted by Bayley – which brought out 2020 Hall of Fame inductees the Bella Twins to beat her up. 
Thankfully the main event was an absolute masterpiece. 
Despite everything else on the weekend feeling 'like WrestleMania had finally returned' – the star power showed this was the real main event scene. Edge, Roman and Bryan all got monster pops – with the fans booing Reigns correctly for the first time in his career.
I was really curious to see how Roman and live fans would interact with each other. This is the first time we've seen heel Reigns in front of an audience. Would they cheer the heel now he's cool? Would he ignore them, just like he used to as the smiling, impotent babyface? And what about one of the coolest parts of Roman's character during the lockdown era: his cool, quiet trashtalking of his opponents that wouldn't be audible with fans.
Thankfully, heel Reigns in front of fans works just as well as without – which is the mark of a fantastically well-rounded character. He shouted at the crowd, riling them up even more, as him and Jey Uso beat down Edge and Bryan from the start.
But what makes his heel character work so well is that he lets the babyfaces beat him, before he ultimately beats them – making everyone look better than when they started.
Bryan got a brilliant hot tag on himself to run wild. Edge speared Roman off the steel steps, and then they speared each other at the same time which thankfully didn't implode the multiverse. 
But in the best spot of the weekend, Roman lost. Edge had him locked in a crossface with a bit of a chair shoved in his mouth, to be joined by Bryan also putting Reigns in the Yes Lock. Roman tapped out, but Edge and Bryan were too busy trying to headbutt each other off. They both won, in a way, setting up loads of possible directions even in defeat.
So Roman needed to rebalance the Universe, and beat them both back. Literally. 
Edge sickenly conchairtoed Bryan, but then Jey Uso interference allowed Roman to conchairto Edge. Reigns draped Edge over Bryan's body and pinned them both at the same time. Which does kind of mean Edge pinned Bryan, because Edge's shoulders weren't on the mat, but who cares it was cool.
What did you think of WrestleMania 37 Night Two? Let me know in the comments down below, and vote in our Poll on a Pole match on the community tab – where 77% of you said STOP DOING THE FIEND WRONG.
While the main event was as good as anything all weekend, and arguably had the most WrestleMania feel, Night Two was nowhere near as good as Night One overall – dragged down by screwy finishes like Dabba Kato's redebut and yet another awful loss angle for the Fiend. WrestleMania 37 Part Deux is 3 out of 5.
What are your thoughts on the above story? Let us know in the comments on Twitter or Facebook.