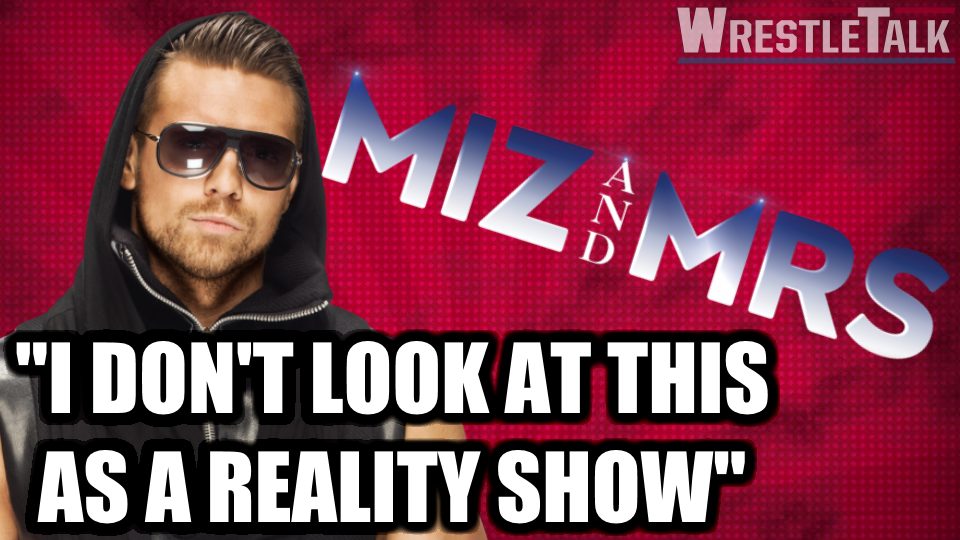 The Miz is really, really not a bad guy. He promises.
In recent interviews surrounding the first two episodes of Miz & Mrs, the former WWE Intercontinental Champion was clear in differing between his in-ring persona who he is in reality.
But reality is a troubling word for Mike Mizanin, at least when TV is involved. After all, he first appeared on MTV's Real World – the show credited with starting the reality genre.
This is how The Miz described Miz & Mrs to The Wrap:
"I don't look at this as a reality show. I don't look at it as an unscripted show.

"I look at it more as a docuseries, documenting first time parents in the entertainment industry."
Across numerous interviews and press conferences, the WWE superstar proclaimed his relief at, for once, not having to play a heel. Instead, Miz & Mrs portrays the couple as surprisingly likable.
This likability may explain the new show's ratings success. The series debut brought in nearly 1.5 million viewers. These are much better numbers than Total Bellas' emotional season finale. That being said, Total Bellas' ratings did increase 20% over the previous year.
Both these shows share a common heritage. That, of course, is Total Divas, the show that brought much of WWE's Women's Division to a new audience.
The Miz thanked Total Divas for first showing off the chemistry between the star couple. However, he revealed to Collider that he was initially sour to the thought of coming back to reality TV:
"We were always looked at as no talent, as nothing, it was garbage TV, yada yada yada. And that's sort of where I came from. It was always a bad thing…

"Then I started watching and learning and realizing that nowadays everything is a reality show. Facebook. Instagram. Twitter. All the social media, I know what everyone is doing at any given part of the day."
When The Miz and Maryse were each given producer roles, however, things changed. Creative control allowed the couple to craft their own image.
As The Miz said to Life & Style:
"We didn't want to have all of the drama and all that stuff, we wanted this to be lighthearted."
The lightheartedness turned out to be worth it, judging by episode two's fantastic Xavier Woods bellydance.
DANCE BREAK! #MizAndMrs #WestCoast pic.twitter.com/3lyVPY8hTL

— Miz & Mrs (@MizandMrsTV) August 1, 2018
But is The Miz really such a nice guy? After all, he focused a chunk of interview time on attacking Daniel Bryan as past his prime. You can take the heel out of the fight, but you can't take the fight out of the heel.
Perhaps Bryan should trust WWE to handle their feud after all.
Related Content:
Miz and Mrs airs every Tuesday after SmackDown (poor, poor 205 Live). Are you part of its 1.5 million viewers? Or do you think WWE should focus on in-ring action? Let us know in the comments below or on Twitter here. You can also join us on Discord to chat with Oli, Luke, the magazine team, the website writers and each other here!