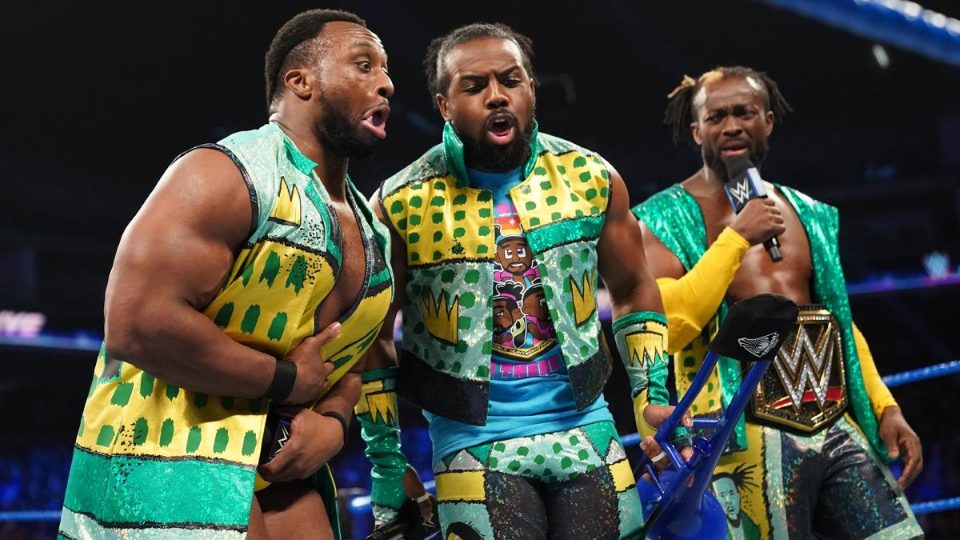 Ohhhhhhh bad creative, don't you dare be sour, clap because you didn't end up giving the New Day any of these horrible names you once pitched.
On the latest episode of their Feel the Power podcast, the New Day boys discussed some of the names WWE once pitched to them before the New Day name was decided upon…
Musical Names
The Beat
The Tribe
Perfect Harmony
Healing Through Harmony
The Wonders
The Miracles
The Sensations
Modern Marvels
Vibe & Vision
The Commotions
Three-Inspired Names
Harmonies 3
The Trillogy
Triverse
KBX [For Kofi, Big, and Xavier]
Inspirational Names
The House Of Light
The Triumph
The Beacon
New City
The Cause (which they liked)
The Regulators (which they liked)
House Of Positive Energy [HOPE]
The House Of Purpose
The Calling
Voices Of Triumph
The Prime
The Charge
The Reach
The Concept
The Achievers
The Sentinels (which they liked)
Genesis
Born Again
Revelation
Nation Of Salvation
The Congregation
The Advent
Trinity
Crusaders
Exodus
Redeem
Risen
Almighty
Modern Day Saints
The Sainthood
A-Men
Brothers Of Xavier
X-Communication
Save Our Souls (SOS)
Million Man Ministry
Resurrection [various spellings]
Penance
Kofi admitted that reading the list now actually made him feel angry.
"Like, I'm getting angry reading this list, man, because I can't emphasize enough, we were three guys trying to make it," Kingston admitted. "Do you know what I'm saying? And you're trying to put us in a hole with these names. The House Of Purpose?"
Big E acknowledged that he was the first to try out the preacher voice, which is why they were given that gimmick in the first place.
"Yeah, I have to take some blame for that. So I was the one who started doing the preacher voice because I was just throwing stuff at the wall. Yeah, but I don't know if I've ever acknowledged this before, but I'm the reason we had to do the preacher gimmick, I feel. I'm the reason we had these inspirational names."
They also revealed that WWE wanted to try out Titus O'Neil in the group, but that as much as they love Titus, they didn't want him to be in the group.