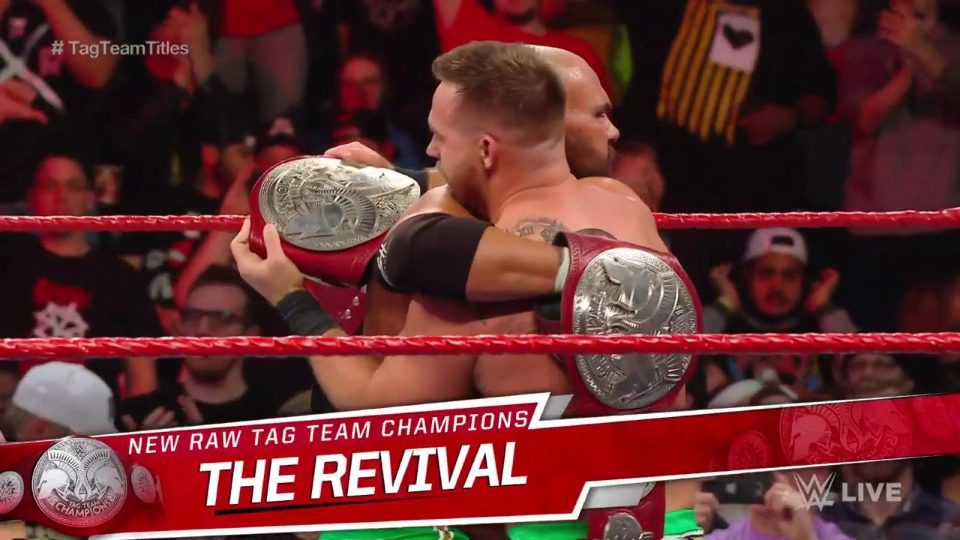 Well then, Dash Wilder and Scott Dawson are the new Raw Tag Team Champions after defeating former holders Chad Gable and Bobby Roode in a great match on Raw.
For weeks now, the WWE future of the Revival has been a topic of much debate. They requested their releases a few weeks ago, actually during an episode of Raw, but were rejected.
It later came to light that their contracts are up in April of next year, which, is quite long time, really.
There were later reports that because the Revival were unhappy with the tag team scene in WWE, which is why they wanted to leave presumably for AEW instead, it was reported that WWE were going to make an effort to improve the credibility of their floundering tag division.
As I mentioned, this match was great, and the two teams have – by all accounts – been absolutely tearing arenas down left right and center on house shows recently.
"THIS IS AWESOME!" ?? ???
"THIS IS AWESOME!" ?? ???
"THIS IS AWESOME!" ?? ???
"THIS IS AWESOME!" ?? ???
"THIS IS AWESOME!" ?? ???#RAW #TagTeamTitles pic.twitter.com/nshfbJeCvB

— WWE Universe (@WWEUniverse) February 12, 2019
The match suffered ever so slightly from a dead crowd (largely because the show up to this point was abysmal), but eventually drew well-deserved "this is awesome" chants.
The Revival ended the 63-day reign of Gable and Roode to capture their first main roster titles. The longest reign since New Day's 483-day reign in 2015-16 was the 80-day reign of the Deleters of Worlds last year.