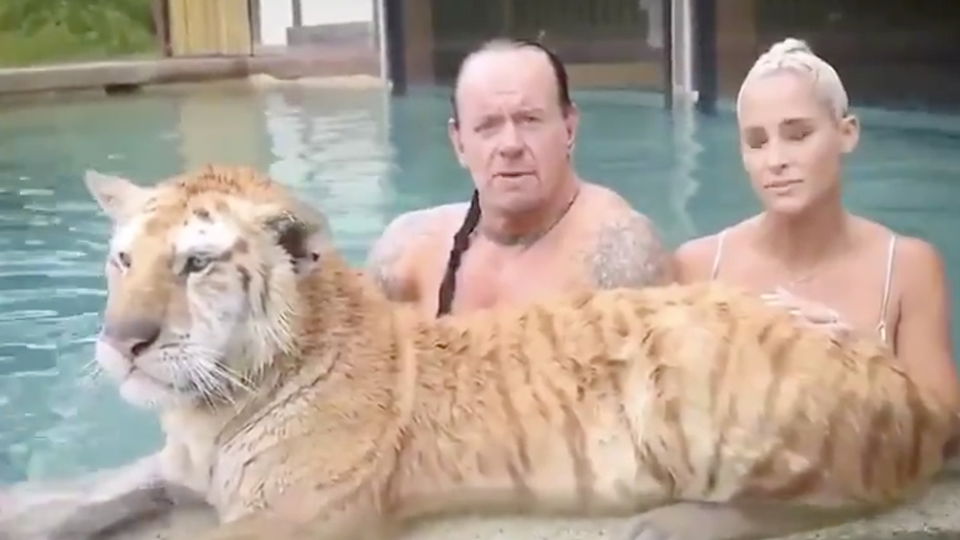 If you say you thought you'd see this headline today, you are a rotten fibber. The Undertaker and Michelle McCool star in a bizarre public service announcement alongside a tiger.
The video is a call to action to save the tigers as the happy couple sit in a pool and discuss the situation. This advertisement can be seen in full here:
Why is The Undertaker in a pool filming a Save The Tigers video appeal for his Insta stories?

I swear the coronavirus is putting us all in a fever dream. pic.twitter.com/VuC7lSoJiO

— Justin (@juza_23) March 19, 2020
"The tiger stands as the last great sentinel of the forest. If we lose the tiger, we lose a piece of ourselves forever. But if we can save the tiger we could save the world. In order for the tiger to survive it needs clean clear skies, pristine lakes and rivers, wide-open spaces, clinical prey animals, and most importantly, it needs you, people who care.

Therefore if we save the tiger, we can save the world. If we don't save the tigers then no one will rest in peace. To learn how you can visit, go to myrtlebeachsafari.com and learn how we are helping to save them at rarespeciesfund.org"
A noble cause, indeed. While this video is incredibly odd, they do share a worthwhile message.
The Undertaker is currently scheduled to face AJ Styles at WrestleMania 36. Maybe we will see him bring a tiger to the ring like Scott Steiner in WCW.
What do you think of The Undertaker's new campaign? Let us know on Twitter!