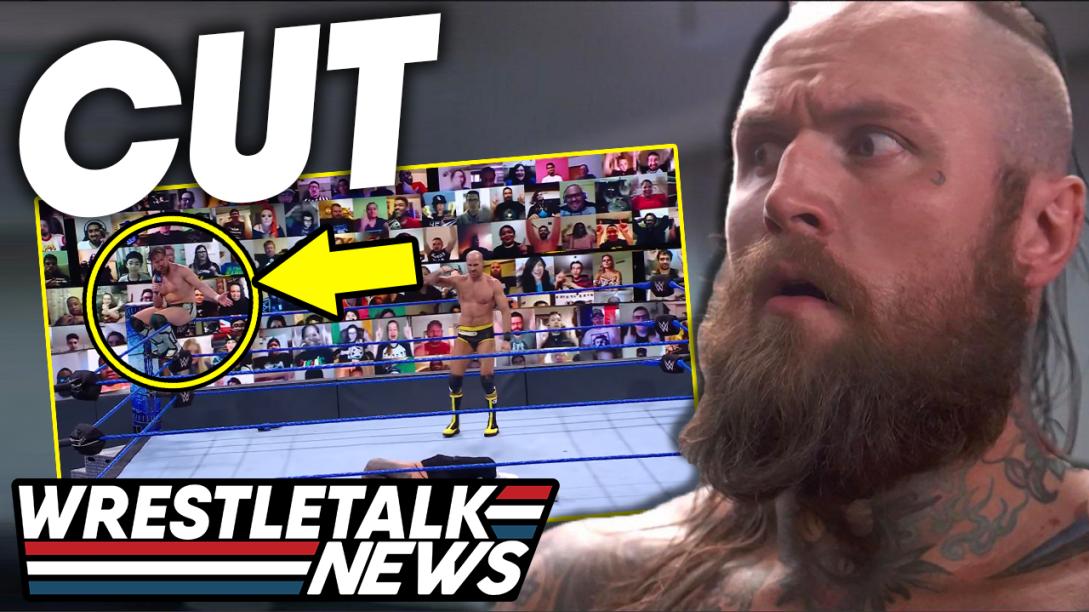 Hello and welcome to the WrestleTalk News, I'm Mr Davis – returning from my hair transplant surgery. That's why I've got a fancy hat. Because the top of my head currently looks like Sheamus's chest after a chop battle.
Superkick the thumbs up button and give us a subscribe because we've got a huge episode today, with the real life feud between Randy Savage and Vince McMahon, Daniel Bryan being edited out of WWE, and two big WWE returns being cut. Because they've got to make way for the next breakout star in WWE…
Blair Davenport!
Rivalling other genius wrestling names WWE have come up with in the past, like Michael McGillicutty, Skip Sheffield and Percy Watson, the promotion have excitedly filed to trademark the wrestling name BLAIR DAVENPORT. I can't wait, but there is only room for one Blair in our hearts. Subscribe to No Rolls Barred.
Davenport will hopefully be given to one lucky developmental star soon. Or it's Aleister Black's new gimmick. 
Increasingly becoming a new version of Jimmy Kimmel's We haven't got time for Matt Damon joke in the 00s, Ringside News is reporting Aleister Black's new, darker character was cut from Friday's episode of SmackDown, despite him being backstage, a new weekly segment being filmed for him and WWE being shorthanded for the show.
They also cut the planned SmackDown debut of Mia Yim, set to be repackaged following her stint at Reckoning in the faction Retribution – with her return simply being "pushed to another week."
But despite Black and Yim's segments being cut, and two top backstage officials being away – with Executive Director Bruce Prichard "on vacation" and head writer Ed Koskey simply "handling something else" – Ringside News write SmackDown went "very smooth" despite its "limited staff," with Triple H taking more control of the show, and bringing up producer Dave Kapoor, who's been working on NXT as of late. 
CGI fist bump for putting on a good show, guys!
This is just the latest example of Hunter and his NXT team making their influence felt on the main roster, possibly foreshadowing a time when they're officially given a brand to make their own, with Prichard rumoured to be overstretched covering both Raw and SmackDown.
Interestingly, from a geeky wrestling media perspective, the super respectable Wrestling Observer has directly corroborated the far more dirt sheet-leaning Ringside News' report, with Dave Meltzer writing in his daily update: "Regarding several Ringside News stories this week, most are basically true" – backing up the Triple H and Aleister Black stories, while noting Yim's debut is now "tentatively scheduled" for this Friday's episode of SmackDown.
Tentatively Scheduled, title of WWE's next pay-per-view.
Because in one of the most bizarre wrestling stories of the year, WWE just let one a WrestleMania 37-closing Main Eventer's contact run out.
Daniel Bryan Cut Out Of WWE Clip
Daniel Bryan vs Roman Reigns in a loser leaves SmackDown match for the Universal Championship two weeks ago was thought to just be another nothing WWE stipulation. Turns out no. Bryan's contract with the company has legitimately expired and the Wrestling Observer has claimed he could "legally show up next week on AEW" if he wants – meaning the 90 day non-compete clause doesn't apply, as that's generally for released wrestlers.
And WWE appear to be very aware of this, as they've started editing him out of their videos…
Meltzer added Bryan would "probably" wrestle for New Japan soon if it wasn't for the country's recent state of emergency due to the pandemic, but the "door is still very much open" to re-sign with WWE. Because the wrestling business is just a load of open doors right now. And many in AEW to expect him to go back to Vince.
But in WALTER's interview with Corey Graves' After the Bell podcast, the NXT UK Champion was asked who his dream WWE opponents are. And he answered Cesaro… and Daniel Bryan:
"When I first got into watching other wrestling than WWE, I was watching a lot of Ring of Honor. Those guys are the top guys in WWE right now, so Daniel Bryan would be one of the matches I really wanted to do."
But good luck finding that in the YouTube version of the interview, as the part mentioning Ring of Honor and Daniel Bryan have been edited out. 
It's quite an odd decision to edit a very interesting 20 seconds of answer from a 5 minute video, especially looking at WWE's treatment of Bryan on Friday's SmackDown.
The show opened with a fantastic promo from Paul Heyman where he led Roman Reigns and Jey Uso in a 10 bell salute for Bryan's now finished WWE career. But according to Ringside News, which has also been corroborated by the Wrestling Observer, this was not in the original script, although the idea was "100% approved". Heyman either improvised on the spot, or just didn't tell anyone he was going to mention Bryan.
Apparently the segment got a huge positive reaction backstage, precisely because it caught people by surprise. The WWE writing team didn't originally plan to draw so much attention to Bryan legitimately being a free agent.
This is speculation-amania on my part, but could the positive reaction to something spontaneous be down to the people running the show and the different culture they provide? I.e. Triple H and his NXT team. McMahon and Prichard often say they want their stars to make a name for themselves, but then punish them whenever they try: the marks of out-of-touch control freaks.
Again, Bryan really is a free agent right now. Ringside News note he's not just been removed as a wrestler, but also from the SmackDown writing team backstage. Although WrestlingNews.co report WWE officially are "very hopeful" he'll sign a new contract and return soon, which the Heyman off-script segment seems to support. Some of pro wrestling's best moments are when reality and fiction merge.
What do you think is going to happen with Daniel Bryan? Let me know in the comments down below, where I'll be replying for the first 15 minutes as soon as this video goes live FROM OUTTA NOWHERE – fantasy booking Bryan returning to SmackDown as BLAIR DAVENPORT.
Meanwhile In Japan!
Following the divisively received A&E documentary on the life of Randy Savage, with Sean Waltman calling out the episode for going to hard on someone who's not around to defend themselves, with way too much air time being given to – quote – "Bubba the f****** Love Sponge", Bruce Prichard has discussed Randy's fractured relationship with Vince McMahon on the latest episode of Something to Wrestle With.
While talking about Backlash 2006, Prichard covered rumours at the time that WWE was considering inducting Savage into the Hall of Fame, while Savage was still alive. Former WWE writer Alex Greenfield had been told not to keep suggesting Randy as a possible inductee, as it would annoy Vince too much. While Gene Okerlund claimed WWE asked Savage many times, but "he declined" – saying he'd only go in if his brother Lanny Poffo and father Angelo would be inducted at the same time. George Steel had just said that Vince never "got over" Savage leaving WWE in the mid-90s.
Savage passed away in 2011, and was eventually inducted in the WWE Hall of Fame in 2015 – where Prichard has said he "definitely… 100%" thinks Randy and McMahon would've made up by then, and Savage would've attended the ceremony in person.
Huge Plans For The Usos
Following Jimmy Uso's return on Friday's SmackDown, WrestlingNews.co is reporting the Tribal Family storyline is mapped out for the next several months, which will result in the Usos winning the tag team titles from a babyface team. This implies the current champions, heels Dolph Ziggler and Bobby Roode, will drop the belts before then – presumably to the first ever father and son title winning team of Rey and Dominic Mysterio.
Ringside News adds that Roman's storylines "are carefully crafted and they are unlike anything else going in the company". The writing team don't have much input, which is why Heyman's promo likely caught so many by surprise, and the creative process is solely handled by Heyman, Reigns, McMahon and Michael Hayes – which is the non-writing team approach that has historically worked the best in wrestling. 
John Cena Teases WWE Return
Perhaps John Cena might be Roman's next big opponent, as he's not-so-cryptically posted a low-res image of the WWE logo on his Instagram. He is also in that picture.
Before you get too excited, though, John Cena's Instagram page is one of the weirdest places on the Internet. Here is a photoshopped picture of comedian John Oliver's face on a bodybuilder's body with John Cena. And here is another of a dog eating popcorn… also with John Cena.
Becky Lynch Signs New WWE Contract
And Ringside News is reporting Becky Lynch has recently signed a new WWE deal, pledging her near future to the
What are your thoughts on the above story? Let us know in the comments on Twitter or Facebook.