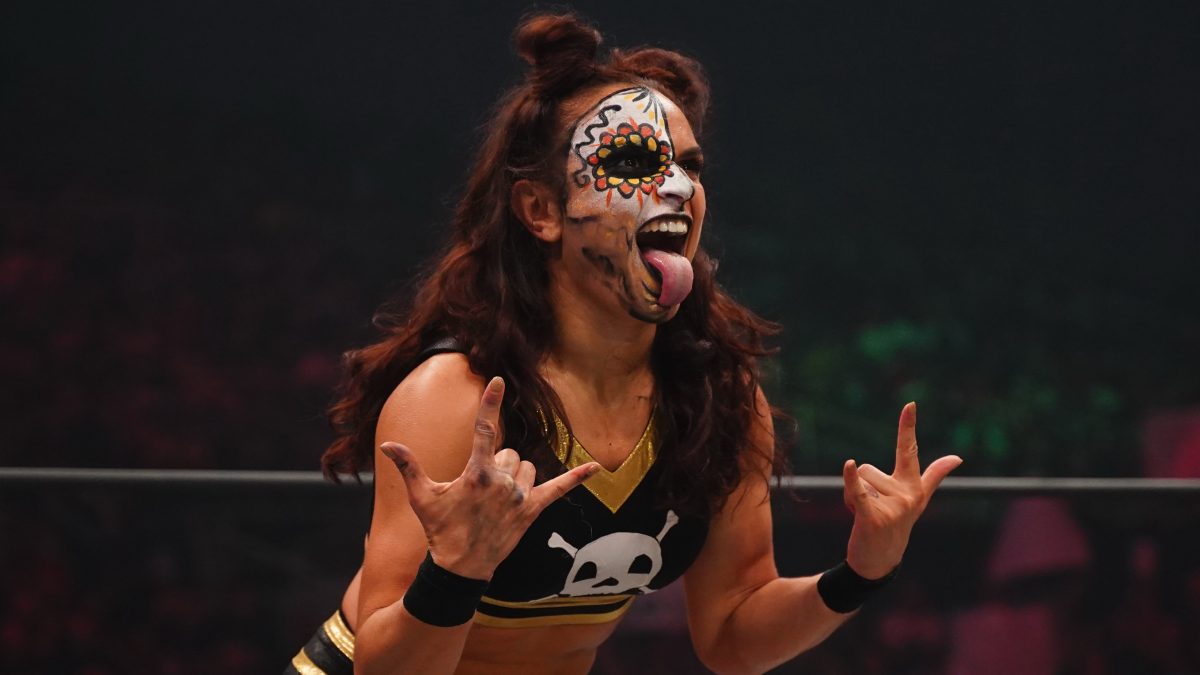 Former AEW Women's World Champion Thunder Rosa has yet to return to the ring since she was forced to relinquish the AEW Women's World Championship back on August 24.
Rosa has since returned backstage to the company, providing colour commentary as part of the Spanish Announce Team.
There was reportedly a backstage meeting to iron out issues between Rosa and the women's locker room ahead of her return.
Issues between Rosa and Britt Baker crept back up again recently, when a quote from Baker from the debut episode of AEW All Access claimed that she 'still has the same questions' about Rosa's status.
Baker then clarified her comments, claiming that she didn't question her injury status, but rather the fact that she doesn't show up while injured.
Rosa appeared on Busted Open Radio this week, where she spoke about Baker's recent comments, saying that she wanted to drop the title the day she relinquished it due to injury.
She said:
"First and foremost, I want to make sure people understand, at the beginning of this drama, everyone was speculating that I wasn't hurt. It was proven that I was hurt. There are MRIs, they talked to my doctor, I had multiple epidurals, and I'm still not cleared. I had another MRI last week and the pain is still there.
"For me, personally, I wanted to drop the title the day that I couldn't wrestle because they told me I was going to be out four to six weeks. My boss [Tony Khan] made the decision and said, 'you're going to be the champion and we're going to have an interim champion.' For me, as a competitor, I wanted to make it fair so my peers had an opportunity to defend the championship because it wasn't fair that I wasn't there, I wasn't going to be there, and I was going to hold the title.
"The problem comes, and this has been the question raised about me not showing up; I wasn't booked to go there. When I got the news that I wasn't going to keep the title, it caught me by surprise. 'Today is the day, okay.' I wasn't able to go. I wasn't able to get in the ring and say, 'Guys. Unfortunately we made the decision, here is the title, thank you for the opportunity to let me represent.' That opportunity wasn't given to me. That's pretty much it.
Rosa continued on, confirming that she had apologised, and how she now just wants to focus on the women's division.
She added:
"I want to make sure we focus on the women's division now. I'm not there in the ring. I'm not a superhero to be able to get in the ring. We have to respect the people that are now representing the company.
"I have talked to the locker room. I took accountability for the things that some people had issues with me, and I went out there and apologized. That's the best thing I can do. I want to make money. I want to make sure I can work with everyone, regardless if we have any issues or not.
"At the end of the day, I'm booked to wrestle, unfortunately I can't wrestle right now. I'm human, I don't pretend to be a superhuman. I'm not here to be a martyr and I don't want to be a victim.
"Right now, there is no storyline between Britt Baker and I. God as my witness, every morning and every night, I pray to God that there is one thing I want to do and one thing only. Not to get the championship, but to settle this in the ring, for once and all, and wrestle Britt Baker and show the world what a real professional wrestler is."
transcription via Fightful
If you want to stay fully updated on all the latest wrestling news, click the red bell in the bottom right of your screen to receive notifications from WrestleTalk.com straight to your device!