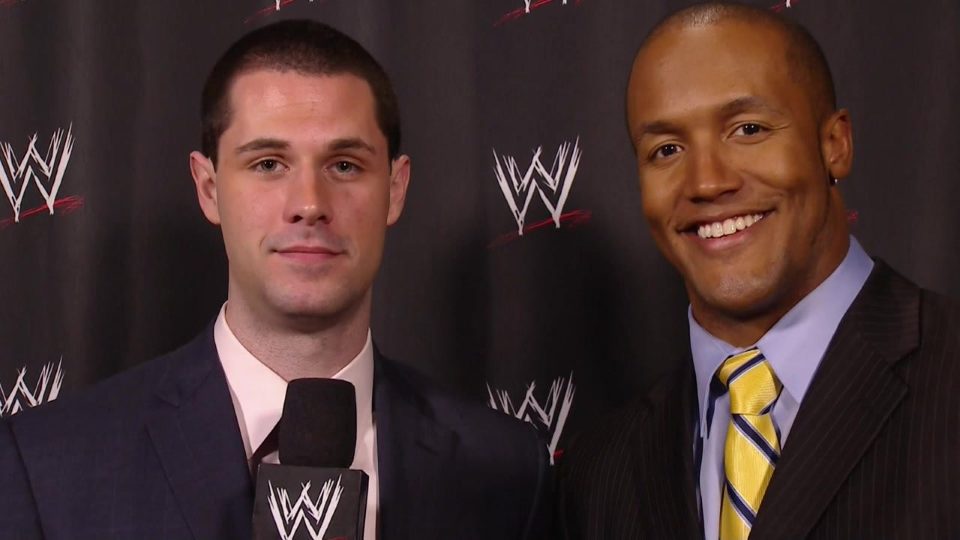 The statuses of former WWE SmackDown announcers Tom Phillips and Byron Saxton have been revealed.
Phillips has replaced new Raw play-by-play announcer Vic Joseph in the lead positions on NXT UK, which he calls alongside Nigel McGuinness, and 205 Live, joining Aiden English.
It has also been reported the former SmackDown caller is working backstage in WWE as a producer.
Less has been revealed regarding Byron Saxton, but he is continuing in his role as lead announcer for WWE Main Event, a position he has held for some time.
His partners often vary, but the last couple of weeks he's been joined by new Raw analyst Dio Maddin, and the currently injured Mickie James.
It is unknown whether James will be transitioning fully into a commentator role moving forward, or whether she's just trying her hand at it while she recovers for an in-ring return.
The likes of Renee Young, David Otunga, Aiden English, Nigel McGuinness, and even Sam Roberts have all joined Saxton on Main Event fairly recently.
Saxton has been at the announce booth for every Main Event since January 25, aside from the episode taped September 30 which was Vic Joseph joining Maddin and James.
That said, here are the commentary teams for every WWE show as it currently stands:
Raw – Vic Joseph, Dio Maddin, Jerry Lawler
SmackDown – Michael Cole, Corey Graves
NXT – Mauro Ranallo, Nigel McGuinness, Beth Phoenix
NXT UK – Tom Phillips, Nigel McGuinness
205 Live – Tom Phillips, Aiden English
Main Event – Byron Saxton, Dio Maddin, Mickie James