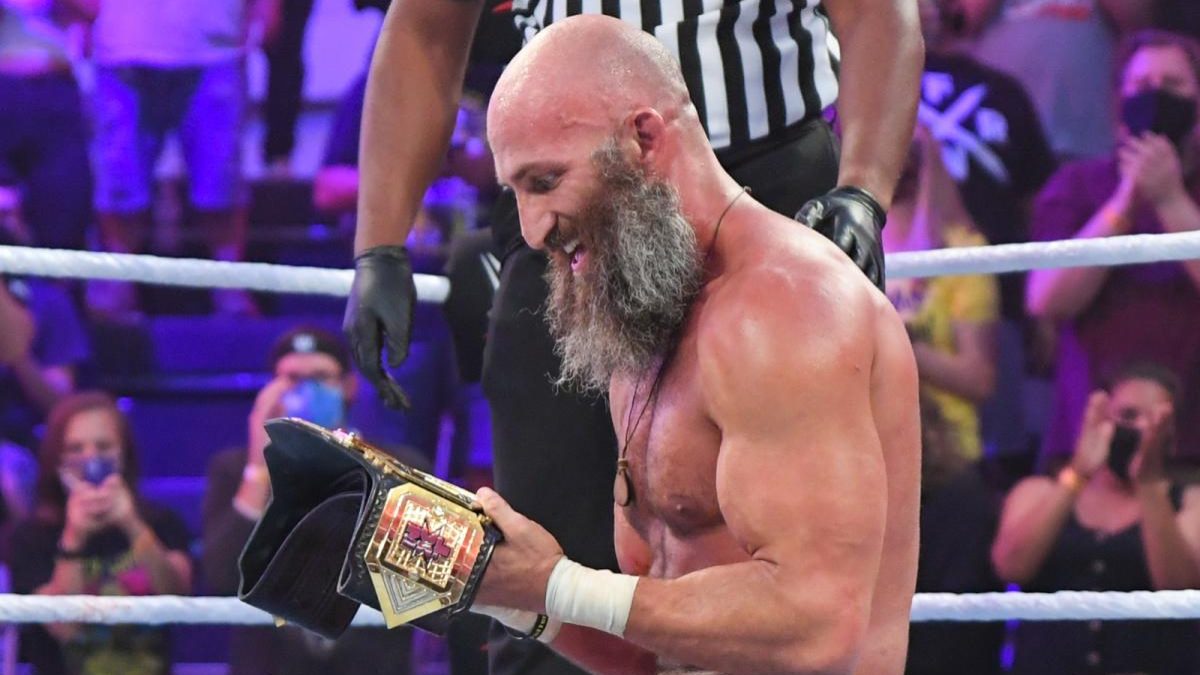 NXT Champion Tommaso Ciampa has opened up about fans who have been critical about the 'NXT 2.0' rebranding.
Following WWE adjusting their recruitment strategy to focus on hiring bigger and younger athletes, NXT received a reboot, with the premiere of 'NXT 2.0' airing last Tuesday.
Mike Johnson of PWInsider, recently asked Ciampa if he had a message for fans who have dismissed the revamped brand, now it's no longer Black and Gold. Wanting the old NXT audience to give the new show a chance, Ciampa said:
"Well, man, I mean, coming from me of all people like Tommaso Ciampa is NXT. You know what I'm saying? It's hard pressed that anyone's going to argue with me to tell me that NXT's dead when I'm holding on to the NXT title Goldie Ciampa 2.0 is just started and we're six days in. This is going to be a very special time. Five years from now, ten years from now, people going to look back and think, 'Ah, that was the heyday. That was special. I remember when.'  That's what always happened in professional wrestling.

"Everybody always looks at something ten years later and then reminisces about how special and how great it was. It's a constant cycle and that's going to happen again.  I get it, man. I get people who are having trouble letting go maybe of some of the black and gold or they're having trouble letting go of 2018 or 2019. But man, I'll be here to tell you that it's 2021 and Tommaso Ciampa is the two-time NXT champion and the greatest sports entertainer of all time. Now, I get to prove it to the world week-in and week-out. Because that's what I want to do. I want to prove it to the world, week-in and week-out.

"I want to defend that title, man. I do. I want to showcase that title. I want the NXT title to become the most prestigious title in the entire world of sports entertainment. I want to take on everybody from Carmelo Hayes to Bronson Breakker. I want to take on Samoa Joe and Pete Dunn. Heck, I want to go to Survivor Series and I want to step in there with Roman Reigns and Big E and I want to prove to them and prove to the world that I'm every bit as good as I say I am.  Then I don't know, maybe come end of November, December, January, people are going to look at this NXT 2.0 like, 'Hey, you know what? It ain't all that bad. These Takeovers, yeah, they ain't all that bad. These guys are killing it. The passion is still there'.

"Different color scheme, different label, whatever, the passion is still there.  That's the key to this whole thing. It's the passion. I hope the fans continue to bring the passion because when I look around in our locker rooms, all the boys and girls and man that passion is there. I mean, it might be there tenfold right now, more so than it's ever been before.  Just give it time, like give it a shot. I know it's just words coming out of my mouth, but let the actions speak for themselves.

"Tune in the next couple of weeks and see what NXT 2.0 is all about. These guys and girls are out, man. They're out for blood. They want to prove to the world that they're just their next level talents."
The second episode of NXT 2.0 following the reboot airs tonight (September 21). WWE has shared a time-lapse video of the set being built ahead of the episode.
To make sure you stay updated with all the latest wrestling news, add WrestleTalk.com to your Google Discover feed and follow us on Twitter!