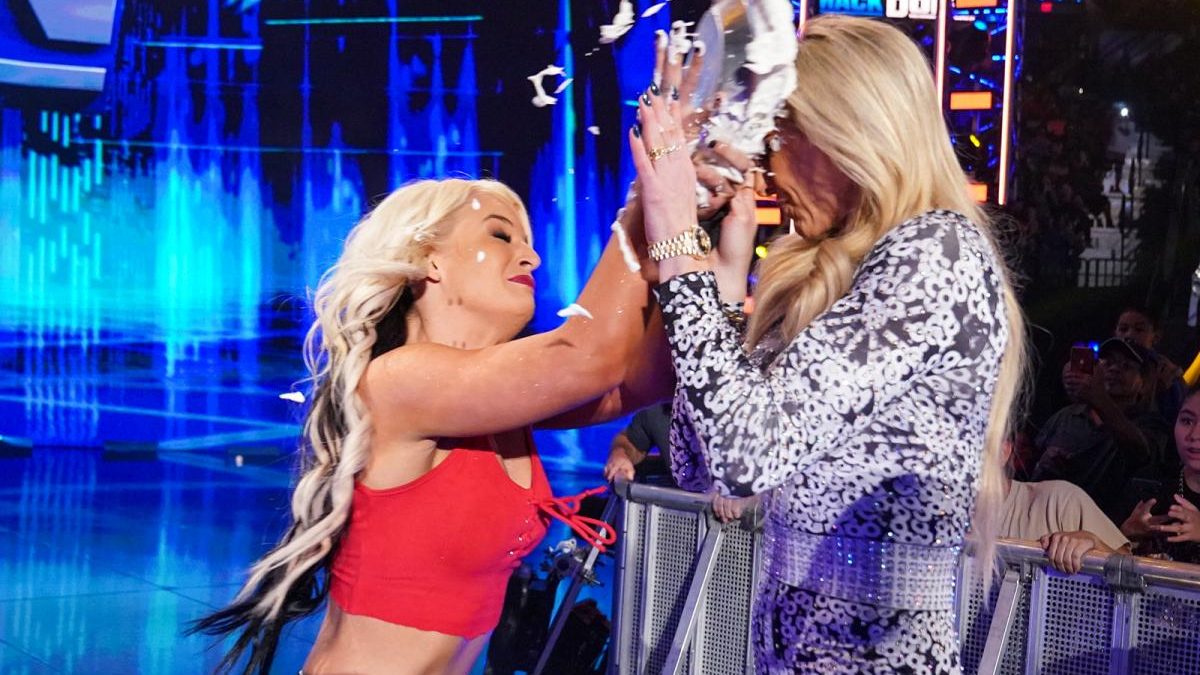 Cast your mind back a few months, and you will perhaps remember that Charlotte Flair hit now former WWE and current AEW star Toni Storm with a cream pie on SmackDown.
The alleged idea was to embarrass Storm, so that she'd come back the next week and get her revenge…which did sort of happen, but it was still a pie in the face on a televised wrestling show.
The feud never finished, as Storm would leave the company abruptly on December 28 last year, and Storm has now revealed on the AEW Unrestricted Podcast that the pie incident was actually much better than the original plan.
She said:
"I was actually quite happy with that segment that day. It was a lot better than the original idea. The original idea was like, I was called up and asked if I was comfortable having my shirt ripped off or something. They wanted to do this whole angle where they wanted to rip my shirt off to be embarrassed, to my underwear, I guess. When you're asked if you're comfortable to do that and literally, people are being fired every single week, it's like, 'Well, yeah, I guess I'm comfortable with that.' Then, a lot of people fought to not have that happen.

"That would have been a terrible idea. To be honest, the pie was actually quite a sweet treat in comparison to what it could have been. In hindsight, I don't really mad. I'm not even mad. People think I'm mad, I think it's hilarious, standing there covered in pie. I can demolish food, so if they're throwing food at me, that was a good day. Not painful at all. That was a good one, to be honest. That was one of my better times,"
Since leaving WWE, Storm has started a personal OnlyFans page, and debuted for AEW on the March 30 episode of AEW Dynamite.
Credit to Fightful for the transcription.
To make sure you stay updated with all the latest wrestling news, add WrestleTalk.com to your Google Discover feed and follow us on Twitter!