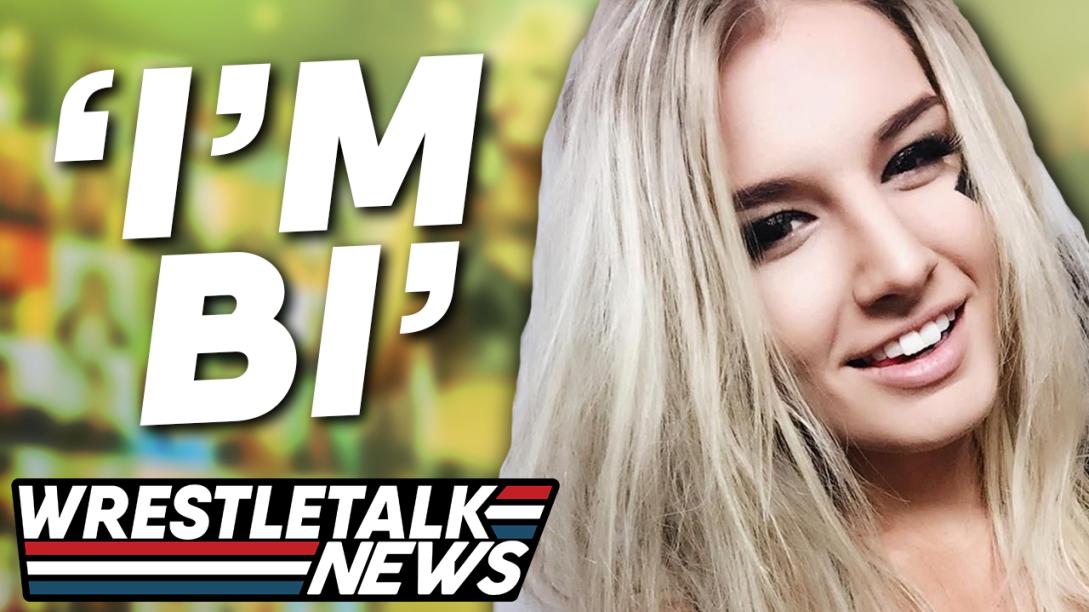 Coming up in this WrestleTalk News: a WWE star comes out as bisexual, an update on a missing wrestler, the NXT review and more! Like and subscribe, like and subscribe, like and subscribe.
Toni Storm Comes Out As Bisexual
Just in case you're confused why every Twitter profile now comes in rainbow variant, it's Pride month – a whole month to celebrate the LGBTQ+ community. And now faction has just debuted its latest member: NXT star Toni Storm.
Appearing on an official NXT account's Instagram story, Storm revealed:
"I guess now is a good time to say well both. I'm an ally and I cannot exactly say that I'm straight. I'm bi and it feels good to say. It's something that I've been really comfortable with for a long time. I just never really expressed it, I don't know. I just never really found the right time and it's Pride Month and I'm on your Instagram so now's a good time I guess."
Storm is currently in a relationship with New Japan star Juice Robinson, which you can tell, because she's wearing his awesome hat.
It's amazing to see how many LGBTQ+ members of the roster WWE now has since Darren Young first came out back in 2014. Sonya Deville, Kayla Braxton, Shayna Baszler, Jake Atlas and more. But it's important to note they're following the path laid by the original bi guy, Triple H, back in 1998.
You can buy our Pride WrestleTalk t-shirt over at WrestleShop.com using the link in the video description below, where all the profits go to the charity Stonewall.
Missing Wrestler Update
On Monday, former IMPACT, Ring of Honor and New Japan star Michael Elgin, whose real name is Aaron Frobel, was said to have gone missing. His friend Maria James had posted on Facebook that she and his sponsor were "worried about him immensely" and "we just want to bring him home safely".
His sponsor Eric then explained on a post that he'd been helping Elgin "through a lot of things lately" and that Elgin had "left a concerning message on Facebook and at his home." Eric had gone round to check on Monday afternoon, but Elgin's vehicle had gone, and he'd left his phone behind. 
Thankfully, Global Syndicate Wrestling provided an update later in the day, stating: "Mike Elgin has been found and he is doing ok and is being taken home."
Elgin was one of the most talented wrestlers on the indie scene, wrestling for everyone but WWE. I once did a two hour train journey back in 2012 to watch him wrestle an unknown big Austrian guy in a school sports hall in Sittingbourne. That Austrian guy later evolved into WALTER. 
But Elgin was accused in last June's Speaking Out movement, prompting IMPACT to suspend and then terminate him from his contract. He has hardly wrestled since. This week will mark a year since those allegations began to come out. 
Please visit WrestleTalk.com/supporteachother if you're struggling. There's mental health organisations listed for multiple countries for you to support yourself.
Real Reason For Hell In A Cell Matches
Monday's episode of Raw was shocking not for any fallout from the Hell in a Cell pay-per-view. It was shocking, because it was actually pretty good – with WWE arguably putting on their best episode of Raw all year. Better six months in than never.
The ratings held pretty much steady from the previous week at 1.72 million viewers – but that's not really indicative of Monday's episode's quality. It's going to take months and months of consistently good to great TV to win back their audience's attention.
And one way to do that? Hell in a Cell matches.
Hell in a Cell for Raw, Hell in a Cell for SmackDown, Hell in a Cell for everyone!
It appears WWE is experiencing some friction from their TV network partners the USA Network, which airs Raw and NXT, and Fox, which airs SmackDown. Now that the WWE Network has moved to Peacock, which is part of the same company as USA, they've put themselves in a position where Fox is promoting their rival network's on demand service whenever they're building a pay-per-view.
This "balancing act" is thought to be behind the big Roman Reigns vs Rey Mysterio Hell in a Cell match being suddenly moved to Friday's SmackDown instead of the pay-per-view. Which Sean Ross Sapp then reported that because Fox got one, USA wanted a Hell in a Cell match too.
This isn't how Hell in a Cell stipulations are meant to work.
PWInsider added WWE also wanted to give the TV Networks "something extra" and to "try and grab fans' attention" with their return to touring next month.
How would you make Hell in a Cell matches feel special again? Let me know in the comments, because I'll be replying to people for the first 30 minutes after this video goes live FROM OUTTA NOWHERE.
WWE Stars' Time Off
The Raw main event of Bobby Lashley vs Xavier Woods actually had the shortest build to a Hell in a Cell match in history – being announced in the opening segment, and taking place just two and half hours later. 
There was an injury angle afterwards, where Kofi Kingston had to helplessly watch Lashley beat up Woods inside the cage, building their Money in the Bank title match. And according to Bryan Alvarez, he's been told this could have been a way to write Woods off TV for a while, as he's got several non-WWE projects coming up, like hosting EA Play Live and the relaunching G4 show.
Kevin Owens is also reportedly taking time off. After working an arm injury in his match against Sami Zayn on Sunday, Owens tweeted: "I fought like hell. Now, I need a little break. I'll be back soon. Thank you, guys."
Dave Meltzer then added KO will be having a hiatus from WWE TV, but this is "storyline-related" and not for an actual injury.
But what about Damien Priest?
Priest was being built up as one of Raw's top stars at the start of the year, getting a great showing in the Royal Rumble, and then tagging with Bad Bunny against Miz and Morrison at WrestleMania. Unfortunately, when Bad Bunny returned to his home planet, it quickly became WWE were pushing the rapper, not Priest. He continued his repetitive feud with Miz and Morrison, which included the worst match of the year at Backlash, and it only ended when Miz got injured. 
But, weirdly, Priest hasn't been seen since either.
It was initially reported Priest had been working through a back injury, which at one point even threatened to take him out of WrestleMania, and it was thought he was just resting up from that. But Fightful Select is now reporting Priest's absence is due to undisclosed non-injury related reasons. 
It doesn't seem like it's any kind of backstage heat, thankfully, as officials apparently wanted him in the qualifying matches for Money in the Bank. He'll reportedly be ready to return next week if there's any plans for him.
How would you restart Priest's momentum in WWE? Let me know in the comments.
Now it's time for Tempest's review of last night's NXT in about 5 minutes.
To make sure you stay updated with all the latest wrestling news, add WrestleTalk.com to your Google Discover feed and follow us on Twitter!