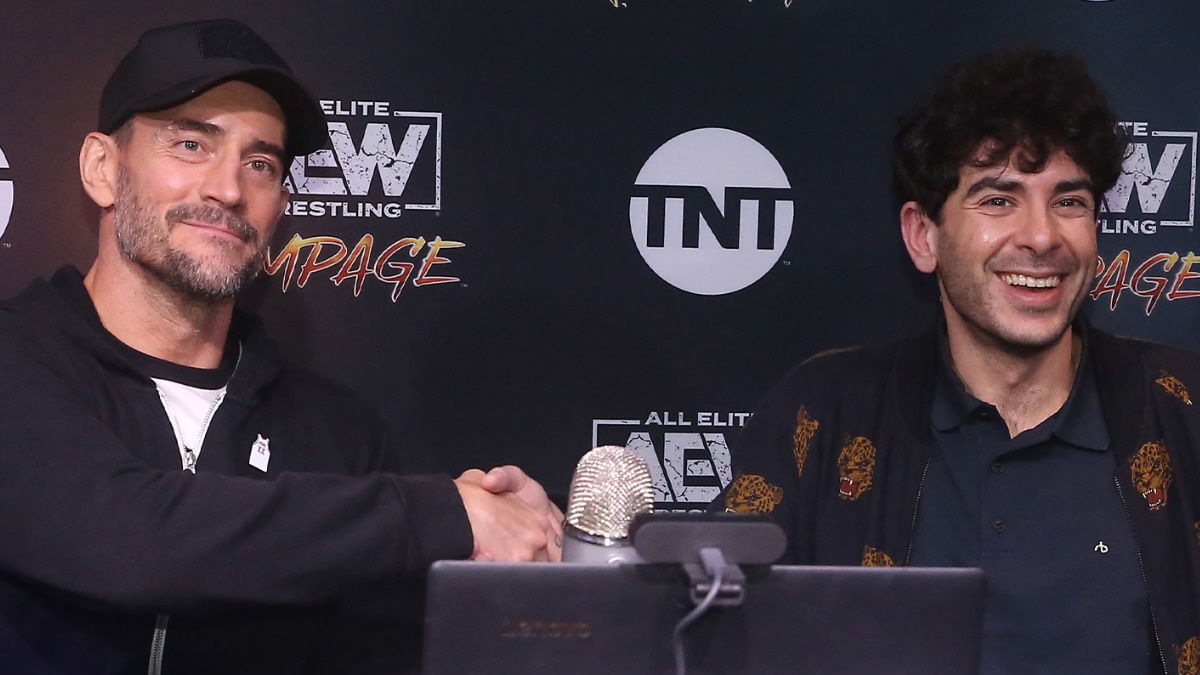 CM Punk made his return to professional wrestling on the AEW Rampage: The First Dance show on August 20, and created a historic moment.
AEW President Tony Khan was a guest on the Wrestling Observer Radio show, and he went into full details about Punk's AEW debut and how 'the First Dance' came to be.
Khan began by explaining when exactly it was that Punk decided to come into the promotion. Khan believes that when AEW extended it's deal with TNT, the promotion seemed much more stable and viable for Punk. Khan said:
"We've been talking a really long time, and a few years ago, it just wasn't the right time. I think he wanted to see how this thing went. He wasn't ready to come back to wrestling, especially not for a startup company. Now we're long past the startup phase. It's been really successful. We signed a big TV extension and I think once we got the extension and it looked like we were going to be in place for a while, it probably made the company look a lot more like a stable option for CM Punk, honestly."
Khan then continued on, saying that he and Punk stayed in contact during the pandemic due to everything shutting down and allowing them to have more time to talk. He said:
"He and I had gotten along. We'd met up in person in Chicago a few years ago and it was super pleasant and I liked him a lot. Even if it wasn't the right fit, it was good to get to know him. Then I think, you know, he wasn't gonna be the guinea pig for this thing, and I understood that. He was really following it very closely, and we built a great business and a lot of great wrestlers came into this company. We had a great foundation at the beginning… Then we've added a lot of talent in year two, and now the company's really in a position where I think the interest is at an all-time high. But he and I, I think we were in a place where we really wanted to work together and he wanted to come in and come back and work with all these exciting young wrestlers and work with people he never had a chance to get in the ring with."
Khan then explained how both himself and Punk knew that the debut had to happen in front of fans, before revealing that it was Punk's idea to run the United Center for Rampage. He said:
"Now there was, it wasn't just an eventual kind of thing, it was like hey, there's actual dates on the calendar we can circle. We're gonna go back on the road in July. At that point, with All Out coming up, it was, you know, I think the time made sense for everyone. He really had a great idea that he wanted to come back in the United Center. He asked about All Out and I told him, you know, we've had this great thing going with the Now Arena and the fans have been going to shows there for us for a while even before I started AEW. The Young Bucks and Cody had run a show there independently, that was, you know, a good show that I attended and did really well. Then we've done two All Outs. The first one was there and the second one was in Jacksonville because of the pandemic, but I had told Mr. Punk that we were going back there and I'd already done the deal. But I thought it was really interesting what he was saying about the United Center.

Then I looked at our calendar and we were booked for TV in Milwaukee and before that, we were doing Dynamite in Houston. I hadn't booked an arena for Rampage yet and I wasn't sure if we were going to do it live. That was kind of the date on the calendar and it was just a perfect date for a lot of reasons. The building was available and I got the United Center booked and called him back and I said I bought the building. He said, 'wow, that's amazing,' and then we were one step closer to getting this whole thing figured out."
With the date of Punk's return now set, the two had to come up with an idea for the return. Khan revealed that it was his idea to go with the 'First Dance' theme for the show, after watching the Chicago Bulls 'Last Dance' documentary. He said:
"So then we started to talk ideas, and I had watched The Last Dance a lot and I just thought what he had come up with, his idea to go to the United Center was so awesome. So then I mentioned The Last Dance. I thought it would be so cool that instead of documenting the end of this incredible indelible journey, we could capture something that would last forever again with this indelible memory that would be the beginning of a new journey, and that would be The First Dance, and he loved it.

Then we started to kick around ideas and, you know, he mentioned, this is just kind of reiterating what he and I have already talked about in the press conference, but we started to talk about — then we actually had to come up with wrestling ideas. He had that great list he put out of people that he thought would be great opponents for him and, of course, one very prominent name on that list was Darby Allin. Darby Allin in the past year has gotten as hot as any wrestler we have. I just thought it would be really cool and it would make a lot of sense and I suggested it and he thought it was great."
CM Punk will take on Darby Allin at AEW All Out on September 5 in his first wrestling match since the Royal Rumble in 2014.
transcription via Fightful
To make sure you stay updated with all the latest wrestling news, add WrestleTalk.com to your Google Discover feed and follow us on Twitter!