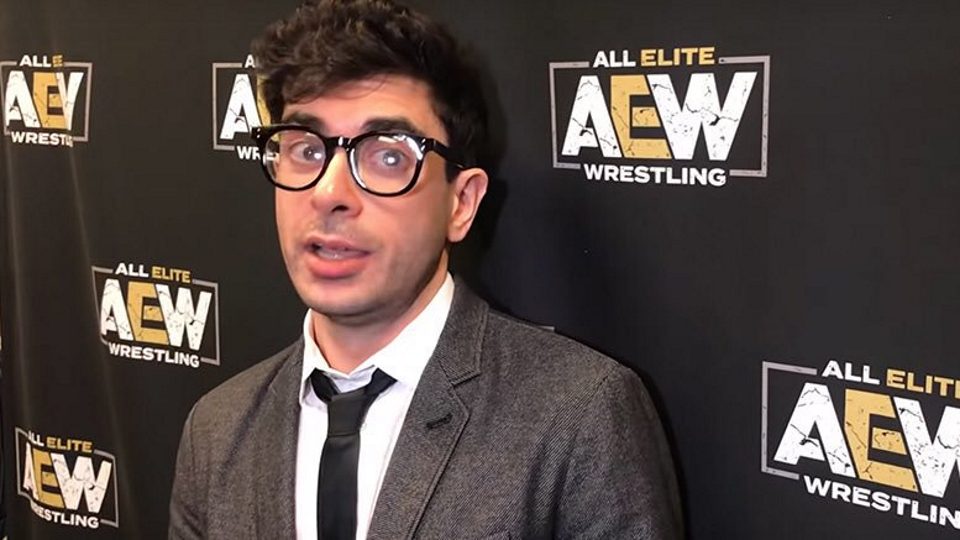 As part of the All Out post-show virtual scrum with the media, AEW owner Tony Khan commented on his company's policy on third-party platforms like Cameo, TikTok and Twitch, something that has been in the news a lot lately.
The question was asked following reports that Vince McMahon asked his talent this week to stop using third-party platforms like Twitch by the beginning of next month, something that many people, even former WWE Champions, have taken issue with.
During a backstage segment at All Out, Kip Sabian and Penelope Ford help up a sign with a link to Sabian's Twitch page. Following on from this, Tony was asked about AEW's policy on wrestler's using platforms of that nature:
"It's a very topical question. It's a good question and it's come up recently for a lot of wrestlers. For our people, I don't want people to be concerned that I'm going to stop them from trying to monetize their Twitch or even appearance money and things of that nature. I think there are gray areas," Tony began. "I think, you know, all of these different mediums, all these platforms are different and I probably have different answers on different platforms. I think some sponsorship stuff is a gray area. You know, if one of your big star wrestlers was to go try and get a Pepsi sponsorship under their Twitch and not as a wrestler, you'd be like, well, that seems like you're trying to circumvent the company.

"For the most part, I support people going out and trying to go out on Twitter and monetizing that platform. I'm okay with people monetizing their YouTube, which I think is very clear here because a lot of people have YouTube shows and famously, Being The Elite, The Young Bucks' show is not on the AEW channel, but we support it and our wrestlers are all over it but it's not AEW's show and I think a lot of our wrestlers have their own vlogs, and shows, and social media properties. So it's a great question.

"I think it's different, you know, depending on what platform you're talking about and how you're addressing it. I definitely think I wouldn't tell people they can't do anything outside the company, though, that seems too unfair and [like a] pretty strong policy."
It's important to note that AEW probably be what it is today without the success of the Being The Elite YouTube show, so it totally makes sense for Tony Khan to want to allow his talent to continue using platforms like that.
Speaking of the post-show virtual media scrum, Tony Khan also provided an update on Matt Hardy and defended AEW's decision to allow him to continue to wrestle following a scary bump. You can read more about that by clicking here.
Thanks to Fightful for the transcription.