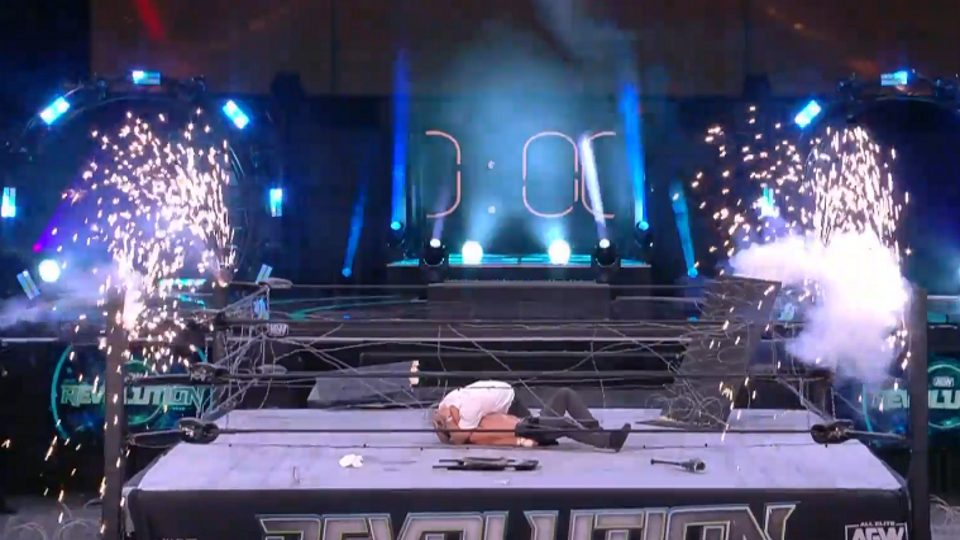 AEW President and CEO Tony Khan has revealed the storyline explanation for the disappointing ending to last night's Revolution pay-per-view.
The show went off the air with Kenny Omega and the Good Brothers handcuffing Jon Moxley in the ring as it was set to explode following the exploding barbed wire deathmatch Omega had just won.
Eddie Kingston ran to the ring to try to save Moxley, and the explosion went off with both men down in the ring… only it was less of an explosion and more of a… 'poof'.
A couple of sparklers and a small bang is all that happened, yet Moxley and Kingston still sold in the ring as if it was a huge deal. The crowd immediately erupted into boos and it meant the show ended on a damp note despite being good otherwise.
Speaking on the post-show media call, Tony Khan explained that the storyline is that Omega built a dud of a bomb, saying:
"Both guys are great. Honestly, I'm glad neither guy came out with a serious injury because it was a really scary match, and they both really put their health at risk for a huge pay-per-view main event. It was awesome. It was a great spectacle, and I think we're all lucky that the bomb going off in the end didn't really hurt anybody there.

"Kenny's master plan, he built a dud. Who would have thought when he drew up the big plan with crayons that the bomb failed to take out both guys out. The battle really delivered, excellent action. Both guys came out okay, which is great because on paper, it looked like the kind of match where somebody could get hurt.

"The plans we saw in crayon, and all through the match, we saw it. It looked very cool, and it's a very deadly, painful match, but at the end, I mean, I don't know what people really wanted, unless you actually wanted us to explode the guys at the end, there's only so much you can do.

"So without blowing the ring and both guys up, I think the basic explanation is that Kenny's ring set to explode, his plan, as a heel, to build this thing with a hammer and nails as we saw, the final bomb just didn't go off."
This would definitely seem to be an adjustment to the response and not the original plan.
Jon Moxley took to a microphone after the show went off the air criticising Omega's bomb-making skills, which AEW has uploaded to Twitter and you can check it out here:
.@JonMoxley didn't regain the belt tonight but he regained a friend in Eddie Kingston! King came to save Mox from the final blast, which wasn't enough to keep Mox & Eddie down for good!
"Kenny Omega may be a tough son of a b____, but he can't make an exploding ring worth a s___!" pic.twitter.com/AHJCYVu3pw

— All Elite Wrestling (@AEW) March 8, 2021
Where the situation goes from here is anyone's guess really. The biggest question would be why was Eddie Kingston selling it so drastically, but an easy explanation could be he had some kind of attack or episode due to nerves or panic or something like that.
It'll definitely go down as one of the most memorable AEW show endings, and not in a good way.
Quote via Wrestling Inc
What are your thoughts on the above story? Let us know in the comments on Twitter or Facebook.