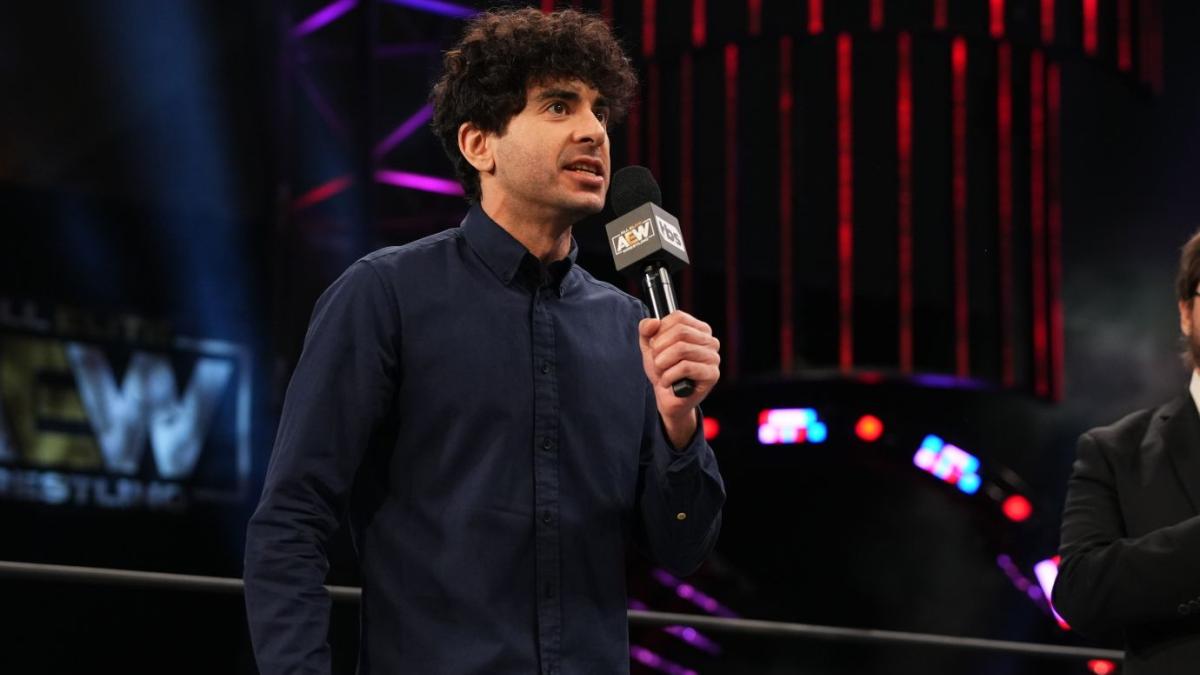 Canadian basketball player Liam McMorrow has reflected on his experiences with AEW, discussing his future with the company.
Diamond Dallas Page notably introduced the The 7ft2 athlete to pro-wrestling, leading to talks between McMorrow and AEW President Tony Khan.
Speaking on 'Vegas Bad Boyz Of Podcasting', McMorrow praised the AEW backstage atmosphere, noting:
"AEW, it felt like everyone I had a conversation with was very, very friendly. The only one who wasn't was Billy Gunn but I think he was just having a bad day or he didn't know why I was there.
"His sons were both there, his sons were both cool. Everyone was f**king cool, from the owner on the way down… And that might have something to do with how I got in there.
"People know (Diamond) Dallas (Page), everyone loves Dallas but that doesn't mean that you have to be nice to me. But maybe that's just the culture over there."
It was noted that Khan verbally agreed to sign McMorrow and was working out a deal with him, however McMorrow has been unable to officially join the promotion due to visa issues.
Discussing his conversation with Tony Khan, McMorrow said:
"So I'm at this first day of taping. I'm backstage, it's like an awkward thing because I'm like, everyone's working. I'm this guy that's just walking around and I'm watching but it's a long day of tapings dude.
"It's not like I'm there for a few hours. I'm there for 12 hours and I don't wanna skip out early because I really need to be here and talk to Tony [Khan] so first day, I don't even talk to him.
"I see him buzzing around backstage, but it's not really a thing where I can grab him and be like, 'Hey, I'm supposed to be here to talk to you.' It was just like, everyone's f*cking busy.
"They're shooting, they're filming. They did AEW Dark, they did Dynamite maybe. The next day, I talk to Tony and it felt like a super fast transition.
"Imagine this conversation. He's like, 'I talked to your agent, love your look, saw you all day yesterday, you look great, the guys love you.' He's like, 'I heard you're from Toronto. My dad owns The Ritz-Carlton there. Have you ever been there?'
"I'm like, 'Yeah, I've been there for a wedding or something. Yeah, it's awesome.' 'Well, it's a yes for me. Get your agent to work out the numbers and I'll see you soon…' So, agent works out the numbers, I'm cool with everything.
"I'm like, 'Man, what a smooth transition from playing, sitting home while being depressed. Getting this call, driving to Atlanta. Two days of TV taping and now I have a job.
"I'm like, this is crazy but what I'm not thinking about is that I'm Canadian and I'm not able to work but I was thinking in my mind because every time I've had an experience with an NBA Summer League team or playing in development league, they get the visas like this.
"They pay lawyers, they do it all day. There's a ton of international guys. You get it within hours. So I'm like, oh, it's gonna be the same thing.
"They use all the Jacksonville Jaguars legal team to do all their legal so I don't know if they still do that but that was a year and some change ago.
"So I'm going back and forth with them and they're like, 'There's not enough here to get this visa."
AEW recently announced that former NJPW star Juice Robinson has now signed with the company.
Transcription via POST Wrestling. 
Check out WrestleShop.com for all your favorite WrestleTalk merch, the WrestleTalk Magazine, wrestling shirts for grown-ups, and more!